Oktoberfest Munich 2017

A first-timer's guide to the Munich Oktoberfest.
Come join the party!
You race a mob of lads in leather shorts to find a seat in the packed, wooden tent.
A busty barmaid whams down an enormous glass of beer. You drink to the cry of Prost! and get ready to do it again.
Then you stroll outside and jump on the roller-coaster. You're pushed, pulled, stretched and slammed and decide this would have been a better idea
before
the beer!
Feeling hungry now? Nothing a plate of pork knuckles wouldn't fix. Easy to fill your belly here, if you've got the coin for it.
The sun goes down and you head back inside. You start swinging your drink and singing along to the sound of oom-pah music.
Soon you're dancing on the benches with a dozen friendly locals…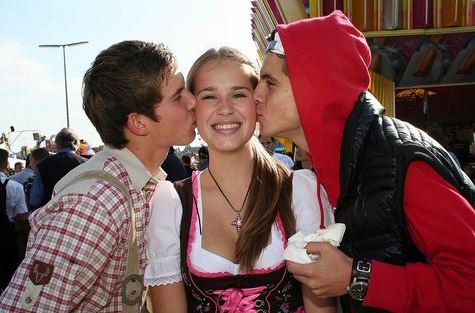 Cheeky: Two guys peck a girl in a Dirndl at festival. Looking forward
to the Munich Oktoberfest 2017. Pic: © DPA* source

How it started
Munich's
Oktoberfest originated in 1810
as a horse race to celebrate a royal wedding. But everyone apparently enjoyed the drinking a lot more, and had such a great time they decided to do it all again the following year.
The horse race is now part of history but the beer certainly isn't and neither are those willing to drink it. Oktoberfest (with a
k
, not
Octoberfest
) is officially the world's biggest party drawing about
six million visitors
a year to southern Germany.
The action takes place on Munich's fairgrounds, (officially called the
Theresienwiese
, informally,
d'Wiesn
), south-west of the city's Main Train Station.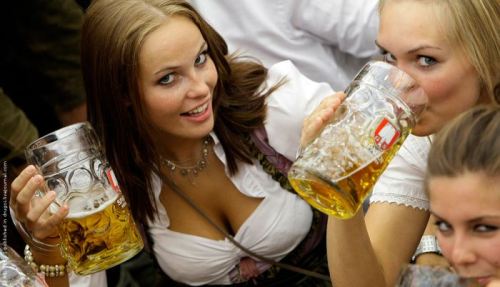 Festive atmosphere: A group of good-looking ladies in traditional Oktoberfest dresses
share a few drinks at the festival. Pic: © Reuters * source

When to go to the Munich Oktoberfest in 2017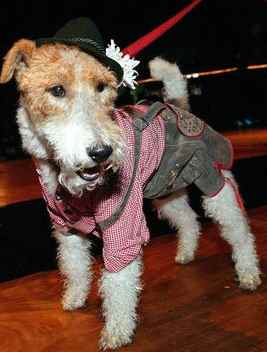 Woof: No-one's excluded from
the festivities – even some
dogs dress up for the
Pic: © DPA
Oktoberfest 2017 will run from Saturday, September 16 to Tuesday, October 3.
There's often a mad rush to find a seat before the beer starts flowing at 10am (9am on weekends).
There's a costume parade and a gay party on the first Sunday. Weekdays are much quieter than weekends, especially around lunchtime.

Which tent to pick

Most of the drinking is done in the 14 big beer "tents" - actually big wooden halls. You can reserve tables through www.oktoberfest.de but most sell out months in advance.
The festivities officially start in the Schottenhamel tent and often reach their rowdiest in the Hacker (Heaven of Bavaria).
The new Marstall tent took the place of the bright red Hippodrom tent in 2014.
The Hofbräu tent is famed for pulling far more tourists than locals, the Augustiner might be the best for Bavarian authenticity and the Löwenbräu becomes a good option when everywhere else is full.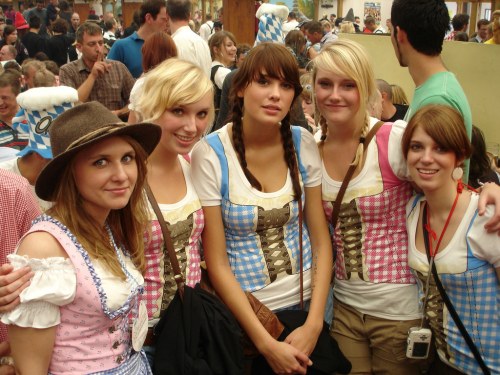 Four of these five girls are wearing "Dirndl" themed T-shirts. Perhaps not the genuine article
but still quite nice! Pic: uLe @ Dortmund
Where to stay
Munich's
Thalkirchen Camping Ground
could be the cheapest place to stay with tents available for just a few euros. There's a small supermarket on site, regular buses to the Wiesen and a 24-hour party ambience during Oktoberfest. It's at Zentralländstr. 49, Munich.
A handful of good hostels sit just south of the main train station, about a 15 minute stagger back from the Wiesn. Check out
Jaeger's
www.jaegershotel.de
for its friendly bar or the top-rated
Wombat's
www.wombats-hostels.com
. Both are in Senefelder Strasse.
What to wear to Oktoberfest
Practically anything goes, but for an extra layer of fun consider kitting out like a local. For guys, a pair of Lederhosen leather shorts start from €120. For gals, a traditional Dirndl dress cost upwards of about €100.
Tip: When worn correctly Dirndls also reveal the wearers' availability. Look just above the apron: If there's a bow on the right she's taken.
A bow on the left means she's still to be had, and a bow bang on the front marks a virgin.

What to eat and drink
Beer! The amber fluid is served exclusively in one litre glass mugs, called
Maß
(
mass
) that cost about €9.40. The beer is slowly brewed through the summer and packs a six per cent alcoholic punch. For a change, try the beery-lemonade mixture called
Radler
, or head out to the wine tent.
Food is everywhere at Oktoberfest Munich. Popular picks are
grilled chicken
(
Hendl
),
pork knuckles
(
Schweinshaxe
) and
giant pretzels
(
Breze
).
The huge hearts half the girls hang around their necks are made of gingerbread. For the daring there's the
Ox
(
Osche
).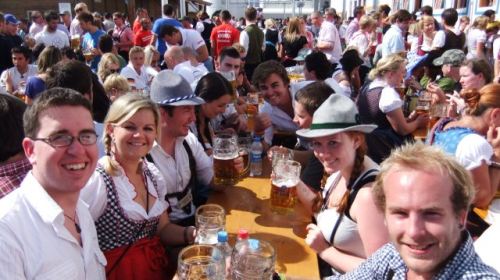 Spirits up: A group of friends in Bavarian costume at the famous German beerfest.
Pic: Mike-Campbell

What to say - Oktoberfest Munich essential phrases
To help you along, I've compiled a list of
essential phrases
every visitor should consider learning for the Oktoberfest in 2017. If anybody can report using the one about the meadow full of cows successfully, I'll happily buy them a Maß.
A few more Oktoberfest Munich pictures...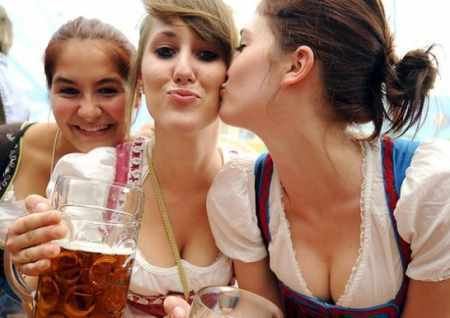 Looking good: Cute Oktoberfest girls in Dirndls pose for the camera at
the Munich festival. Pic: © AFP

Sharing is caring
Spread the love and tell a pal about this particular page....
Oktoberfest story index
Oktoberfest picture galleries

Preview Page 2 l Preview Page 3 l Preview Page 4 l Preview Page 5 l Preview Page 6

Oktoberfest pictures l Oktoberfest pictures 2 l Oktoberfest pictures 3 l Oktoberfest pictures 4 l Oktoberfest pictures 5 l Oktoberfest pictures 6

Oktoberfest tips and tales
▪ Oktoberfest beds - Find your bed before they're all sold out - again!
▪ Oktoberfest reservation - Book a tour of the Oktoberfest and a table in one of the tents. Act quickly! These deals always sells out!


▪
The Münchner Kindl
- What's this girl got to do with the beer fest?
▪ Your Oktoberfest stories - Got a story about a visit to the Munich Oktoberfest? Or have you been to a similar festival elsewhere in the world? Tell us about it!
Go here to contribute and check out other readers' tipsy tales.
What's on and when to go
Oktoberfest parades
- Take a walk on the wild side. Lots of info about all the parades at the party.
Slur along
What to wear to Oktoberfest?
Traditional German lederhosen
-
An exploration of leather pants.
(More photos at
Bavarian lederhosen photos
).
Good to know - essential festival info
▪
Oktoberfest lost and found
- Angel wings, wedding rings and other strange things.
Beyond the Munich Oktoberfest
Oktoberfest clipart
Need Oktoberfest clip art? Here's the best place to look.
▪ Oktoberfest archives Where the older stories are shelved.