KALTENBERG: You walk through the gates and see a line of knights. Looks like they're getting ready for something, maybe a fight? Then you shuffle along to find a place for the parade: There are fire-eaters, freaks on stilts, looks like anything goes here!

SEE IT FOR YOURSELF: Check out 40 amazing photos of the latest knights' festival here

You watch a medieval rock concert while swilling some mead and you're ready for more. It's to the arena! There are heroes on horseback, arch-villians in black and damsels in distress. The show's about to start and your seat, my liege, awaits…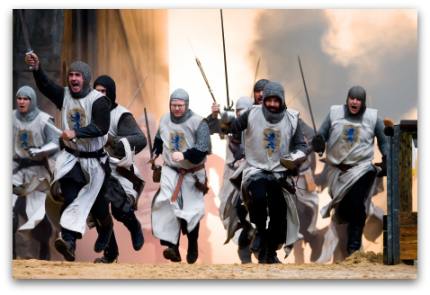 THE COMBATANTS: The knights get ready to swing their swords.
Marcus Hoffmann © Kaltenberger Ritterturnier


If you've ever wanted to live out your own Middle-Ages fantasy then the Kaltenberg Knights' Tournament in Germany is the festival for you.
Over 120,000 people flock to Kaltenberg Castle near Munich every July and step back to a time when ankle-length dresses were edgy fashion and swords were on everybody's hips.

Survey the realm

A GREAT KNIGHT: I really dug the
Kaltenberg Knights Festival.


There's more than 1000 official costumed "performers" and many visitors also choose to dress up and wander among the stands, tents and towers that comprise about 100,000 square metres of ye olde merriment.
You can find some seriously unique gifts at the Medieval Market – how would grandma like an "Elixir of Longevity" for Christmas?

What about a new coat of chain mail for cousin Bob or a bronze tiara for sister Sally? Bagpipe-bearing Corvus Corax stomps up and down on the stage, while medieval priests try to save your soul. Brooding barbarians prowl, jugglers juggle,
strong men flex their muscles and elegant ladies smile and curtsey. It all kind of forces you to join in and go with the flow.
For your noble pleasure…..
As dusk sets in the performance starts in the main arena and a comely couple ride out on horseback. It's the Prince of Wasserburg and Princess of Kaltenberg, they wave, the crowd cheers, and all is good. Then enter the dragon. The Schwarze Ritter (Black Knight) descends with his troupe of scoundrels to steal the princess.
His hyperbolical laughing fits and general campiness label him as the Diet Coke of Evil, but he's very much the star of the show. There's a similar storyline each year with a few twists thrown in to keep crowds coming back.
This time the Black Knight was revealed to be the princess herself, cursed
by a witch to confront her lover at the tip of a sword. If the plot seems thin, fear not. It's really just a backdrop to the horseback stunts, the swordfights, the fireworks, and above all, the jousting.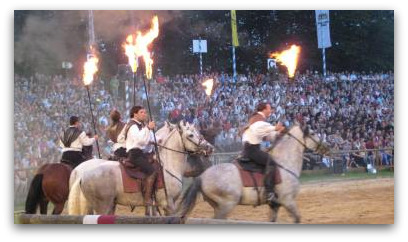 TRAINING DAY: Noble men of the realm refine their horse-skills
before the jousting.
Take your lances!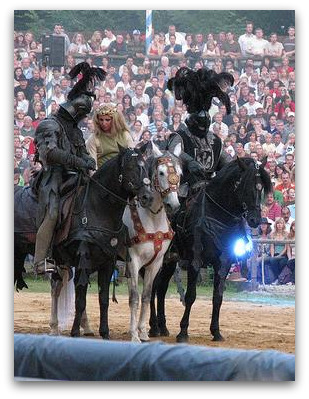 STEALING BEAUTY: The Black
Knight and company kidnap
the princess. Photo by photon ?.


That's right, jousting! French stunt team Cavalcade provides what's undoubtedly the highlight of the whole festival. The atmosphere is electric as the fully-armoured knights face each other with lances.
In a huff of hooves, they're off!...take careful aim from their steeds…lances splinter…someone's hit!.....he rolls off the back and bites the dust….to the victor goes the glory!

It's very well-done and particularly entertaining when a falling knight gets his foot caught in a stirrup and is dragged along the ground for a couple of dozen meters. Afterwards, the knights retire to the "throne room" for autographs and photos.

A right royal party
The Kaltenberg festival has noble roots, having been founded by Prince Lutipold of Bavaria back in 1979. Lutipold's the direct descendant of Ludwig II, the king famed for building Neuschwanstein Castle in Füssen, one of Germany's most recognised symbols.
Watch the action
Here's a video I made about the Knights' festival.I like to think it gives a good overview of the festival Shenanigans.



The details for the Kaltenberg Knights' Festival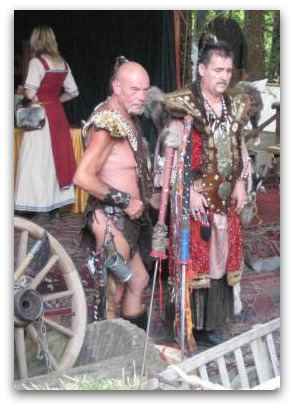 BARBARIANS!: You have to wonder if
some of these guys have proper day jobs.
Location: Kaltenberg Schloss, Schloss Strasse 8. It's near Geltendorf, about 50km west of Munich.
Phone: (Tickets) 018 05 11 33 13, (Info) 0900 1 33 14 33 (for overseas inquiries) +49 81 93 93 31 00.
Website: www.ritterturnier.de

Dates: July 14 to July 30, 2017

Daytime shows take place on Saturdays and Sundays, and evening shows are on Fridays and Saturdays. For day shows, grounds open at 11am and the parade starts at 1pm. The arena show goes from 3.30pm to 5.30pm. The official program ends at 7.30pm.
The grounds open at 4pm and the parade (Festumzug) starts at 15.30. The arena show goes from 8pm to 10pm. The official program ends at midnight, but you can party on with the Barbarians' Club if you want to stay longer.
A "Children's' Knights' Tournament" - Kinderritterturnier - takes place in the arena just after each of the daytime performances.
On one Thursdayor Friday there is the hugely popular "Gauklernacht" - Jesters' Night which features an army of 1000+ performers as colourful as they are flexible. It goes from 6pm to 2am.
The usual arena show doesn't take place but there's so much else going on you won't even notice. Organisers call this night a "Symphony of Light and Fire". Cool!

Cost
*Tickets including admission and a seat for the arena show cost between €37 and €67, depending on how close to the action you are.
*Tickets for the roofed royal Lodge cost more.
*If you can't get a seat for the arena show, don't worry! Admission to the grounds costs €25, where you can see the market, the parade, the concerts, everything really! And you can stand at the back of the grandstands and watch the arena show anyway.
*Jesters' Night tickets cost €27.

*Kids under 6 years get in free, but there's no guarantee of a seat for the arena show. Tickets for kids 6 to 15 are €5 less than the adult tickets, except for the Lodge where they pay full-price.
It's an extra €5 cheaper for these kids on Sunday the 5th.
*There's also a 10 percent advanced booking fee and €1.20 service charge per ticket.
*You can book tickets online with the "Kaltenberger Ticket Machine" here. Keep in mind it's in German, but it's not so difficult to navigate - you can even pick your exact seats for the arena show.
*Alternatively, you can call the international ticket hotline on +49 8193 933 222.

Directions: If you're coming by public transport take an S-Bahn train (the number S4) to Geltendorf and then get a special connecting bus to the Kaltenberg Knights Festival.
To check connections visit the Deutsche Bahn site here.
If you're coming from Munich's main station enter Muenchen Hbf into the first line and Geltendorf into the second line. Give yourself at least an hour to get there from Munich.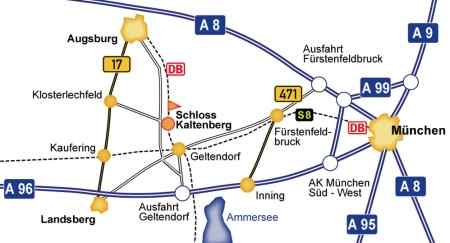 Other Info:
*The tournament takes place regardless of rain, hail or surprise dragon attack but you're asked not to use umbrellas in the arena because they annoy the people sitting behind you.
*Dogs aren't allowed, they don't get along with the goblins.
*Prams and baby carriages are allowed in the grounds but have to be left outside the arena, at the first-aid station.
Reports from previous Kaltenberg festivals
I've put together two pages of photos and info about past festivals. You can find these here: Kaltenberg and here: Kaltenberg photos. If you'd like more general information about the festival, please read on on this page!


Medieval Festival.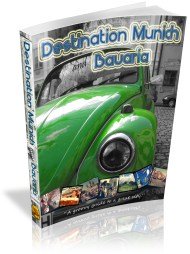 Every once in a while a book comes along that changes your life.
Until it does, please consider buying Destination Munich and Bavaria, the grooviest, most informative guide on the market :-)
It'll give you full-colour maps, practical info and hundreds of tips on how to get the most out of your visit.
It's 285 pages of up-to-the-minute travel intelligence and it can be yours as an eBook for less than the price of an Oktoberfest beer. (
read on
)
Sharing is caring
Spread the love and tell a pal about this particular page....