Munich for kids

Fun things to do in Munich for kids
Travelling to Munich with kids? They'll love it.
Many city museums have set aside areas for children with interactive displays and playrooms.
Other attractions like the "Fairytale Fun Park" are especially designed with kids in mind. There's no lack of things to do around the Bavarian countryside either. What kid wouldn't love a visit to theme parks devoted to
Lego
or
Playmobil
for example? Or better still, a visit to one of Bavaria's real fairytale castles and palaces.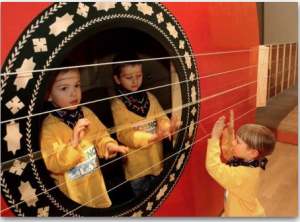 Playtime: Kids enjoying the
"Children's Kingdom" at Munich's Deutsches
Museum. Pic: © Deutsches Museum
The Munich tourist office sells a Münchener Familienpass with discounts and info in English on heaps of kid-friendly sights, playgrounds and swimming pools.
They can also give you tips on current child-focused happenings.

But for now, here's a list of nine tips on what to do in Munich for kids.



READ MORE: Hungry? Check out our new guide - Eating out with kids in Munich - 10 places parents won't want to miss.
1. Sea Life
Take the little ones on a voyage beneath the waves at the Sea Life München museum, which opened in 2006. Over 10,000 creatures of the deep reside in over 30 large tanks.
Visitors explore the popular "Tropical Ocean" tank from an underwater glass-topped tunnel. It's in Munich's Olympic Park. (Website here)

2. Fairytale fun park
What kid hasn't already heard of classic German fairytales like Snow White, Hänsel and Gretel or Little Red Riding Hood? At the Freizeitpark Märchenwald (Fairytale Forest) over 20 fairytales on display which the little ones can bring to life with the press of a button.
Great for younger kids.
(Website here)

3. Watch the surfing
Take them to see the surfers cutting the standing breaker in the Englischer Garten park. (More info: Surfing Munich)

4. Circus
Munich is home to Europe's biggest circus, the Zirkus Krone. You could attend a show with acrobats, clowns and animals, or go along to the petting zoo where kids can get to know said animals. One of the most famous is Goliath, a horse who has given rides to over 70,000 children over the past 20 years.
How's that for a "workhorse"!

5. Toyshop
Your kids could find seventh heaven in Munich's
Obletter Spielwaren
. It's probably the city's most famous toy store and spreads out over several levels at the
Karlsplatz-Stachus
central square.
6. Zoo
– The Munich Zoo (
Tierpark Hellabrunn
) is one of Germany's biggest with over 450 species of animals. They're grouped continentally into Africa, Europe, America, Asia, Australia and even Antarctica. It's a highlight of Munich for kids of any age. There is a petting zoo, pony and camel rides for children (
website here
).
7. Church towers
Why not take the kids up to one of Munich's church tower lookouts at the
Frauenkirche
or the Alter Peter? The views are great and the climb up the hundreds of wooden stairs might wear them out enough for you to catch your breath!
8. Beer gardens
–
Munich beer gardens
are designed to be family friendly and many have playgrounds to keep the kids happy while the grown-ups are enjoying a drink. The
Hirschgarten
even has a petting zoo with little bambis running around and the
Chinesischer Turm
(Chinese Tower) has a magnificent old-fashioned carousel.
9. Boating

Just near another beer garden, the
Seehaus
in the Englischer Garten, is a lake where you can rent out paddle boats and go for a spin around a trio of mini-islands.
Museums in Munich for kids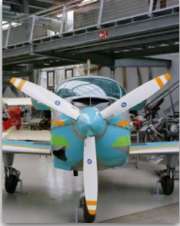 Take off: Boys will love
the Deutsches Museum's
aircraft displays.
Pic: © Deutsches Museum
These seven Munich museums appeal to young and old as they have children's areas or themes of interest to kids.
1. Deutsches Museum –
The world's biggest science and technology museum has hundreds of interactive displays and "Children's Kingdom" for the little ones.
2. Nature –
Kids can explore the natural world at the Museum of Humankind and Nature (
Museum Mensch und Natur
) which has displays stuffed with animals, dinosaurs and fauna.
It's in
Nymphenburg Palace
.
3. Movies –
Munich's
Bavaria Filmstadt
film studios has lots to interest children including the sets from the Asterix films, a stunt show and a 4D cinema.
4. Dinosaurs –
The Paleontological Museum Munich has a nice collection of dinosaur skeletons and exhibits. (Website
here
)
5. Aeroplanes –
The Deutsche Museum's
"Flugwerft Schleissheim"
exhibits dozens of aircraft for kids who want to spread their wings. Children can get into a real cockpit to wiggle the landing flaps and learn about the history of flight at a "Flying Circus". It's in Munich's north separate from the rest of the Deutsche Museum.Visit its website
here
.
6. Toys –
There is a dedicated toy museum in the tower of the
Altes Rathaus
(Old Town Hall) on
Marienplatz
. Exhibits are for looking, not touching, and your kids might get a bit edgy.
There are thousands of old toys and special exhibits on Barbie, robots and teddy bears.
7. Cars and motorbikes –
The space-aged
BMW Welt
dealership has a few nice interactive displays and motorbikes kids can sit on and pretend they're Valentino Rossi.
Seasonal events in Munich for kids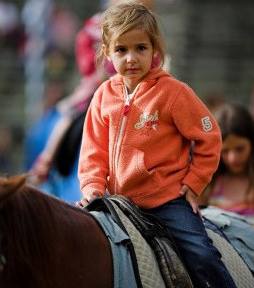 Pony ride: A young visitor to
the Kaltenberg Knights' Tournament
takes her first ride.
Pic: Chris Gawron ©
Kaltenberger Ritterturnier
Ice skating – In December there's an ice skating rink set up just for kids above the fountain at Karlsplatz-Stachus.

Festivals – Annual Munich festivals including the Oktoberfest, Auer Dult and Spring Festival all have rides and carousels to keep the young ones entertained, but it's best to keep them away from the beer tents in the evenings.
I can imagine few things more exciting for a kid than to be taken to the Kaltenberg Knights' Tournament which takes place near Munich in July.


Things for kids around Bavaria
There's a lot to do and see around Munich for kids to enjoy. Check out these four ideas for day-trips into the Bavarian countryside.
Neuschwanstein –
Want to see the building that Disney's Sleeping Beauty Castle is based on?
Neuschwanstein Castle
south-west of Munich is surely one for the whole family.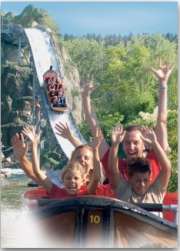 SPASHDOWN: Family fun at
Legoland Germany.
Pic: © 2009 The LEGO Group
Legoland –
There's a theme park built from over 50 million of the classic bricks two hours west of Munich in the city of
Günzburg
.
There are rides and roller coasters, a "pirate land" and a "knights' kingdom".
There's also a "mini-land" in Lego recreating some of Europe's highlights including Venice, Dutch windmill-filled landscapes and Neuschwanstein Castle. (Website
here
)
▪ Bayernpark –
This all-round fun park has an indoor pool with slides, an elevated railway, a climbing wall and a plethora of rides for kids.
It's about 90min north-east of Munich. (Website
here
)
Playmobil Fun Park –
Playmobil's popular toys take centre stage at a huge theme park next to Nuremburg in Bavaria's north. (Website
here
)
I hope this page has given you a few ideas on what to do with in Munich for kids!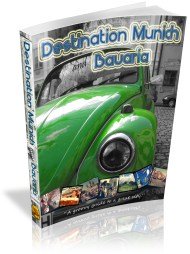 Every once in a while a book comes along that changes your life.
Until it does, please consider buying Destination Munich and Bavaria, the grooviest, most informative guide on the market :-)
It'll give you full-colour maps, practical info and hundreds of tips on how to get the most out of your visit.
It's 285 pages of up-to-the-minute travel intelligence and it can be yours as an eBook for less than the price of an Oktoberfest beer. (
read on
)
Sharing is caring
Spread the love and tell a pal about this particular page....