Konigshaus am Schachen
KONIGSHAUS AM SCHACHEN:
Bavarian King Ludwig II is famous for his architectural achievements.
The palaces of
Linderhof
,
Herrenchiemsee
and
Neuschwanstein Castle
are among Germany's greatest treasures.
But Ludwig's "highest" achievement is very little known.
His diminutive
Königshaus
(King's House) is a wooden two-storey cottage high up on Mount Schachen.
It's in the Bavarian Alps near the town of
Garmisch-Partenkirchen
, about an hour's drive south of Munich.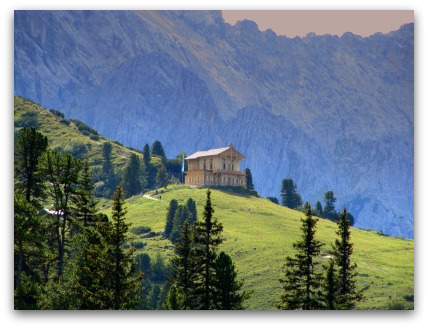 BREATHTAKING: King Ludwig's Konigshaus am Schachen is perched
high up in the Bavarian Alps.
The Königshaus will be an achievement for you as well, if you decide the brave the hours-long hike up the mountain to get there.
Yep, the Swiss Chalet-style cottage is only accessible by foot or mountain bike.
Don't lose heart, the way up is part of the fun and traverses forest paths, mountain streams and stunning Alpine scenery.
Royal highness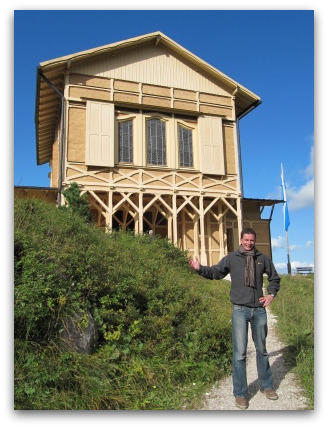 MADE IT!: That's me after hiking up to Ludwig's
mountain hideway.
The Konigshaus am Schachen was built from 1869 to 1872 and everything had to be carted up the mountain. Fresh running water came straight from the mountain streams.
The building is sometimes described as a hunting lodge butLudwig never used it as such.
Catch your breath once you make it to the top. Breathe in the fresh mountain air and maybe sing a few verses from the "
The Sound of Music
".
Then you'll be ready to take a peek inside the cottage.
Forget what preconceptions you may gain from its plain, wooden exterior - a stark contrast of interior design awaits within.
Different strokes
The ground floor rooms are so simply done they could be out of some old granny's house who hasn't bothered decorating since the 1940s.
You could almost forget that a king stayed here if it wasn't for touches like an intricate wooden chandelier and a cosy upholstered toilet-seat.
There's a large dining room, a study, bedroom and guest room. Up the staircase and you're suddenly blasted into another world – behold Ludwig's
"Türkische Saal"
(Turkish Hall) – an explosion of gold and decoration.
Luxuriant couches line the room centered around an imposing fountain. Instead of using flowers which would have had to be brought up the mountain, Ludwig used stands full of peacock feathers as decoration.
Stained-glass windows throw rainbow hues across the room.
Exotic affairs
Though the king loved the Bavarian countryside he also adored escaping into a fantasy world.
Ludwig came up to his Konigshaus to throw birthday parties for himself, often accompanied by no-one but his most loyal attendants.
The parties had an
Arabian Nights
theme. Ludwig would lounge about in elaborate Eastern outfits.
Some servants would sit around cross-legged smoke hookah pipes while others would play music and prance about.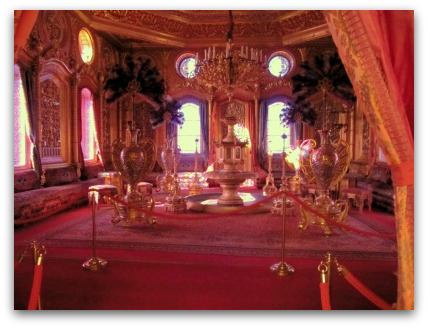 OPULENT: The richly decorated "Türkische Saal" (Turkish Hall) inside the
Konigshaus am Schachen.
Nearby the Königshaus is a restaurant, beer garden and a small guesthouse with rooms for rent (see details below). A little further down the mountain is the
Alpengarten
(Alpine Garden).
Growing there are over 1000 different species of flora sourced from ranges including the Himalayas and the Alps. One of Germany's natural wonders lies just around the corner from the twin towns of Garmisch-Partenkirchen in the Bavarian Alps.
The Partnachklamm is a spectacular 700m gorge that frames a surging white-water river. You can walk the length of the gorge along a pathway cut into the limestone rock just a few metres above the river.
Getting there
MOUNTAIN STREAM: The Partnachklamm.
Via the Partnachklamm
The Königshaus makes a nice day trip from Garmisch-Partenkirchen in combination with a jaunt through the Partnachklamm (a spectacular natural gorge).
It's possible to do the whole thing in a day-trip from Munich, just leave bright and early.

The path from the Partnachklamm is well made, but quite steep. It rises up 1150m from the bottom. Pack your best walking shoes and a big bottle of water.
Reckon on about three to three-and-a-half hours to get up there.
See here for a map of how to get there via the Partnachklamm.

Via Schloss Elmau

There's a less strenuous, but longer way up starting from the car park near the hotel Schloss Elmau. From there you "only" have to climb up 850m.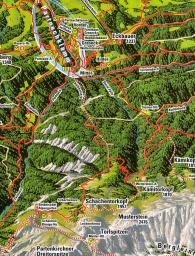 You can also do this route on a mountain bike. To get there get a connecting train from Garmisch-Partenkirchen one stop further to the village of Klais and then continue along the street Elmauer Weg. For a map of this route see here .

And here's a map of the hiking routes around Garmisch-Partenkirchen, including those leading up to the Konigshaus am Schachen.
The journey from Munich's train station takes about an hour-and-a-half and you can check connections here.

Don't forget that the Bayern Ticket is great value if you're travelling with a group of up of five people, for more details see my "buying tickets" page.
See the Partnachklamm page for details on how to do that part of the trip.

Map
View Königshaus am Schachen in a larger map
And here's a Google map of some of main points mentioned above.
As you can see the Konigshaus am Schachen is quite a ways from either of the two departure points.
The Konigshaus is about 9km from Schloss Elmau and 10km from the Partnachklamm, and that's not counting the uphill metres!
But don't sweat it, on my way up I saw children, senior citizens and even a few doggies and they managed the climb easily enough.
Other details
Open:
The Konigshaus am Schachen is open from the end of May to the start of October.
-Tours:
You can only inspect the Königshaus on a guided tour. They run at 11am, 1pm, 2pm, 3pm and 4pm.
They're done in German, but of you ask the tour guide he can explain a few things in English too.
-Phone:
Call another of Ludwig's palaces,
Schloss Linderhof
for more info on
+49 88 22 92 030. Or you can call the restaurant/guest house, called the
Schachenhaus
, on the number below.
-Accommodation:
The same family that runs the restaurant has a guesthouse with 70 beds. You can choose between staying in a dorm with mattresses on the floor for €10 or getting a private room for €15.
It's open from the end of May until the middle of October.
For more info see the
website here
or call +49 0172 8768 868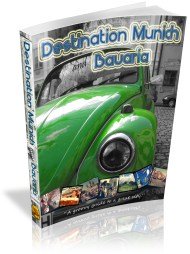 Every once in a while a book comes along that changes your life.
Until it does, please consider buying Destination Munich and Bavaria, the grooviest, most informative guide on the market :-)
It'll give you full-colour maps, practical info and hundreds of tips on how to get the most out of your visit.
It's 285 pages of up-to-the-minute travel intelligence and it can be yours as an eBook for less than the price of an Oktoberfest beer. (
read on
)
Sharing is caring
Spread the love and tell a pal about this particular page....