Your Oktoberfest stories


FIRST DRINKS: Me at my first Munich Oktoberfest in 2006.
Certainly not the last.
If you've been there you know how crazy it can get.

The fanciful costumes, the roar of the tents, and everywhere that happy/crazy feeling that makes you feel like you have truly arrived in beer (and party) heaven.
If you've ever been to the Munich Oktoberfest, I bet you've got some stories to tell.

Did you make a bunch of Bavarian friends, find true love for a day or loose your set of false teeth? Maybe you fell asleep on the train home and almost ended up in France (as I did once, doh!) Whatever your story is, this is the place to share it. You can also upload a photo you took at Oktoberfest.

I also want to hear about Oktoberfests, and similar festivals in other parts of the world. It has become a worldwide phenomenon after all! Revelers flock in their hundreds of thousands to Oktoberfests from Blumenau in Brazil to Taybeh in Palestine.
Ever been to one? It would be amazing to hear all about what they're like.
You'll be able to read and comment on other visitors' Oktoberfest tales at the bottom of this page (when some arrive).
So go ahead! You don't have to sign up or subscribe to anything, just write down your story and click it off onto the Web.
Tell your Oktoberfest story
What was the funniest, craziest, most amazing thing that happened to you at the Oktoberfest? Was it in Munich or at a beer festival in another part of the world?
Other visitors' stories
Click below to see contributions from other visitors to this page...

Reason Why i love oktoberfest!

Love it!
It happened at the Ochsenbratereifestzelt

My wife & I were at Oktoberfest in 2009.
By way of explanation, I took German at Brooklyn Tech more years ago than I care to remember. Any way, we ...
Unbelievable Oktoberfest--
Nothing like it in the United States

Three years ago I attended my first Oktoberfest, and I plan to go back in 2011. If you stay 5 days, you can go on tours to Salzburg, the glacier lakes,...
How to Steal a Lion Not rated yet
Here is an excerpt from my book set at the Oktoberfest "How to Steal a Lion", now available on Amazon Kindle.
Synopsis:
Cool assignment for a journalist:...
Please write your own page to this stroll down Oktoberfesty memory lane. Write to me here, and don't forget to add a few photos! stuartadmin@destination-munich.com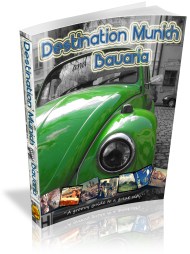 Every once in a while a book comes along that changes your life.
Until it does, please consider buying Destination Munich and Bavaria, the grooviest, most informative guide on the market :-)
It'll give you full-colour maps, practical info and hundreds of tips on how to get the most out of your visit.
It's 285 pages of up-to-the-minute travel intelligence and it can be yours as an eBook for less than the price of an Oktoberfest beer. (
read on
)
Sharing is sexy! Know how to RSS it? Subscribe here:
Spread the love and tell a pal about this particular page....