Munich Strong Beer Festival

The Munich Strong Beer Festival offers some of the best tasting beer on the planet, and it's a roaring great party!
Next on: The 2017 Munich Strong Beer Festival will run from Friday, March 10 to Sunday, March 26, 2017.

To appreciate the Munich love of beer you just have to consider what locals call the "fifth season". It's the
Starkbierzeit
(Strong Beer Time), a three-week frenzy of early-spring stout swigging.
But these ain't no ordinary suds. Prepare your taste buds for a fortune of flavour, an abundance of aroma, a trove of textures:
Munich Starkbier
.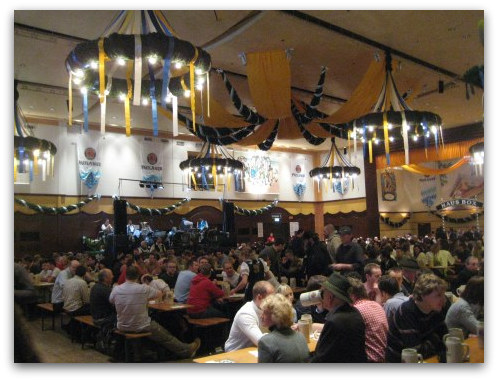 Festive: The Festsaal (festival hall) at Nockherberg. It's the main
venue for the Starkbierfest (Munich Strong Beer Festival).

Beer halls and breweries host their own
Starkbierfests
across the city.
It's a fabulous event where you have the supreme privilege of downing fresh, delicious brew that tastes like it was especially concocted just for you to drink on that specific day.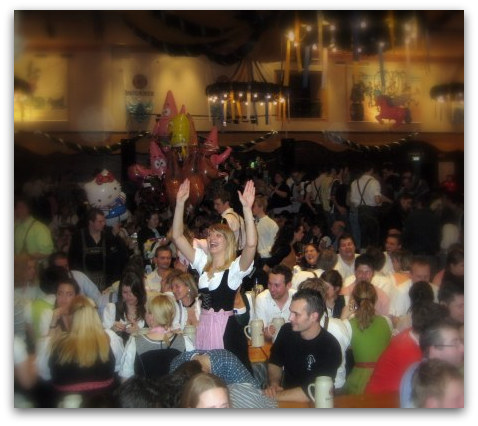 Rock on: The Paulaner Festsaal pumps up as the evening starts
during the Munich Strong Beer Festival.
Party central
The original and biggest party is at
Paulaner "Nockherberg" brewery
a couple of clicks south of central Munich. It's an Oktoberfest-style atmosphere where thousands of visitors - many in traditional Bavarian outfits - pack into a huge hall and dance on the benches along to modern and old-time German hits.
The beer is served by the one-litre ceramic steins called
Keferloher
. I've been going for the last three years and it's a safe bet I'll be back again this year.
Praise the monks
Just like the city itself, Munich's
Starkbier
tradition started with a bunch of monks. The pious Paulaner brothers-of-the-cloth started brewing their
Starkbier
Salvator
in 1651.
They dubbed the stuff
"Flüssiges Brot"
(liquid bread) as it helped them survive their 40 days of Lent fasting with full bellies and good spirits. Bavarian rulers began joining in the tapping of the first
Starkbier
kegs in the early 1700s and the first public beer festival was in 1751.
An integral part of the Starkbierfest is the comedic
Derblecken
which takes place at Nockherberg a day before the main party starts. It's a chance for the city's wits to poke fun at local politicians, and mildly insult others by not mentioning them at all.
You'll notice that Paulaner's Festsaal (festival hall) at Nockherberg is quite new despite all that history. That's because the old Paulaner Keller burned down in 1999 in Munich's most ruinous fire in decades. 89 fire engines took two days to quench the blaze and the damage amounted to €15 million (over $US 20 million).
Good times: An Australian visitor at the festival claps along to the music at the
Munich Strong Beer Festival.
Hungry? Have a beer!
You might be surprised to learn that although Stark means "strong" in German, the name of Starkbier doesn't actually refer to the alcoholic punch it packs, rather the beer's
Stammwürze
or "original wort".
This indicates the amount of solids in the beverage. For example, Paulaner's Salvator has an original wort of 18.3 per cent, so a one-litre
Maß
contains 183g of solids, about the same as a third of a loaf of bread. Put another way, the same beer contains 706 calories, equivalent to 14.5 MacDonald's chicken nuggets.
So it's no wonder they call the stuff liquid bread.
That said, Starkbier is also heavy-weight in terms of alcohol percentage, with Salvator coming in at
7.5 per cent
. As you can see, when you're at the
Starkbierfest
, it doesn't take long before both your belly and your liver are fully stuffed!
Move over, Terminator!
Starkbiers brewed for this time of year tend to bear an "–ator" suffix. There are at least
40 different varieties
brewed in Bavaria alone. The starkest "–ator" of them all is Hacker-Pschorr's Animator with a mighty
Stammwürze
of 19 per cent and alcohol content of 7.8 per cent.
Here are a couple of other much-loved libations:
▪ Salvator - Paulaner-Brauerei
▪ Trimphator – Löwenbräu / Spaten-Brauerei, Munich
▪ Maximator – Augustiner-Brauerei, Munich
▪ Unimator – Unionsbräu Haidhausen, Munich
▪ Delicator – Hofbräuhaus, Munich
▪ Aviator – Airbräu, Munich Airport
▪ Multiplikator – Edelweißbrauerei, Odelzhausen
▪ Spekulator – Weissbräu Jodlbauer, Rotthalmünster
▪ Kulminator – EKU Actienbrauerei, Kulmbach
▪ Bambergator – Brauerei Fäßla, Bamberg
▪ Celebrator – Franz Inselkammer, Aying
▪ Rhönator – Rother-Bräu, Rothenberg ob der Tauber
▪ Suffikator – Bürgerbräu Röhm &Söhne, Bad Reichenhall
▪ Speziator – Brauerei S. Riegele
▪ Rariator – Münzbräu, Günzurg
▪ Honorator – Ingobräu, Ingolstadt
▪ Bavariator – Mülerbräu, Pfaffenhofen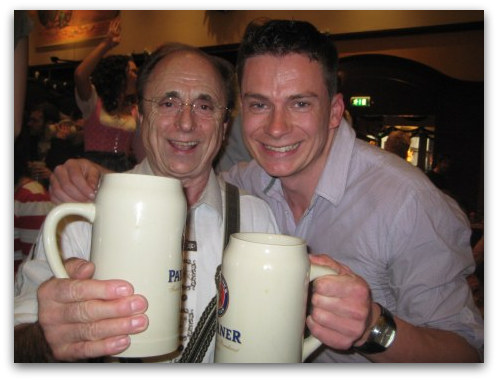 Drink up: That's me getting a little too excitied and a Bavarian guest at the
Starkbierfest (Munich Strong Beer Festival).
Like to see more photos of the Starkbierfest? Click forward!
The details - "Salvator Ausschank" at Paulaner am Nockherberg

View Nockherberg in a larger map
The oldest, loudest and proudest Munich Strong Beer Festival, Paulaner's Festsaal has room for up to 2500 partygoers.

Next on:
The 2017 Munich Strong Beer Festival will run from
Friday, March 10 to Sunday, March 26
.
Open:
Weekdays from 2pm to 10.30pm, weekends from 11am to 10.30pm.
Location and directions:
Hoch Strasse 77 81541, Munich
Take U-Bahn No. 1 or 2 to Kolumbusplatz, from where it's a 15min walk up the hill to the brewery. Or you can take Tram 27 to "Ostfriedhof" from where it's a 3min walk down the hill. (see map)
Phone:
089 4 59 91 30
Website:
www.nockherberg.com
(in German)
Reservations:
You can reserve a table by phone or fax.
Here's a link
to a reservation page on the Nockherberg website.
Cost:
Entry costs €2. If you arrive after 5pm (or 3pm on weekends) entry will cost about €9, but you'll also get a voucher for one beer. A one-litre Keferloher will cost about €8.
Munich Strong Beer Festival at the Löwenbräukeller
Next on:
Dates for the next Starkbierfest at the Löwenbräukeller are March 10 to April 8, 2017.
Open:
From 6pm until 11pm.
Location and directions:
Nymphenburger Strasse 2, Am Stiglmaier Platz, 80335 Munich It's about a 15min walk north of the Hauptbahnhof along Dachauer Strasse. Or you can take U Bahn No. 1 to Stieglmaier Platz.
Website:
www.loewenbraeukeller.com
(in German)
Phone:
You can also order tickets over the phone 089 5 47 26 69 16.
Cost:
Entry costs €16.50
Other top picks for Starkbier tasting
Munich Strong Beer Festival events also take place at:
Augustiner Keller
Arnulf Strasse 52
80335 Munich
Phone
089 59 43 93
Unionsbräu Haidhausen
Einstein Strasse 42
81675 Munich
Phone
089 47 76 77
Forschungsbrauerei
The only
Starkbier
maker which doesn't stick an "–ator" on its potent brew, here it's called St James.
Unterhachinger Strasse 76
81737 Munich
Phone
089 67 011 69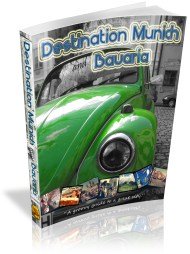 Every once in a while a book comes along that changes your life.
Until it does, please consider buying Destination Munich and Bavaria, the grooviest, most informative guide on the market :-)
It'll give you full-colour maps, practical info and hundreds of tips on how to get the most out of your visit.
It's 285 pages of up-to-the-minute travel intelligence and it can be yours as an eBook for less than the price of an Oktoberfest beer. (
read on
)
Sharing is caring
Spread the love and tell a pal about this particular page....