Munich Beer Gardens
MUNICH BEER GARDENS:
Beer gardens are to Munich what street cafes are to Paris, pubs are to London and amphetamines were to Johnny Cash – implicit, allied and utterly inseparable.
Munich's beer gardens are like little islands in the urban sea where locals escape the hectic and wind down.
It's not all about the beer.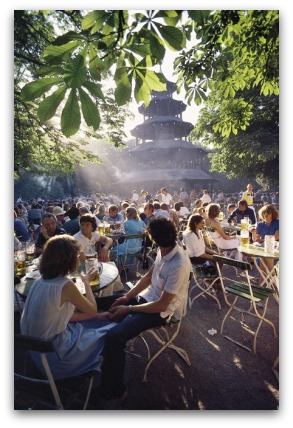 SUBLIME: Munich beer gardens are
the perfect retreat. This is
at the Chinesischer Turm.
Pic: P. Scarlandis / FVAmuc
These are places to share a lazy lunch with family or friends, or make a few new ones on the table next to to you. You will have never seen Germans as laid-back and friendly as at beer gardens in Munich.
Most beer gardens have playgrounds for kids and a couple have other diversions, such as a deer enclosure (
Hirschgarten
) or paddle-boat rental (
Seehaus
). Shady chestnut trees and long wooden benches are two of the hallmarks of traditional Munich beer gardens.
The benches encourage you to sit down with strangers and strike up a conversation.
That's what they call
Gemütlichkeit,
friends. That unique German word which means a sense of cosiness and social acceptance.
So jabber, drink and be jolly - soon you'll be
Prost
-ing like a pro.
Note: Virtually all of Munich's beer gardens are only open during the warmer months (i.e. April to October), so we're currently in the on-season! Fortunately even in the winter every beer garden also has a pub attached, so you can pop inside for one instead and enjoy the snowy weather from the happy side of the window.
In the glass
Munich beer gardens usually each serve only one brand of beer from the city's major breweries, be it Paulaner, Augustiner, Hofbräu, Löwenbräu, Hacker-Pschorr or Spaten. The standard measure is the one-litre Maß but half-litre portions are almost always available.
Try the Radler if you're taking it easy. It's a mix of Helles beer (lager) and sweet lemonade, invented especially for cyclists. If you're off the booze altogether a cola/Fanta mix called Spezi is a popular choice.
First-class Munich beer gardens
Here are my reviews of the most-loved Munich beer gardens. I haven't bothered to give them individual ratings since they're all top-notch. Do try to get to at least one of them during your stay.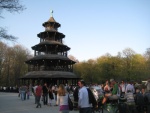 Wanna get worldly?
Here you can drink German beer next to a Chinese tower in a so-called English garden. This is Munich's loudest and proudest beer garden and a must-do for most Munich visitors.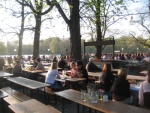 You can't get much better than this. Not only is Seehaus in the midst of the vast
Englischer Garten
park, it sits on a lake bank for maximum chill-out factor.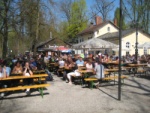 This is great addition to your Isar River bike-and-beer gardens itinerary.
The garden is in a secluded woody semi-island about 4.5kms south of the city centre.
No, make that the biggest in the whole world! Most locals think it's one of the best.
A gem that's somehow still hidden.
There's a Benedictine monastery, a church and a first-rate beer garden.
On the plate
Beer garden cuisine has become something of a sub-genre in its own right. Hot food is served, but you're also allowed to bring your own food from home.
It's tradition in Munich beer gardens and locals view it as a God-given right (see the
How they started
section below).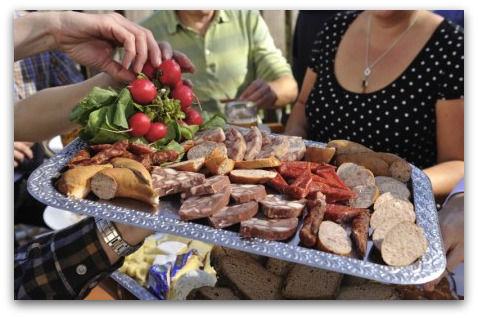 NIBBLES: A tradtional Brotzeitteller with smoked and cooked meats, bread and radishes.
Pic:© Kloster Andechs
So do yourself a favour and get down to the nearest supermarket, or the
Viktualienmarkt
if you want to splash out a bit.
Pick up the following items and stash them in a bag along with plates, cutlery and a tablecloth (blue and white Bavarian chequered pattern preferred).
Biergarten picnic list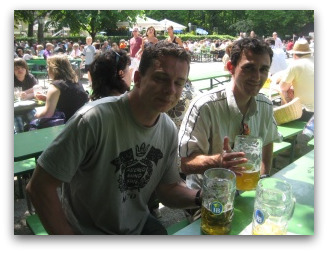 ON THE WAY: Me after a bit too much
already in one of the Munich beer gardens.
1. Obatzda
– A cheesy-oniony spread and beer garden staple. You can buy it in little tubs, usually next to the butter at the supermarket.
2. Fruit and veg
–
Radi
(radish) is the usual favourite at garden benches, cut it up into a spiral and stick it on your buns.
Cherry tomatoes
,
pickles
and
cucumbers
are other healthy fillers.
3. Meat
- No lack of options here, German supermarkets have a huge variety of sliced
Fleisch
for your DIY snacks.

4. Bread and Brezel
– Any type of bread should do, but the denser the better and preferably not pre-sliced. There's no need to stick around the supermarket for these, bakeries are everywhere in Munich.
Bread rolls here are called
Semmel
.
Brezel
(pretzels) should be fresh and have a sprinkling of rock salt – it's the best bit.
A few more pointers on food at Munich beer gardens
• If you want to buy your meal,
Steckerlfisch
(grilled fish on a stick),
Hendl
(chicken) - you typically get a half, and
Hax'n
(pork knuckle) are fine options.
• Many Munich restaurants also have a small beer garden attached, but these aren't traditional in the sense that you can't bring your own food (obviously).
• Sections of beer gardens that are
already tableclothed
are usually reserved for guests ordering food. Here you can expect typical restaurant service with waiters and such.
• Otherwise, buying food and drinks is
self-service
. You go up to the hut to order and take the consumable booty with you.
How they started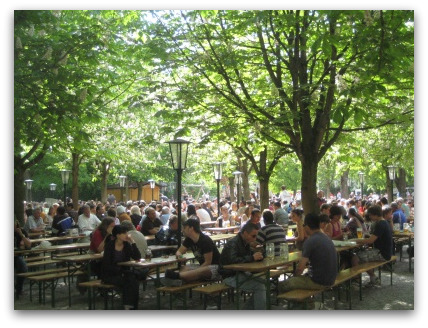 GREEN ENERGY: Shady chestnut trees are a fixture
of any good beer garden in Munich.
Munich beer gardens were born, just like the city itself, on the banks of the Isar
River.

Since beer only brews when it's cold, budding beer barons dug cellars along the banks of the icy Alpine stream.

Gravel was strewn and amply-foliaged chestnut trees were planted to keep the sun's rays at bay and the beer nice and cool.
It wasn't long until someone hit upon the idea of selling the brew on the spot. Long wooden benches were set up around the trees and the "traditional" beer garden we know and love today came to be.
This, of course, got on the goat of the existing Munich guesthouses, who found themselves facing a stiff new brand of competition. Sit inside a stuffy old pub on a hot summer's day or head down to river to drink straight of the barrel? I know what I would have chosen.

King Ludwig I himself stepped in with a stroke of genius – the beer gardens would be allowed to sell beer, but not food.
And so the punters were allowed to take their own food along to the gardens.
It's a custom that continues to this day, even though Ludwig's decree was long since abolished and beergardens in Munich can serve food as well.

An organised tour?
Bavarian Beer and Food Evening Tour in Munich
Cost:
from €25
Duration:
About three hours

Discover the delights of Bavarian food and beer on this evening sortie into some awesome Munich watering holes.
You get free beer and food samples – Weisswurst, roast pork, Obazda cheese…mmmmm, and a guided tour through Munich's
Beer and Oktoberfest Museum
.

Includes a visit to one of the classic Munich beer gardens and the famous Hofbräukeller.
A very popular tour and a great introduction to Bavarian sustenance.
(Read more about the tour)
•
See here to find out about more tours in and around Munich.

Map of Munich beer gardens

View Beergardens in Munich in a
larger map
Here's a map showing the Munich beer gardens I've reviewed so far.

Still some work to do on this one but that doesn't worry me at all.

You'll have to zoom out a ways to see where Kloster Andechs is.
Enjoy the great outdoors.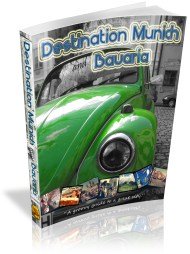 Every once in a while a book comes along that changes your life.
Until it does, please consider buying Destination Munich and Bavaria, the grooviest, most informative guide on the market :-)
It'll give you full-colour maps, practical info and hundreds of tips on how to get the most out of your visit.
It's 285 pages of up-to-the-minute travel intelligence and it can be yours as an eBook for less than the price of an Oktoberfest beer. (
read on
)
Sharing is caring
Spread the love and tell a pal about this particular page....
Find out more...
• Learn the backstory behind Munich beer.
• Go from Day Trips from Munich to the main Munich Attractions page.
• Jump from Munich Beer Gardens back to Destination Munich Home