Schloss Linderhof
Schloss Linderhof is the most charming of
King Ludwig II's creations.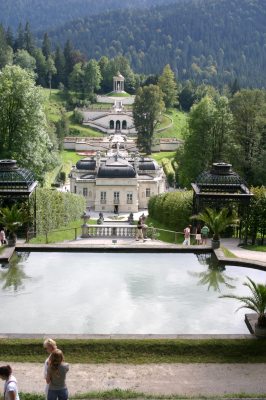 ALPINE EXCURSION: Schloss Linderhof is
at the foot of the Bavarian Alps.
"Enchanting" isn't a word I use willy-nilly.
I find myself, however, busting at the gums to think of a better term for the slice of heaven they call Linderhof.

This pint-sized palace was the favourite address of Bavaria's "fairy tale king", Ludwig II, after a quick tour you'll understand why.
It took me a good hour driving south from Munich to see
Linderhof, stopping in at Garmisch-Partenkirchen for a quick coffee along the way.

Expectations were high, I'd say almost as high as the Alps we were heading towards. It would be hard to beat Neuschwanstein, Ludwig II's infinitely more famous fairy tale castle they're now calling the eighth wonder of the world.


Compared to Neuschwanstein this palace was tiny. And quiet. Only a few groups of tourists were lingering at the long pool in the forecourt. It's an incredibly peaceful setting nestled in a valley at the foothills of the Bavarian Alps. Ahh…the serenity! So much serenity.
The tour begins...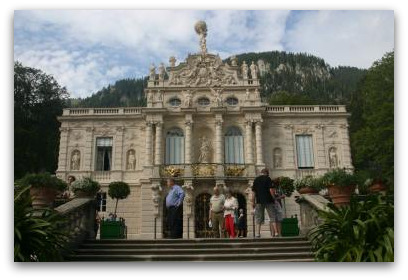 MAGNIFIQUE: Schloss Linderhof was inspired
by French Sun-King Louis XIV.
An English-speaking group assembled in the
vestibule
(entrance hall) where a tour guide came out to meet me and the rest of the guests.
She said this was Ludwig's favourite home, built on the site of his father's old cottage and finished in 1878.
Ludwig lived over seven years of his life here compared to his 11 nights at Neuschwanstein before he was declared insane and carted away.
The guide said Ludwig drew inspiration for Schloss Linderhof from his hero
French "Sun-King" Louis XIV
. Traces of the Sun-King's Versailles palace are all over the palace and grounds.
We were led through a succession of rooms, each somehow more opulent than the next. First stop up the stairs was a
tapestry chamber
. Talk about spiffy! Every wall, chair and chest of drawers was gilded in gold and a fine mural graced the ceiling.
Next up the
audience chamber
. Quite small, but then again, the king never asked anyone over for tea and crumpets.
Ludwig was an incredible recluse and preferred to study in here, devouring books on art and architecture and thinking up grandiose schemes to glorify his kingdom. Still, I couldn't imagine a finer setting for an afternoon sandwich with the Queen of Spain or whoever.
The masterful bedroom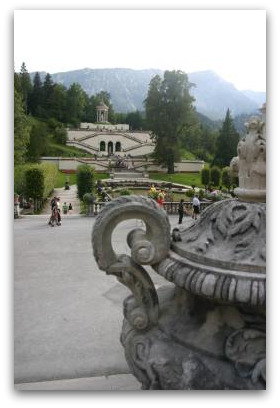 IMMACULATE: The palace and
grounds of Schloss Linderhof were
exquisitely designed.
Schloss Linderhof's audience chamber was amazing enough, but the
bedchamber
had me dropping my jaw. It's the largest room in the palace and crowned with a 108-candle crystal chandelier.
The golden balustrade blocking off the bed had me scratching my chin. Surely a recipe for disaster. Just think of the trips he must have had making midnight runs to the bathroom after a hard day's night on Bavarian beer!
The tour guide explained that the balustrade was to give the Ludwig's resting place the appearance of an altar, further glorifying his kingly goodness.
Ludwig subscribed to the
absolutist
school of rule, believing the king was anointed by God and could do whatever the hell he liked.
Next up was the
dining room
, where Ludwig dined alone. I mean really alone. Ludwig had a "magic table" installed which could be lowered and raised to and from kitchen.
Staff cooked and served meals without ever coming face to face with the king. But who would he have complained to if there was a fly in his soup?
The final showpiece room was the
Hall of Mirrors
. Ludwig used to stay up late at night reading by candlelight reflected into infinity. He had the two mantelpieces decorated with lapis-lazuli gemstone and paced back and forth on an ostrich plume rug.
Gardens of pleasure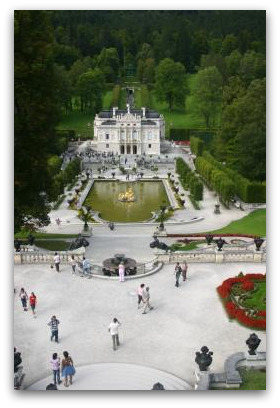 GRAND: The palace grounds have
some spectacular look-out points.
The tour done, we strolled the
ornamental gardens
and found a few more echoes of the French "Sun-King". A flower bed shaped like a bourbon emblem graced the back courtyard and a bust of Louis XIV lorded over the eastern terrace.
At the back of the palace we found the cascade, an artificial waterfall streaming gently down 30 steps and culminating at a statue of sea god Neptune at the bottom. We headed up the hill to the
Venus Grotto
.
This was an artificial cave cut out of the rock. Made for private performances of
Richard Wagner's operas
, it has a small lake, a waterfall and one of the first electric lighting systems in the kingdom.
The lights could even change color to suit the mood of the scene being played out.
Ludwig would swan about on the lake in a shell-shaped boat while actors and musicians got it on for an audience of one. How's that for some royal privilege!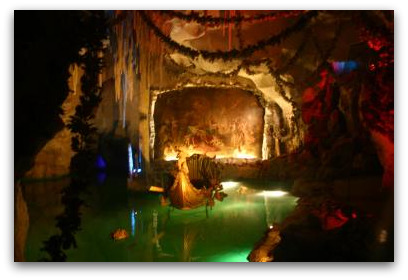 FANTASIA: The Venus Grotto at Schloss Linderhof
was Ludwig's private theatre.
Walking back to the car we peeked into some of the other outbuildings. There was a cute


Moroccan cottage
and a
Moorish Kiosk
with a peacock-themed throne.
They say Ludwig liked to live out flamboyant fantasies within.
His servants donned Eastern gowns and sat cross-legged smoking hookah pipes as musicians and dancers entertained. The palace and gardens had me thrilled. As good as Neuschwanstein? Every little bit and more.
I also felt a tad envious that I wasn't born a king and have such fine digs.
But then I suppose I wouldn't have had Ludwig's obsession for beauty needed to create something like Linderhof.
The details

View Linderhof Palace in a
larger map. See below for a map
of the Linderhof grounds.
Location:
Schloss Linderhof 12, 82488 Ettal, Bavaria
Phone:
088 2 29 20 30
Website:
www.linderhof.de

Open:
Schloss Linderhof is open daily, April to September 9am to 6pm, October to March 10am to 4pm.

Cost:
April to September €8.50, concession €7.50. October to March €5, concession €4.
Directions:
If you're coming by public transport take a train to Oberammergau and then a connecting bus to Schloss Linderhof.
To check connections visit the
Deutsche Bahn site here
. If you are driving, take the A95 highway and the road B2 to Oberau. Follow the signs in Oberau to the road B23 (Ettaler Strasse). Outside Ettal turn left into the road ST2060.
Take an organized tour
Are you looking for an organized tour of Schloss Linderhof? Here's one I recommend from my booking partners at Viator.
It takes in both Linderhof Palace
and
Mad King Ludwig's famous Neuschwanstein Castle in one day. Now
that's
something you wouldn't be able to do by taking the train!

Cost:
from €49 (Special price of €24,50 until March 15!)
Duration:
About 11 hours
You start this tour with a visit to
Schloss Linderhof
. Then you'll scoot over to the nearby village of
Oberammergau
for a shopping/sightseeing expedition.
It's a gorgeous place, full of picture-postcard old houses with the backdrop of the Alps.

Then you'll head over to Hohenschwangau where you can explore the castles
Schloss Hohenschwangau
and the big daddy of them all,
Schloss Neuschwanstein.
(Read more about the tour)
Here's a map of Schloss Linderhof and its park from the Bavarian Palace Department. It's got a legend so you can see exactly where everything is. Click on it for a much larger version.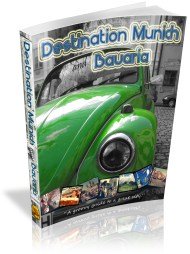 Every once in a while a book comes along that changes your life.
Until it does, please consider buying Destination Munich and Bavaria, the grooviest, most informative guide on the market :-)
It'll give you full-colour maps, practical info and hundreds of tips on how to get the most out of your visit.
It's 285 pages of up-to-the-minute travel intelligence and it can be yours as an eBook for less than the price of an Oktoberfest beer. (
read on
)
Sharing is caring
Spread the love and tell a pal about this particular page....