Pinakothek der Moderne

PINAKOTHEK DER MODERNE: This is where the fresh, the edgy, the controversial and the downright confusing artworks come to play.
The Pinakothek der Moderne (built in 2002) is the newest and brashest of Munich's three big art galleries.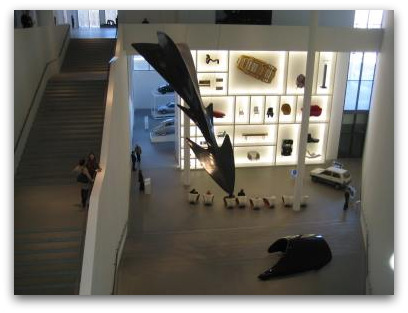 NEW PERSPECTIVE: The entrance to the Design section at the gallery.
Although the building doesn't look like much from the outside its circular floor plan and minimalist design will have you darting around like you're in a post-modern Alice in Wonderland.
There are four focus areas: Art, Architecture, Design and Works on paper, but staff are quick to point out that nothing here is static. "Permanent" exhibitions often make way for visiting shows relegating renowned works to the back rooms.
That said, here's a rundown of works regularly featured, and an account of what I saw when I visited.

Impressions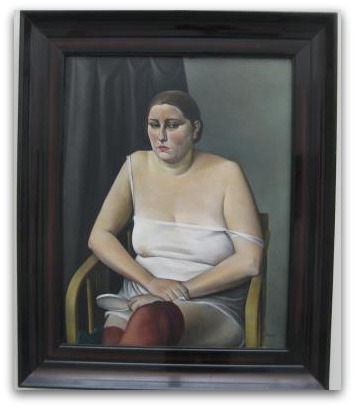 DESPONDENT Alexander Kandolt's Halbakt features in the Pinakothek der Moderne.
I know very little about art, so forgive me if my impressions come over as a little naïve.
I first ran into the
Classical Modernism
collection of paintings, on the first floor to the right of the entrance.
The first room hosted Sofie and Emanuel Fohn's bold bunch of expressionist works.
I liked the bright, unashamed use of colour in these paintings, as if each one is celebrating the joy of life along with telling another story.
My favourite was "
Tanz um das Goldene Kalb
" (Dance around the golden calf) by expressionist Emule Nolde, 1910, with its group of young women dancing joyously.
Baleful dames
I found myself wondering whether to laugh or cry at Heinrich Maria's Davinghausen's
Dirde
(1921). Say what you will, she sure looks happy to see him! She was in a room full of off-beat females including Alexander Kandolt's divinely despondent and weighty lady in
Halbakt
(1912).
Curiouser and curiouser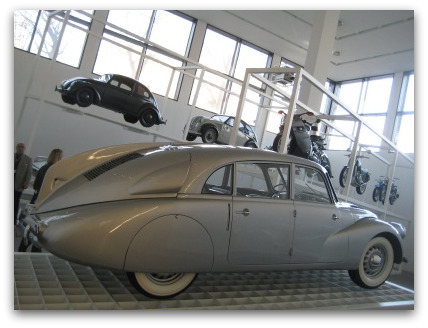 STYLISH: A 1937 Tanta from the Czech Republic in the Design section.
Then there were some surrealist and post-modern works, which frankly gets a bit too much for me. I found Georg Baselitz's neo-expressionistic
Der Trommler
, with a black mass washing over a solitary yellow figure, a bit wacked out.
Joseph Beay left me similarly confused with his
End of the 20th Century
in
Room 20
. It's a bunch of busted basalt columns thrown around an empty white room. I guessed it was supposed to represent the end of civilization as we know it, but really, what's up with that? Just what was Mr Beay smoking? And how, oh how, do I get mine?
I was disappointed to find the works of
Andy Worhol, Pablo Picasso
and others were off the shelves due to a visiting collection of modern German and American art and headed down to the design section.
Art in the everyday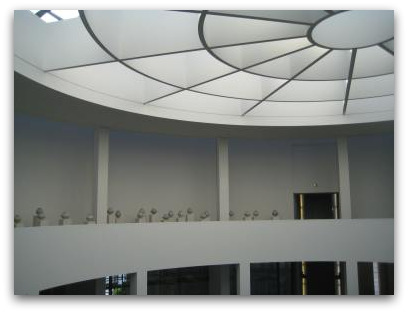 LET THERE BE LIGHT: The circular skylight of the Pinakothek der Moderne domminates the inner lobby.
The design exhibit at the Pinakothek der Moderne starts at the base of board staircase to the right of the entrance, which opens up into a huge viewing room.

What's on show?
An eclectic mix of design icons on an enormous Ikea-style bookshelf, of course.
There's a red-lip sofa, coffee machines, a toboggan, kitchen chairs and a wooden car
chassis.
I think it's there to make you realise that everyday object are also art, just in the mass-produced manner. These are the designs that defined generations, folks, so it's time to ante up and pay a little tribute.

Designs that can "move" you
On special display down here is an old Panda, a beat-up Italian auto icon. It's early eighties chick and the child of "Car Designer of the Century" Giorgetto Giugiaro.
He started the 'folded paper' era which introduced straight lines to cars and continues today in the form of my family's old Volvo. A sign said this particular model was driven all the way from Sardinia, which might explain how it got so rusty. It is an island, after all.
There are more magic motors in the next room, among them early model Porches, motorbikes, and a silver 1937 Tantra from the Czech Republic with a wicked shark's fin tail.
A cornucopia of classics
I moved onto the later-day laptops, Japanese robot dogs and Macs PCs so bulky and ancient they'd give today's iPad owners the shivers.
There are all kinds of cool designs here, from desktop fans and record players, to accordion-style retractable tables, bent-wooden armchairs and sneakers. Then I found the jewellery another level down.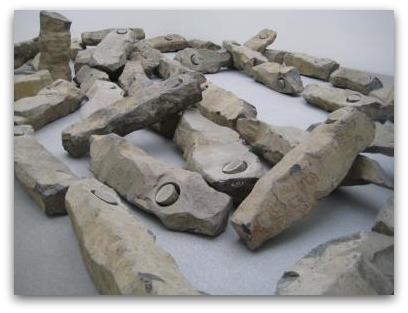 ABSTRACT: Joseph Beay's confusing End of the 20th Century is one of the wackier artworks at the Pinakothek der Moderne.
Among the temporary exhibitions I saw was a big pool of drawings borrowed from New York's Morgan Library and Museum. Honestly, it failed to float my boat.

Ditto for the only mildly moving Multiple Cities display in the architecture section.
This consisted of models, drawings, maps and photographs of varying cities concepts, including 'Destroyed Cities', 'Patchwork Cities' 'Cities on the Move' and 'Megacities'.

Final verdict
Overall, an interesting collection, and well worth a few hours of your time, especially if you're in town on a Sunday when admission is next to nothing.
I've never toured New York's
Metropolitan Museum of Art
or but I imagine it's akin to Munich's Pinakothek der Moderne. The fact they change displays every so often is a good reason to keep coming back.
The Details

Location:
Barer Strasse 40
Phone:
089 23 80 52 60
Website:
www.pinakothek-der-moderne.de
www.die-neue-sammlung.de (current exhibition program details)

Cost:
€10, concession €7 including audio guide, Sundays €1 (but some special exhibitions have an additional admission fee).
Open:
The Pinakothek der Moderne is open daily 10am to 6pm, Thursday to 8pm, closed Monday
Directions:
Take tram 27 from Karlsplatz-Stachus to the stop Pinakothek. Or you can take the "Museum Bus" line No. 100 from the Hauptbahnhof (Main Train Station).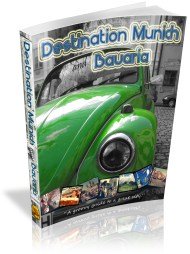 Every once in a while a book comes along that changes your life.
Until it does, please consider buying Destination Munich and Bavaria, the grooviest, most informative guide on the market :-)
It'll give you full-colour maps, practical info and hundreds of tips on how to get the most out of your visit.
It's 285 pages of up-to-the-minute travel intelligence and it can be yours as an eBook for less than the price of an Oktoberfest beer. (
read on
)
Sharing is caring
Spread the love and tell a pal about this particular page....