Oktoberfest recipes

OKTOBERFEST RECIPES: What's on the plate at the Munich Oktoberfest is often just as tasty as what's in the glass.
All of the Oktoberfest tents have extensive
menus of traditional taste bud-pleasing, stomach-settling nosh.
I've put together this collection of German and Bavarian recipes from open-source sites on the web.
I hope they help you to recreate the
taste of the festival wherever you are in the world.

Guten Appitit!

CHOW TIME: Get a taste for the Munich Oktoberfest with these traditional German Oktoberfest recipes. Pic: © AFP
1. Gurkensalat mit Sahne - Cucumber salad with cream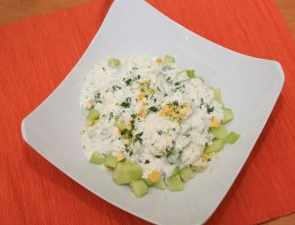 Gurkensalat mit Sahne
Oktoberfest recipes Pic
:
CC
Cookipedia
About this recipe
This is a simple, yet delicious German cucumber salad with cream.

Servings
Serves 4

Ingredients
* 4 tbsp sour cream
* 1 tbsp white wine vinegar
* 1 cucumber, peeled and diced
* Salt and pepper to taste
* Chives and salad burnet, finely chopped
* 4 egg yolks, hard-boiled, chopped

Method
1. Mix the cream and the vinegar together.
2. Place remaining ingredients in a bowl and pour the dressing over them.
3. Mix gently and allow to rest in the fridge for an hour or so before serving.

Serving suggestions
Can be served as a first course, or as an accompaniment to fish or pork.

Variations
You can vary the herbs - try dill or borage.


2. Brezel- Pretzels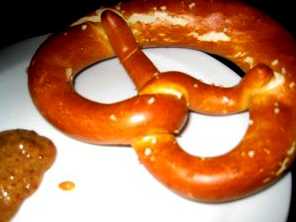 A Bavarian pretzel (Brezel)
Oktoberfest recipes pic
:

Stuart Anderson
About this recipe
These are soft pretzels.

Ingredients
* 4 cups flour
* 1 t salt
* 1 T sugar
* 1 package yeast (1/4 oz active dry yeast, 2.25 t dry yeast, or one 0.6 oz yeast cake)
* 1.5 cups warm water
* egg white (or beaten whole egg)
* coarse salt (margarita or kosher salt)
Directions
1. Dissolve the yeast in the water
2. Mix in the salt, sugar, and flour
3. Knead the dough until it is smooth
4. Roll out (do not cut) a blob of dough until it is about 18 inches long.
5. If a traditional shape is desired:
Make a loop with the middle of the dough, crossing the dough over itself at about the 15% and 85% areas. Give this contact point a 180° twist, then flip it (and the ends) over toward the middle of the dough piece so that the ends overlap the more-central part at about the 45% and 55% areas.
6. Brush the pretzel with egg.
7. Sprinkle coarse salt onto the egg.
8. Bake at 425°F for 15 minutes.

Oktoberfest recipes source: This is a Creative Commons menu from Wikibooks. Original at
Wikibooks
.
3. Knödel - Potato dumplings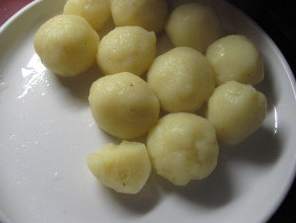 Knödel
Oktoberfest recipes
pic:
CC
Cookipedia
About this recipe
Potato dumplings are known by many names including Knödel in southern Germany and Austria, canederli in Italy and klub in the USA.
Another inventive German name is Bauchrutscher meaning literally "belly bricks".
They can be made from potato or bread and are made without yeast, generally savoury and often filled.
An excellent side-dish for Oktoberfest meals.

Servings
Serves 6

Ingredients
* 225 g (8 oz) floury potatoes (Desiree, King Edward), peeled, boiled and mashed
* 115 g (6 oz) suet
* 115 g (4 oz) self-raising flour
* 50 ml (2 fl oz) water
* 2 tablespoons fresh mixed herbs, chopped
* sea salt and freshly ground black pepper
Method
1. In a bowl, mix the dumpling ingredients into a soft dough
2. With lightly floured hands, roll into 6 balls
3. Place the dumpling in a large pan of boiling water, ideally they should not touch. Reduce to a simmer and cook (don't boil) for 20 to 30 minutes
4. The dumplings will sink at first, and rise to the surface once cooked - just make one final check for 'doneness'.
Variations
Place in a baking tray filled with 500 ml or so of hot vegetable stock (not quite covering the dumplings)and bake in an oven preheated to 190° C (375° F - gas 5).
For a nice crispy top, finish under the grill for 5 minutes.


See more Oktoberfest recipes below.
4. Schweinshaxe - Bavarian pork knuckles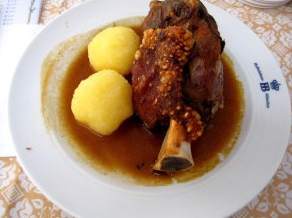 A Schweinshaxe with Knödel in gravy

.

Oktoberfest recipes pic: Stuart Anderson
About this recipe
Bavarian pork knuckes or
Schweinshaxe is also known as pork shanks or hocks. It's a classic main meal at the Munich Oktoberfest.

Servings
Serves 2

Ingredients
*pork knuckles
*black peppercorns
*2 Tbls. cooking fat / vegetable
shortening
*pinch of cumin
*1 small leek
*1 celery stalk
*1 carrot
*1 onion
*salt
*Beer or water
Directions
1. Wash and dice the leek, celery, carrot and onion.
2. Cook the pork knuckles, diced vegetables, salt and peppercorns in water to cover 2 to 3 hours or until tender, but be careful not to overcook them.
3. Preheat oven to 400°F.
4. Remove the pork knuckles from water and drain well.
5. Take out the vegetables and keep the cooking liquid.
6. Melt fat or shortening in an enamel-lined, cast iron pan.
7. Add pork, vegetables and a small amount of cooking liquid and bake for 30 minutes. Moisten meat frequently with more cooking liquid. Before meat is fully cooked, sprinkle with beer or water in which a good amount of salt has been dissolved.

Variations
Add a small amount of cumin before serving to increase flavour.
Chef's notes
You can strain and serve the juices and cooking liquid as an accompanying sauce, or just use gravy. Schweinshaxe is most often served in Bavaria with a portion of Sauerkraut (see here) or Knödel (Potato dumplings) see here.

5. Schweinekotelett auf Sauerkraut - Pork chops with sauerkraut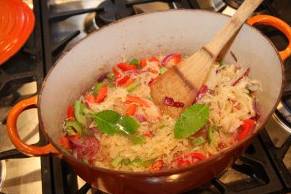 Schweinekotelett auf Sauerkraut.
Oktoberfest recipes pic:
CC
Cookipedia
About this recipe
The use of paprika is reflective of Austria's prior links with Hungary.
When I cooked and tested the original authentic recipe for this dish, I made a few changes to it which, to my mind, improved it's look and taste.
If you wish to make the original, it has been preserved here.
If you wish to make my version, it is below, or of course, read both and make a composite of both.
I halved the amount of sauerkraut (which was still the contents of a densely packed medium to large jar).
Even with the quantity halved, there was more than enough to serve four people. The dish was very good, but still overpowered by the vinegary flavour of the sauerkraut.
I have removed the initial stage of simmering the sauerkraut in stock as it does not require cooking anyway and this will lessen the vinegar permeation.
I have added an extra sweet red pepper, red, for extra flavour and taste.
To balance it out, I have added a teaspoon of sugar and just to spice it up a little, a shake of chilli flakes. In all, a success. I will definitely be cooking with sauerkraut again!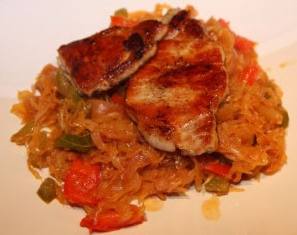 The finished product.
Oktoberfest recipes pic:
CC
Cookipedia
Servings
Serves 4

Ingredients
* 4 tbsp butter
* 2 medium onions, diced
* 330 g sauerkraut (1 medium jar)
* 125 ml beef stock
* 125 ml red wine
* 1 green pepper, seeds removed and chopped
* 2 bay leaves
* 2 teaspoons of Hungarian paprika
* 1 teaspoon of chilli flakes (or to taste)
* 1 teaspoon of sugar
* Pinch ground white pepper
* 4 pork chops
* Salt, to taste
* Freshly ground black pepper, to taste

Method
1. Melt half the butter in a casserole dish suited to take direct heat.
2. Add the onions and sauté until golden.
3. Add the sauerkraut, stock, wine, chopped peppers, bay leaves, paprika, chilli flakes, sugar, white pepper and simmer for 30 minutes.
4. Meanwhile, heat the remaining butter in a frying pan.
5. Sprinkle the pork chops with a little salt and black pepper and sauté them over a medium heat for about 15 minutes on each side and golden brown, ensuring that they are properly cooked.
6. Arrange the chops on top of the sauerkraut and serve.

Serving suggestions
Goes well with grilled tomatoes and boiled potatoes.

Chef's notes
If you do not have a casserole that will take direct heat, use a saucepan and when ready to serve transfer the contents to a pre-heated casserole dish.
I have found that the glass Pyrex casserole dishes can take direct heat, but you must heat them gently. I heated one too quickly a few years ago and it shattered, resulting in its contents making a lovely mess all over the hob and the floor.


6. Wiener schnitzel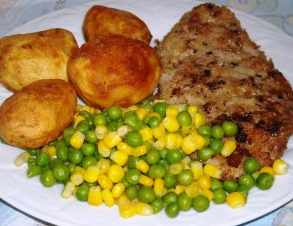 Wiener Schnitzel
Oktoberfest recipes pic:
CC
Cookipedia
About this recipe
Wiener schnitzel is probably Austria's most famous meat dish which is made with veal.

Servings
Serves 4

Ingredients
* 4 veal escallops, bashed between two sheets of greaseproof paper until very thin
* Flour, seasoned with salt and ground black pepper
* 2 eggs, lightly beaten
* Fine, dry breadcrumbs
* 4 tbsp butter
* 4 lemon slices
Method
1. Sprinkle some flour and breadcrumbs on separate plates.
2. Pour the egg(s) into a shallow dish.
3. Heat the butter to moderately high in a large frying pan.
4. Lightly coat each escalope in the flour, then the egg and finally the breadcrumbs.
5. Fry the veal until it is golden brown on both sides.
6. Serve, garnished with lemon.
Serving suggestions
Serve with parsley potatoes and salad.

Variations
Try adding some Alpine cheese, to the flour.

Chef's notes
Veal is currently a very contentious product. This is due to the way in which the animals are transported and the conditions in which they are kept. However, these issues mainly relate to continental produced veal and there is British veal available which has been produced from happy animals.
Look out for British 'rosé' veal, which is pinker than the continental variety. As far as I am aware, it is available from Marks and Spencer, Tesco and Waitrose.


7. Sauerkraut mit Kartoffeln - Sauerkraut with potatoes and apples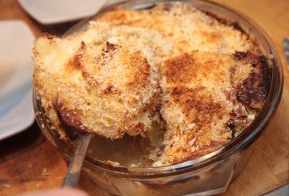 Sauerkraut mit Kartoffeln
Oktoberfest recipes pic:
CC
Cookipedia
About this recipe
One of my favourites.

Servings
Serves 4

Ingredients
* Lard or oil
* 500 g sauerkraut
* 500 g potatoes, peeled, boiled and thickly sliced
* 2 large cooking apples, peeled and sliced
* 110 g bacon, chopped (optional)
* 560 ml sour cream or yoghurt
* 30 g breadcrumbs
* 60 g hard cheese, grated
* Salt
Method
Pre-heat oven to 180° C (350° F- gas 4)
1. Heat some fat or oil in a large frying pan.
2. Add the sauerkraut, bacon (if using) and apples and fry gently for a short while.
3. In a casserole dish, arrange a layer of half the potatoes, cover with the sauerkraut mixture and then the rest of the potatoes on the top.
4. Mix the cheese, cream, breadcrumbs and salt and pour over the potatoes.
5. Bake until brown (about 20-30 minutes).

Before the sour cream and bread crumbs.
Oktoberfest recipes pic:
CC
Cookipedia
Variations
I have generally stuck to the recipe,
but there is no reason why you should not add onions or other grated vegetables.
Chef's notes
Choose a hard cheese such as Gruyère or Cheddar. This time I am using vintage Lincolnshire Poacher and I mixed some garlic with the breadcrumbs.

Got your own Oktoberfest recipe you'd like to share with the world? Please add it to the comments section below!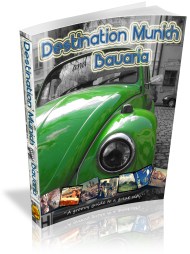 Every once in a while a book comes along that changes your life.
Until it does, please consider buying Destination Munich and Bavaria, the grooviest, most informative guide on the market :-)
It'll give you full-colour maps, practical info and hundreds of tips on how to get the most out of your visit.
It's 285 pages of up-to-the-minute travel intelligence and it can be yours as an eBook for less than the price of an Oktoberfest beer. (
read on
)
Sharing is sexy! Know how to RSS it? Subscribe here:
Spread the love and tell a pal about this particular page....