Oktoberfest A to Z

OKTOBERFEST A TO Z: Planning on hitting up Germany for the world's biggest party? Here's an alphabetical guide to Munich's popular piss-up.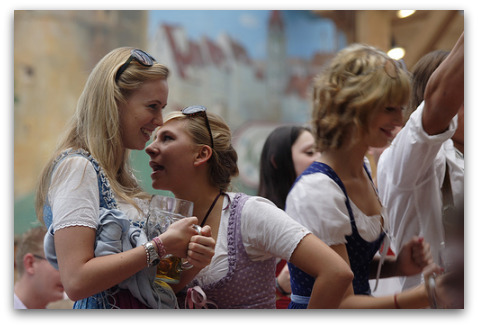 SECRET: "Hey, do you know where to get the best info about the Oktoberfest?"
"Of course! On this website, silly." Photo by andrijbulba
A Augustiner-Festhalle. Loved by the locals, the Augustiner is the only beer tent still to serve beer from wooden barrels.

B Bavaria. Not just the name of the German state where Munich is, but also the tag for the enormous statue of an Amazonian woman on the Weisn (Oktoberfest field). She's the patron saint of the land, and you can get a good view of it by climbing the 66 stairs to her head.

C Costume Parade. The second day of the festival features a procession of about 10,000 gussied up revellers led by the Münchener Kindl, the child-monk symbol of the city.

D Dirndl. The frilly dress famed for its plunging neckline worn by every self-respecting Fräulein on the Weisn. The range from the traditional, ankle-length numbers to the mini-skirted, ultra-revealing "porno-Dirndl".

E Eyes. When you're toasting across the table, make sure you look at these. If you don't, so say the natives, you're in for seven years of bad sex.

F Fischer-Vroni. A comparatively small tent that serves a variety of fish on sticks and Munich's favourite Augustiner beer.

G Gemütlichkeit. What Oktoberfest is all about. The uniquely German word for cosiness, acceptance and being jolly.

H Hofbräu-Festzelt. One of the biggest beer tents, the Hofbräu can hold over 10,000 people and is a favourite of international visitors.

TAKE AIM: If you're wondering where the toilets are,
follow this guy's arrow.
I I mog di narrisch gern. A way to say "I'm sweet on you!" in Bavarian. Positive results are by no means guaranteed.

J Janker. The traditional jacket worn in combination with Lederhosen.

K Käsespätzle. A southern German specialty recommended for those averse to swine. Consists of egg-based noodles with grated cheese and fried onions. Divine.

L Lederhosen. The short, leather pants worn by the men. They usually have suspenders and a flap at the front that can be let down to take a wee.

M Maß. The name of the oversized beer glasses. You can be slapped with a 60 euro fine of you try to take one away from the tent.

N Noagerl. The term for the dregs at the bottom of the beer glass. If you're so tanked that go around drinking these from abandoned tables at the end of the night you'll be called a Noagerlzuzla, which isn't really a nice thing to be called regardless of the meaning.

O O'zapft is! Munich's mayor shouts this out to officially start each festival at 12pm on the first day. In Bavarian, it means simply "It's tapped!"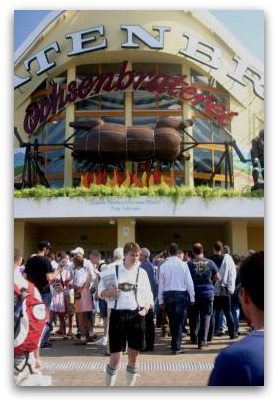 SPITROAST: You can see entire oxen
roasting on spits in the Ochsenbraterei tent.
P Pork. Folks down here can't get enough of the stuff. The Germans have found a way to prepare practically every part of a pig for human consumption. King among them is Schweinshaxe (pork knuckles) served with gravy and a potato dumpling.

Q Quartl. Bavarian for a quarter-litre beer glass. Ask for one at least four times as big and you won't be laughed at.

R Reinheitsgebot. This 500-year-old German purity law (now just a regulation, but still adhered to by most breweries) means water, barley and hops are the only ingredients allowed in beer. Won't stop you from getting a frightful hangover, though.

S Schlager. Not the local word for beer, but a type of bouncy German pop music that's played often in the tents.

T Toilets. They're everywhere and are often the only place quiet enough if you need to call someone on your mobile phone.

U Uaviech. The word for either a "primal animal" or a "real man". How you may see yourself after a Maß of beer.

V Vareckt. A word meaning either dead or insidious. How you'll inevitably feel after six.

WAVE TO THE PEOPLE, BLOW THEM KISSES: There's a traditional costume parade through the streets of Munich on the second day. Photo by Peter Becker
W Weinzelt. A smaller tent with 1300 places, this tent serves wine as well as beer.

X X-Ray. You may need one of you swallow a fork at the Oktoberfest. Happens. Sorry, but there's really not many words starting with x!

Y Yodelling.
The Sound of Music fans may be tipsy enough to try this, and why not? It's about the only place in the world you can without fear of prompting a severe wedgie.

Z Zzzzz. Need some shut-eye? The grassy incline around the Bavaria statue becomes a popular spot in the mid-afternoon to nap off one too many.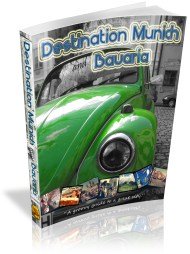 Every once in a while a book comes along that changes your life.
Until it does, please consider buying Destination Munich and Bavaria, the grooviest, most informative guide on the market :-)
It'll give you full-colour maps, practical info and hundreds of tips on how to get the most out of your visit.
It's 285 pages of up-to-the-minute travel intelligence and it can be yours as an eBook for less than the price of an Oktoberfest beer. (
read on
)
Sharing is sexy! Know how to RSS it? Subscribe here:
Spread the love and tell a pal about this particular page....