Munich Massacre victims
Paying tribute to the Munich Massacre victims, visiting memorial sites in Munich today and where to learn more about the tragedy
Visting the site of the Munich hostage crisis today
The apartments at 31 Connolly Strasse today.
Visitors to Munich can make a pilgrimage, of sorts, in memory of the victims of the Munich Massacre. You can take the U3 or U1 underground train to the stop "Olympia Einkauszentrum".
Most people getting out here will likely be tourist heading south to Olympic Park or nearby BMW complex. But first, take a detour north along Lerchenauer Strasse and follow the signs through a small shopping centre to Connolly Strasse. This was the main walkway through the former Olympic Village apartments, which are now student lodgings.
It's a beautiful and quiet place lined by flora-filled balconies and fountains providing the peaceful sound of running water.
Stop for a few moments outside No. 31, the former Israeli apartments, in memory of the events of September 5 and 6, 1972.
Nobody lives at No.31 now. The apartments are used by the Max Planck Institute, a scientific research body.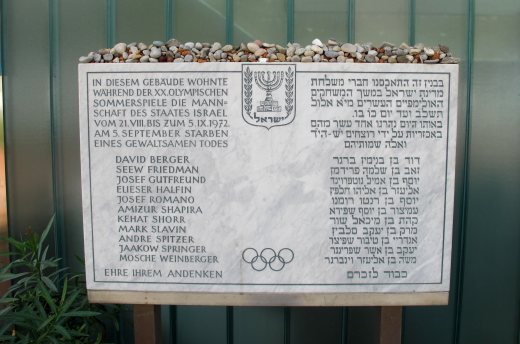 The memorial plaque in front of the apartments at 31 Connolly Strasse, site of the hostage crisis that led to the Munich Massacre. It reads in both German and Hebrew: "The team of the State of Israel stayed in this building during the 20th Olympic Summer Games. On the 5th September, (list of victims' names) suffered a violent death. Honour to their memory".

Continue on along Connolly Strasse before turning south towards the Olympic Park. Just before you reach a highway overpass there is a "long" memorial plaque to the Munich Massacre victims (see below). A few minutes' walk onwards you'll come to the main Olympic Stadium, which you have to pay €3 to enter.
Inside there are information boards about the Munich Olympics, including one describing the hostage crisis and Munich Massacre.

A map showing locations connected with the Munich Massacre.
The red pointer shows where the Israeli Apartment was at
31 Connolly Strasse. The blue pointer marks the "long" memorial shown below.
Zoom out a couple of times and you can see another red pointer marking where the
helicopters landed, and the massacre happened, at Fürstenfeldbruck Air Base.
View this map on Google.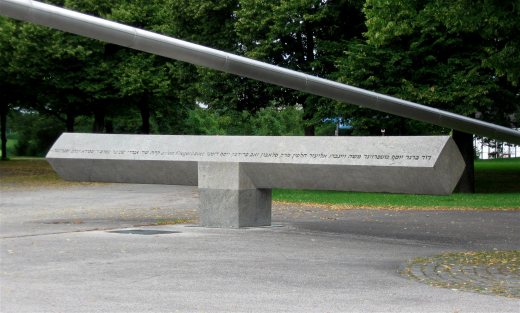 The "long" memorial for the Munich Massacre victims at the Munich Olympic Park.
It lists the names of the 11 Israeli victims in Hebrew script and the West German police officer, Anton Fliegerbauer, who died in the rescue attempt at Fürstenfeldbruck Air Base.
A plaque in front of the memorial reads in German: "GRENZSTEIN DES LEBENS, NICHT DER IDEE – WÄHREND DER SPIELE DER XX OLYMPIADE IN MÜNCHEN ERLITTEN ELF ISRAELISCHE SPORTLER UND EIN DEUTSCHER POLIZEIBEAMTER AM 5 SEPTEMBER 1972 DURCH EINEN TERRORISTISCHEN ANSCHLAG EINEN GEWALTSAMEN TOD".
This translates in English as "A boundary stone of life, but not of the idea – during the Games of the 20th Olympiad in Munich 11 Israeli athletes and one German police officer suffered a violent death in a terrorist attack on 5 September, 1972".
Pic: by Fritz Koenig via WikiMedia
In memory of the Munich Massacre victims
Killed in the apartment break-in: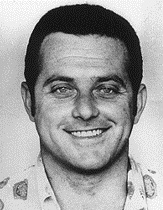 Moshe Weinberg
(19.09.1939-05.09.1972)
Moshe Weinberg
(wrestling coach), aged 33
Weinberg was the Israeli youth champion in wrestling and the adult champion for eight years.
He became the Israeli wrestling team coach at age 30 and was also the director of the Wingate Institute, a prestigious physical education centre.
Weinberg was the first Israeli the terrorists met during the break-in at the Munich Olympic Village. He fought back against the intruders, knocking one unconscious and giving his fellow Israeli Gad Tsobari to escape.
He was killed in retribution and his body was tossed out of the apartment so the terrorists could show they were serious. Weinberg had one son, Guri, a successful actor who portrayed his father in the film
Munich
.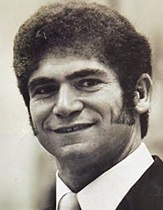 Yossef Romano
(15.04.1940-05.09.1972)
Yossef Romano
(weightlifter), aged 32
Romano was born one of 11 children in Libya, and his family emigrated to Israel (then Palestine) in 1946. Romano was Israel's weightlifting champion for nine years in the light and middle-weight divisions.
He was also an interior decorator, a veteran of the 1967 Six-Day War, a husband and a father to three children. Romano was due to fly back to Israel on 6 September as he had an injured knee and was forced to drop out of the Olympics' weightlifting competition. Even though he was on crutches he attacked the terrorist during the break-in at the Olympic Village , injuring one and taking his gun before being killed by the terrorists.
Killed in the helicopters: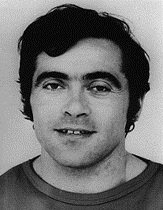 Ze'ev Friedman
(10.06.1944-06.09.1972)
Ze'ev Friedman
(weightlifter), aged 28
Friedman was born during World War II in Prokopevsk Siberia, a part of the then Soviet Union, after his parents had fled from Poland. They moved back to Poland in 1958 and in 1960 the family moved to Israel. Friedman started his sports career as a gymnast before switching to weightlifting.
He served in the Israeli Air Force and worked as a physical education teacher. Friedman came seventh in the featherweight class in the world weightlifting championships in 1970. In 1971 he won silver at the Asian games in Manila, the Philippines.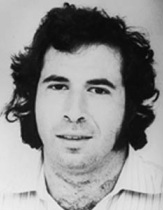 David Berger
(24.06.1944-06.09.1972)
David Berger
(weightlifter), aged 28
Berger was born in Cleveland in the United States and only immigrated to Israel in 1970.
He studied psychology at Tulane University and went onto earn a master's degree in business administration and a doctor of laws degree at Colombia University. Throughout his studies his main passion was for weightlifting, and he took the gold medal in the middleweight division at the 1969 Maccabiah Games. Berger also won silver at the Asian Weightlifting Championships in 1971. After immigrating to Israel he became engaged and planned to open a law office in Tel Aviv. Berger's body was returned to the US on an Air Force jet and he is buried in Cleveland.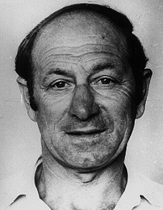 Yakov Springer
(1921-06.09.1972)
Yakov Springer
(weightlifting judge), aged 51
Springer grew up in Poland and his family lived in the Warsaw Ghetto after the Germans invaded in World War Two. He took part in the Warsaw Ghetto Uprising in 1943 and fled into Russia at the age of 18. Springer's parents, brother and sister stayed in Poland and died in the Holocaust. Springer returned to Poland after the war and studied at the Polish Academy of Sports. He moved to Israel with his wife and two children in 1957. There he taught physical education at a high school and helped to establish weightlifting as a national sport. he is buried in Tel Aviv.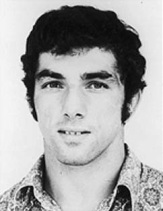 Eliezer Halfin
(18.06.1948-06.09.1972)
Eliezer Halfin (wrestler), aged 24
Halfin was born in Riga in the then Soviet Union and immigrated to Israel in 1969. A lightweight wrestler, he finished 2nd in an international competition in Bulgaria in 1971 and second at a tournament in Greece in 1972. Halfin was a mechanic by trade and he became an Israeli citizen seven months before his death in Munich.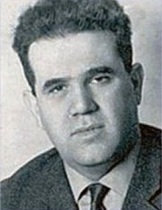 Yossef Gutfreund
(01.11.1931-06.09.1972)
Yossef Gutfreund (wrestling referee), aged 40
Gutfreund was born in Romania and attended medical school there, planning to become a veterinarian. But he was imprisoned for distributing "Zionist propaganda", and moved to Israel aged 17.
Gutfreund fought in both the 1956 Sinai War and the 1967 Six Day War and was noted for tending the burn wounds of the a group of enemy Egyptian soldiers who had been abandoned by their officers. Gutfreund lived in Jerusalem, was the head coach at a gym and ran an electrical appliance shop. He had a wife and two daughters. Munich was Gutfreund's third Olympics as a wrestling referee. During the break in at the Olympic Village Gutfreund thrust himself against the door the terrorist were coming in through, delaying the attackers enough so that weightlifting coach Tuvia Sokolovsky could break a window and escape.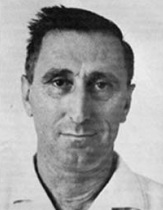 Kehat Shorr
(21.02.1919-06.09.1972)
Kehat Shorr (shooting coach), aged 53
Born in Romania, Shorr was part of the Axis invasion of the Soviet Union in 1941. As a Jew he was marked for internment, but he escaped and joined the Jewish partisans hiding in the Carpathian Mountains. Shorr was an excellent marksman and participated on raids on cities to rescue other Jews in hiding.
He moved to Israel in 1963 and lived in Tel Aviv with his wife and daughter. Shorr worked as a civil servant in Israel's Defense Ministry.
Shorr helped to introduce shooting as a sport into Israel and he trained the national shooting team for the Munich Olympics.

Mark Slavin
(31.01.1954-06.09.1972)
Mark Slavin (wrestler), aged 18
Slavin was the youngest victim of the Munich Massacre and had only moved to Israel three-and-a-half months before the 1972 Olympics.
Slavin was born in Minsk in the former Soviet Union and took up wrestling because he had been beaten up for being a Jew. He attended the Physical Education Teachers' Training Institute in Moscow and won a Roman-Greco wrestling championship in 1971.
Slavin was arrested for protesting against anti-Semitism before and he and his family were allowed to leave for Israel.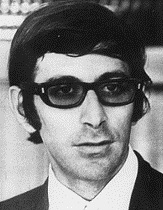 Andre Spitzer
(04.05.1945-06.09.1972)
Andre Spitzer (fencing coach), aged 27
Spitzer was born in Romania and moved to Israel with his mother when is father died in 1964. He served in the Israeli Air Force before taking up fencing at the Israeli National Sports Academy. In 1968 he moved to the Hague in the Netherlands to continue his fencing studies. Spitzer married one of his Dutch students in 1971, Ankie, and the couple moved back to Israel in 1972.
Spitzer was Israel's top fencing instructor and helped found the country's National Fencing Academy. His daughter, Anouk, was born a few weeks before the games and she was left with Ankie's parents in the Netherlands while Spitzer attended the Munich Olympics.
He arrived at the Olympic Village (after a short trip back to the Netherlands to visit his daughter, who had been hospitalised) just hours before the hostage crisis. Ankie, who is today called Ankie Rekhess-Spitzer, stayed in Israel after Andre's death and has been interviewed for several documentaries about the Munich Massacre. Rekhess-Spitzer led a legal battle to get the German Government to accept responsibility for bungling the rescue attempt and this led to payouts for the families of the victims. She said Spitzer had a strong belief in the Olympic ideal and made a point of meeting and greeting the Lebanese team (which Israel was at war with) in the Olympic Village in the days before the attack.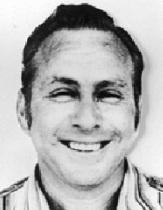 Amitzur Shapira
(09.07.1932-06.09.1972)
Amitzur Shapira (track coach), aged 40
Shapira was the head coach for the Israeli track-and-field team and had helped train some of the country's best athletes. One of his protégées in Munich was the 20-year-old Esther Shachamarov, a hurdles and sprint runner who later became the first Israeli athlete to reach an Olympic final. Shapira was born in Israel and was a short-distance runner in the 1950s. He was a teacher at the Wingate Institute's Jewish College.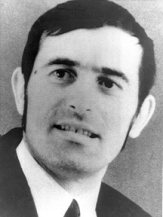 West German police officer
Anton Fliegerbauer
(1940-06.09.1972)
Anton Fliegerbauer (West German police officer), aged 32
Fliegerbauer was in the main building at the Fürstenfeldbruck Air Base during the shoot-out. He was shot and killed by a stray bullet.

List of the terrorists:
Black September members shot dead at the airfield:
Luttif Afif
(Issa),
Yusuf Nazzal
(Tony),
Afif Ahmed Hamid
(Paolo),
Khalid Jawad
(Salah),
Ahmed Chic Thaa
(Abu Halla).
Survived:
Mohammed Safady
,
Adnan Al-Gashey
,
Jamal Al-Gashey
.
Learn more about the Munich Massacre
Both of the documentaries referred to in this article are available to watch on YouTube.


One Day in September is a 1999 documentary directed by Kevin Macdonald and narrated by Michael Douglas.


Our Greatest Hopes, Our Worst Fears: The Tragedy of the Munich Games is a made-for-television documentary released in 2005.
Several excellent books about the Munich Massacre and subsequent operations by the Israeli special forces have also been published.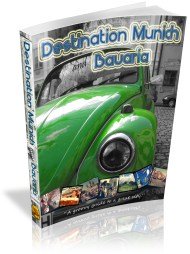 Every once in a while a book comes along that changes your life.
Until it does, please consider buying Destination Munich and Bavaria, the grooviest, most informative guide on the market :-)
It'll give you full-colour maps, practical info and hundreds of tips on how to get the most out of your visit.
It's 285 pages of up-to-the-minute travel intelligence and it can be yours as an eBook for less than the price of an Oktoberfest beer. (
read on
)
Sharing is caring
Spread the love and tell a pal about this particular page....