Munich Loves You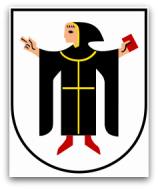 EMBLEM: Munich's coat
of arms features a
child monk, the
Münchner Kindl.
MUNICH LOVES YOU:
Munich has survived more identity swaps in the last 850 years than I change beer mugs in a session at the Hofbräuhaus.
I thought I'd try to explain what makes this city unique by looking at its many names…
Harsh as it sounds, Munich was born through an act of terrorism. All there was in the city centre 900 years ago was a community of monks, toiling their little gardens, praying six times a day and generally being pretty pious.
Downstream the Isar River was a city called
Freising
, run by a bishop who was getting fat off a toll bridge that serviced the salt-trade route through Bavaria.
Burn a bridge
Enter
Henry the Lion
. An ambitious noble with money on his mind, Henry decided to burn down the bishop's bridge and build a new one near the monks.
The salt carts had to cross his bridge now! As Henry's bridge-side village began to boom he called it
"Apud Munichen"
, meaning
"near the monks"
.
Ludwig's love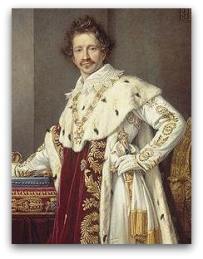 RANDY RULER: King Ludwig I
gave a lot to the city, including his love.
Shoot forward to the 1800s and the time of another randy empire builder,
King Ludwig I
. He went on a spree of classical construction and called Munich the
"Athens on the Isar River"
.
Many of the city's modern-day landmarks like Ludwig Strasse,
Königsplatz
and the
Bavaria statue
are thanks to him.
About the only thing Ludwig was better at that building seemed to be bedding beautiful women, check out the
Schönheitengalerie
at
Nymphenburg Palace
to see what I mean!
Facing the sun
YEARS OF GROWTH: Munich's Marienplatz in 1642.
Munich locals have long favoured facing the sun and fancy theirs is
"Italy's Northernmost City"
. Think leafy boulevards, Florentine architecture and languid street life.
Locals prefer the laid back Mediterranean lifestyle over the typically tepid northerners from Prussia of old. Even today many Munich locals feel closer to Austrians, and sometimes even Italians, than to northern Germans.
Nazi names
Munich was, sadly, a Nazi spawning pool and Hitler had a few special names for the city too. In 1933 he named it the
"Capital of German Art"
although he labelled most contemporary artists "degenerate" and had their works either destroyed or sold off.
Two years later Hitler called Munich the
"Capital of the (Nazi) Movement"
, which did the city no favours when the Allies began to bomb the crap out of the place in World War Two.
Post-war boom
After the war Germany was split into two, with East Berlin the capital of the communist East and Bonn the capital of the democratic West. Bonn was a strange choice.
It was little more than a village and didn't rise above an administrative centre, a place for the politicians to hang their hats on workdays before scooting off back home on weekends.
Munich on the other hand, was booming, a magnet for economic immigrants and big business alike, spawning the slogan
"Germany's Secret Capital"
.
As the city limits grew out close-by communities were "incorporated" into Munich.
These localities kept their small-town atmosphere despite becoming part of a metropolis, and many old-timers are still more proud of their district than they are of the city as a whole.
Thus, when it passed the million-mark in 1957 Munich became the
"Village of a Million People"
.
Kicking goals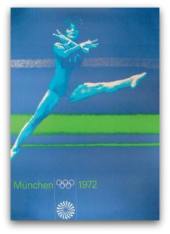 BIG MOMENT: An official Olympic
poster from 1972. "Munich Loves You"
was born.
The
1972 Munich Olympics
were tremendously important for the city's self-esteem. Only three decades after the war reduced it to rubble, Munich was back in the spotlight, confident and ready for the world to take notice.
Local cinema secretary Dorit Lindner dreamt up the nickname
"World City with Heart"
for the occasion.
Sport also birthed the city's current slogan.
"Munich Loves You"
came about for the
2006 Soccer World Cup
: Interestingly enough it was reduced to
"München mag Dich"
–
Munich Likes You
in German because locals thought the term
Liebe
( love) was a little too full on for their fellow Germans.
Different faces
Munich has always been a man of contrasts. He'll wear lederhosen and toast tradition at the turn of a hat. Then he'll whip out his laptop to blaze the info superhighway quicker than you can say "BMW".
His face is as conservative as the
Neues Rathaus
but his liberal streak is as long as the
Englischer Garten
. He'll drink and dance with the best of 'em and then go along to the opera.
I think Munich poet Heinrich Heine summed him up the best when he said the city "sits like a village between the hills of art and beer"!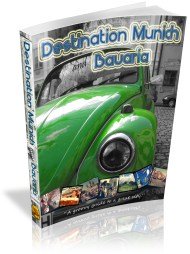 Every once in a while a book comes along that changes your life.
Until it does, please consider buying Destination Munich and Bavaria, the grooviest, most informative guide on the market :-)
It'll give you full-colour maps, practical info and hundreds of tips on how to get the most out of your visit.
It's 285 pages of up-to-the-minute travel intelligence and it can be yours as an eBook for less than the price of an Oktoberfest beer. (
read on
)
Sharing is sexy! Know how to RSS it? Subscribe here:
Spread the love and tell a pal about this particular page....