Munich for disabled travellers
MUNICH FOR DISABLED TRAVELLERS:
Munich does a good job of catering for tourists with a physical disability.
Most museums and hotels have wheelchair access and footpaths are generally flat and trouble-free if you're in a wheelchair.
The only problem might be navigating the throngs of people on the main pedestrian drags during summer!
A guide to the city
The Munich tourist office produces a fantastic 34-page English guide to the city especially for physically challenged visitors.
You can download it as a PDF document right here.
Getting around Munich made easy

There are elevators leading down to the underground U- and S-Bahn trains.
Many trams even have a little ramp which mechanically shoots out in front of the door when the driver notices that someone in a wheelchair wants to get on.
This PDF map, published by the Deutsche Bahn, shows the inner city U- and S- Bahn stations with lifts, ramps and moving walkways. 
There is also information about the height difference between the platform edge and the floors of the trains. There is also info about bus and tram lines with "low-floor buses" and boarding aids. For a similar map of the entire Munich public transport network see here.
Train station helpers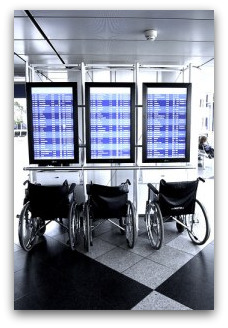 AVAILABLE: Wheelchairs at Munich Airport. Pic: CC ISO 1987
If you think you'll need some help on arrival or departure at the Munich Main Train Station (Hauptbahnhof) you can get in touch with the in-house volunteer helpers, the Bahnhofsmission München.
They can help you get on or off trains, offer free tea and coffee and can even speed you around to another platform if you have to make a quick connection.
The Bahnhofsmission München centre is at the southern end of the station next to Platform 11.

Contact details: Website bahnhofsmission-muenchen.de (in German)
Phone 089 59 45 76 77 78
Email Andrea.Sontheim@Bahnhofsmission-Muenchen.de, Gabriele.Ochse@Bahnhofsmission-Muenchen.de.
Ride services for the disabled
Try the excellent Mini-Bus Team Munich. Phone: 0893 99 3999 (9:30 am to 5pm) Mobile: 01717 77 1127 (at all other times);
www.minibusteam.de
Or try the...
Bavarian Red Cross (Ride Service). It's best to register at least a day in advance for this service, especially if want to organise a day trip away from Munich.
Address: Kaiser-Wilhelm-Strasse 4, 82319 Starnberg
Phone: 049 08151 2222

For those in need of more assistance. try the SFD (Special Ride Service for the Severely Disabled). They offer stair transport, vehicles for electric wheelchairs and small busses for up to four wheelchairs and attendants. For this service you must register at least a day in advance.
Phone: 00896 255522

Wheelchair repairs in Munich
There are a couple of businesses in Munich which offer wheelchair repairs.
Check out:
Rolli mobil GmbH
As well as wheelchair repairs, there guys offer wheelchair rentals and defective device pickup.
Address: Leopold Strasse 208, 80804 Munich
Phone: 089 3610 2428
Opening Hours: 9am to 6pm,
9am to 5pm on Fridays

or
Streifeneder
Address: Wildermuth Strasse 88, 80993 Munich
Phone: 089 5209 690
Open: 7.30am to 5pm, 7.30am to 12.30pm on Fridays
Parking: Outside the front door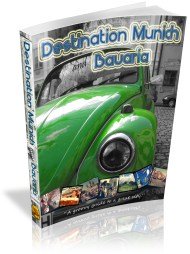 Every once in a while a book comes along that changes your life.
Until it does, please consider buying Destination Munich and Bavaria, the grooviest, most informative guide on the market :-)
It'll give you full-colour maps, practical info and hundreds of tips on how to get the most out of your visit.
It's 285 pages of up-to-the-minute travel intelligence and it can be yours as an eBook for less than the price of an Oktoberfest beer. (
read on
)
Sharing is caring
Spread the love and tell a pal about this particular page....