Munich Christopher Street Day

The biggest gay and lesbian celebration in Bavaria is the Munich Christopher Street Day!
Next on:
July 15-16, 2017
The gay and lesbian community energise Munich during the city's annual Christopher Street Day celebrations.
For nine days in July the city centre explodes with drag queens, high heels and feather boas in the name of gay and lesbian equality and issues confronting the gay community.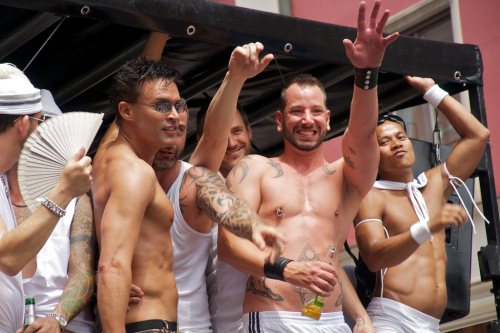 PARTY: A bunch of guys at the Munich Christopher Street Day,
Munich's big gay and lesbian party. Pic: jerome_Munich
Jubilee party
The main events take place on Saturday, which comes at the end of Pride Week. These include a CSD-Politparade through Munich's streets and the RathausClubbing (when a stage is set up in front of Munich's city hall). A street festival starts on July 11 and concludes the next day.
(More details of specific events yet to be confirmed, but here's how the festival has played out in recent years):

Celebrations start at 11.30am on Saturday with a welcoming ceremony at Marienplatz. There are political speeches and comedy and DJ acts continue into the evening.
There's also parade around Munich's Old Town starting from Marienplatz at 12pm. The parade includes over 40 floats and stretches over 1km. It's great fun to watch and there's a hugely festive atmosphere.
On Saturday night there's clubbing inside Munich's Neues Rathaus, the City Hall on Marienplatz. On Sunday at 5pm there's a ridiculous "high-heels race" where 10 participants attempt to outrun each other along with handbag throwing and ladder climbing competitions.
Another focal point is Rindermarkt, a square 5min walk south of Marienplatz. Munich and international DJs mix it up on an outdoor stage on both Saturday and Sunday from midday to midnight.
How it started
Christopher Street Day began in 1969 when New York's gay community demonstrated, sometimes violently, against police against discrimination.
Known as the
Stonewall riots
, the protests sparked a new gay rights movement and it's remembered at Christopher Street Day celebrations around the world. Munich Lord Mayor Christian Ude is the event's patron.
See here to find out more about
Lesbian and Gay Munich
.
The details of the Munich Christopher Street Day
Next on: July 15-16, 2017
Location: Around central Munich, particularly Marienplatz and Rindermarkt squares.
Website: www.csd-munich.de
Contact: Organisers CSD München GmbH Email: info@csd-munich.de
Fax: 089 54 33 32 12
Phone: 089 54 33 32 11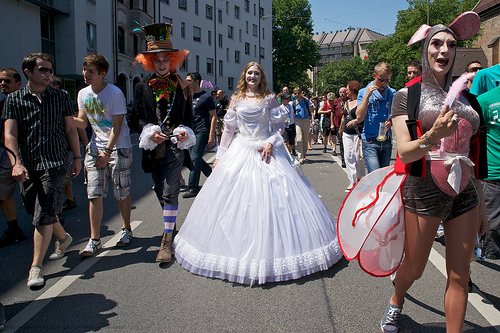 CURIOUSER AND CURIOUSER:There seems to be an Alice in Wonderland theme to this group in the parade at the Munich Christopher Street Day. Pic: jerome_Munich
Like to see more photos of the Munich Christopher Street Day events? Click forwatd to go to the photo page...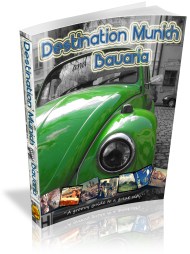 Every once in a while a book comes along that changes your life.
Until it does, please consider buying Destination Munich and Bavaria, the grooviest, most informative guide on the market :-)
It'll give you full-colour maps, practical info and hundreds of tips on how to get the most out of your visit.
It's 285 pages of up-to-the-minute travel intelligence and it can be yours as an eBook for less than the price of an Oktoberfest beer. (
read on
)
Sharing is sexy! Know how to RSS it? Subscribe here:
Spread the love and tell a pal about this particular page....