Kloster Andechs
Kloster Andechs is a popular monastery / beer garden / restaurant near Munich.
Head for the mountain! The sacred mountain, the sacred mountain of beer!
The
"Heliger Berg"
(meaning Sacred Mountain in German) is a favourite day-trip destination for many Müncheners.
Upon it sits Kloster Andechs, a millennium-old
Benedictine monastery
and church.
The place of pilgrimage rises above the lovely
Ammersee
(Lake Ammer) about 40kms south-west of central Munich. But the main reason for going there is the
3,500-seat beer garden
and restaurant which surround the church. The monk-brewed libation is considered one of Germany's finest.
To top it off, there are great views of the lake and surrounds from the top of the hill. All in all it's an excellent spot to while away an afternoon.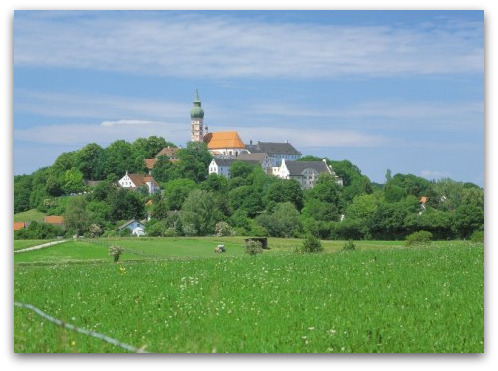 HOLY MOUNTAIN: Kloster Andechs is on a hill by the Ammersee,
a popular lake near Munich. Pic: Thomas Schmidt © Kloister Andechs
Backstory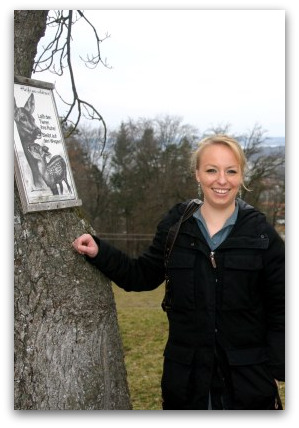 WAY UP: The walkng trail to
Kloster Andechs leads through
a forest and some wonderful countryside.
Legend has it that Christian relics were brought from the Holy Land to a long-forgotten castle on the Andechs hill in the 10th century.
The relics included twigs from Jesus' crown of thorns and a victory cross from Europe-uniter
Charlemagne
(742 – 814).
The first pilgrimages to Andechs started about 150 years later.
There's evidence Andechs' monks have been brewing beer for
about 900 years
.
The drink helped them survive the 40 days of fasting during
Lent
.
A church was built around 1430.
Swedish troops damaged the building during the Thirty Years War (1618 – 1848) and it was completely destroyed by a lightning strike in 1669.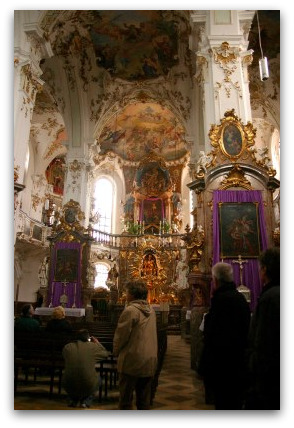 GLORIOUS: Inside the Andechs
church, which has elements
of rococo and baroque design.
Though this could easily have been seen as a message from above, the hardy monks rebuilt their abbey and the existing church was unveiled in 1675.
The church was originally gothic. Flourishes of rococo and baroque artworks were added in the 1700s.
Take a look inside before you make for the refreshments. Even if houses of the holy aren't usually up your alley it's hard not to be impressed.
Composer
Carl Orff
(1895 – 1982) is buried in the church and his works come alive each year at the
Andechs Orff Festival
(
see here for the concert
program
).
Andechs beer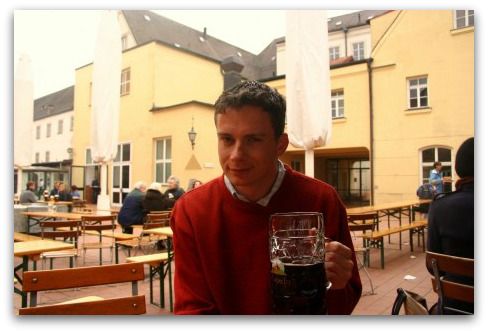 THIRST-QUENCHER: That was the start of beautiful relationship.
Me with my first Maß of Andechser Doppelbock Dunkel in 2007.
Andechs makes seven varieties of beer, try as many as you can but watch out, it can be strong stuff. Here's a guide to the brews.

1 ▪ Andechser Weißbier Hell
– an unfiltered, cloudy wheat beer with a light colour.
Tastes a bit fruity and very, very nice (5.5 per cent alcohol).
2 ▪ Andechser Weißbier Dunkel
– this is what they call a "character beer", quite heavy so you shouldn't need to eat for a while afterwards. It's an unfiltered, dark, wheaty brew with a pleasant aroma (5 per cent alcohol).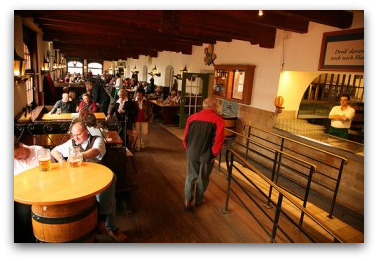 COMFY: The beer hall (Braüstüberl)
at Kloster Andechs. Pic: CC Ryan Harvey
3 ▪ Andechser Hell
– touted as a "beer for daily enjoyment", this is basically lager with a nice malt flavour (4.8 per cent alcohol).

4 ▪ Andechser Spezial Hell
– a lager that's often pulled out for festivals and special events (5.9 per cent alcohol).
5 ▪ Andechser Dunkel
– a slightly spicy dark beer, good after big meals.
It's got a very similar taste to the Doppelbock Dunkel with a smaller kick (4.9 per cent alcohol).
6 ▪ Andechser Doppelbock Dunkel
– the internationally famous knock-out brew. This dark concoction is guaranteed to knock your socks off (7.1 per cent alcohol).
7 ▪ Andechser Bergbock Hell
– the light-coloured, mild version of the famous Doppelbock (6.9 per cent alcohol).
A proper look around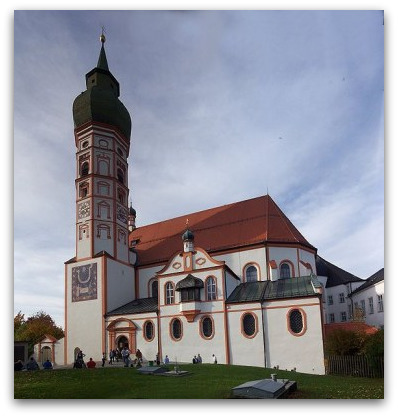 PLACE OF PILGRIMAGE: The church
at Kloster Andechs. Pic: CC Traveler100
Guided tours of the brewery are available in English, French and Italian, you just have to book ahead.
See here for more details
.
Tours in German are given every day and bookings aren't needed.
For non day-trippers
If you can't make it out to the Ammersee you can still sample Andechs beer next to the twin-domed Frauenkirche in central Munich.
There you'll find Andechser am Dom, a traditional restaurant and beer hall which spills out into the pedestrian zone during summer for the al fresco experience.They're especially proud of their pumpkin soup and game dishes starring roast hare and venison. But the prices aren't too dear! (Address: Wein Strasse 7a, phone: 089 29 84 81, web www.andechser-am-dom.de (German).
The details for Kloster Andechs
Location
: Berg Strasse 2, 82346 Andechs
Phone
: (08152) 37 62 61
Open
: Daily 10am to 10pm
Website
: (Partly in English)
www.andechs.de
Directions:
First step is to take
S Bahn No. 8
to from Munich to its final stop,
Herrsching
(40min). From there you've a few options for getting up to Andechs:
On foot
: A nice way to go if the weather's friendly. Leave the station on the left and follow Bahnhof Strasse all the way up the hill and turn left at Seefelder Strasse (
see the map below
). There are signs to help you along the way. Takes about an hour from the station.
By bus
: Infrequent public buses run between the station and the monastery, look for No. 951 or 956.
Private buses with "Ammersee Reisen" leave from under the "H" sign near the station and cost about the same (€2.20 one way.) The ride takes about 10min.
The last bus leaves Andechs at 6.50pm on weekdays and 7pm on weekends.
By taxi
: A taxi ride between the train station and Andechs should cost about €13. A viable option of you're a group of four or five.
By car
: Not really a good idea, since you won't be able to taste the lovely beer, will you? if you are the designated one, however, there's plenty of parking at the monastery.
Alternatively, you can get the S6 to Starnberg Nord and then take bus No. 951 from there. Look at the
Deutsche Bahn (German Rail) website
to check out times, just put in Muenchen HBF into the first line and Kloster Andechs into the second.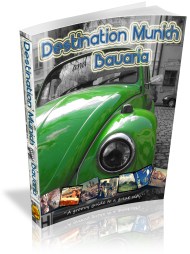 Every once in a while a book comes along that changes your life.
Until it does, please consider buying Destination Munich and Bavaria, the grooviest, most informative guide on the market :-)
It'll give you full-colour maps, practical info and hundreds of tips on how to get the most out of your visit.
It's 285 pages of up-to-the-minute travel intelligence and it can be yours as an eBook for less than the price of an Oktoberfest beer. (
read on
)
Sharing is sexy! Know how to RSS it? Subscribe here:
Spread the love and tell a pal about this particular page....