Isartor

The Isartor is the only one Munich's three remaining gothic city gates which still has its main tower intact.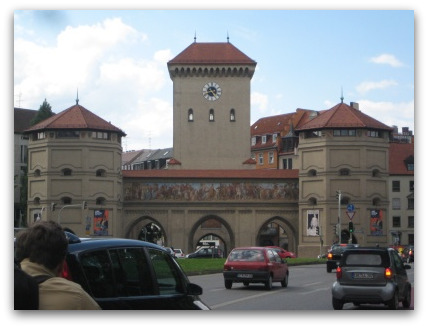 WATER-GATE: The tower once marked the eastern city limit of Munich, facing the Isar River.
The site really gives you a sense of just how much Munich has grown over the years - though it now struggles to stand out amid a mass of inner city traffic the gate used to mark Munich's eastern city limit.

Today its towers are home to the Valentin-Karlstadt Musäum (Museum), a wacky little dedication to Munich's most famous comedian and his stage partner. Stroll over to the eastern side of the gate to see the battle fresco above the archways (Bernhard von Naher, 1835).
Shown is a triumphant Ludwig IV of Bavaria and crew after cleaning the royal clock of Austrian Frederick the Handsome at the Battle of Ampfing in 1322. Speaking of clocks, check out the one on the west (city) side of the main tower.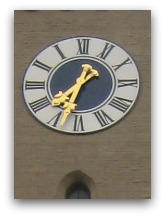 STOP THE CLOCK!: The wacky mirrored clock on the western side of the tower.
It's all backwards, a silly salute to comedian Karl Valentin.
The Isar Tor was built in 1337 as part of the second effort to build a wall around the city. The gate was damaged during World War Two bombing.

Inside the museum you can see an photo of the gate from 1945, after the American troops took over. They hung a sign from the tower reading "Death is so permanent – Drive carefully".

The other surviving city gates are the Karlstor and Sendlinger Tor.


The details
Location: Im Tal 50. It's a 15min walk east of Marienplatz.
Directions: By subway, take any S-Bahn to Isartor.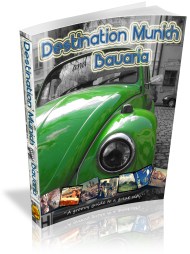 Every once in a while a book comes along that changes your life.
Until it does, please consider buying Destination Munich and Bavaria, the grooviest, most informative guide on the market :-)
It'll give you full-colour maps, practical info and hundreds of tips on how to get the most out of your visit.
It's 285 pages of up-to-the-minute travel intelligence and it can be yours as an eBook for less than the price of an Oktoberfest beer. (
read on
)
Sharing is sexy! Know how to RSS it? Subscribe here:
Spread the love and tell a pal about this particular page....