The 'crazy ice-cream maker'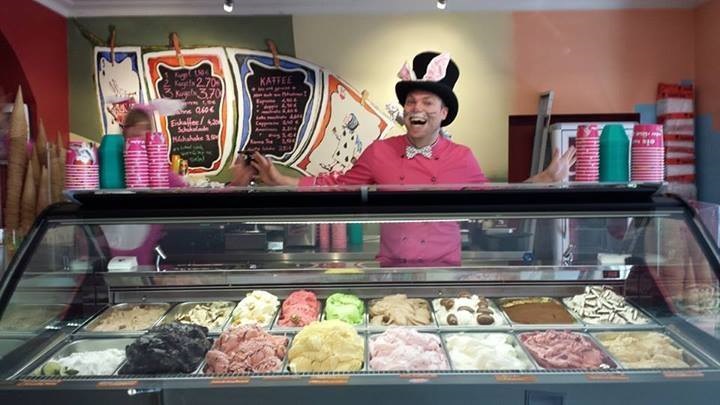 At Munich's Crazy Ice Cream Maker. Picture: Der verrückte Eismacher

Forget chocolate, strawberry and vanilla, a Munich ice cream cafe has started offering flavours such as pizza, white sausage and Oktobefest beer.
And if the options above don't sound tempting, how about a Schwangerschaftstest ice cream? Here's a clue, that means 'pregnancy test' in German, and it's said to taste like pickled gherkin and Nutella mixed into one deranged whole. Hmm...yum?
But it's not just the ever-changing assortment of lickable treats that are sending Munich locals and visitors alike into a spin over Der verrückte Eismacher (literally: The crazy ice-cream maker).
The whole cafe is set up to make visitors feel like they're entering another world. The name was inspired by The Mad Hatter from Alice in Wonderland - and decked out in a top hat, bow tie and red coat, its founder, Matthias Münz, dresses ready to play the part.
READ MORE: Munich Beer Halls and Restaurants
The chairs resemble thrones and the walls are adorned with brightly-coloured scenes. They've even thought about the plastic spoons - they look like miniature top hats.
Matthias has even been known to ride a penny farthing around in front of the cafe to drum up business. Mattihias came up with the idea for the shop when he was studying tourism at university. He wrote his thesis about setting up an innovative ice-cream business in Munich, and put his thoughts into practice with 'The crazy ice-maker'.
And there are plenty perhaps less adventurous, but nevertheless delicious-sounding varieties of ice cream on offer, for example kiwi lime, vanilla cookies and wholemeal bread chocolate.
You don't even have to order a bowl of the stuff to try it - if you fancy a mouthful of one of the flavours before you commit, just ask the server and they'll happily let you try a spoonful.
If so, please let us know what you thought (and what flavour of ice cream you tried, in comments below!

The details Der verrückte Eismacher - In Wonderland (that's the full name)
Location:Amalienstraße 77, 80799 München, Germany
Social:Facebook page here,
Open: 11.30am to 10pm, seven days a week.
Cost: Expect to pay (€1.50 for one scoop, and €1.30 for two scoops or more)
Directions: It's a little walk north of Odeonsplatz. The nearest U-Bahn station is Universität.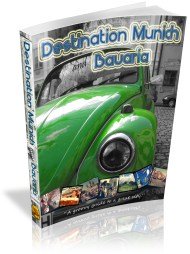 Every once in a while a book comes along that changes your life.
Until it does, please consider buying Destination Munich and Bavaria, the grooviest, most informative guide on the market :-)
It'll give you full-colour maps, practical info and hundreds of tips on how to get the most out of your visit.
It's 285 pages of up-to-the-minute travel intelligence and it can be yours as an eBook for less than the price of an Oktoberfest beer. (
read on
)
Sharing is caring
Spread the love and tell a pal about this particular page....