Cheap Munich - 10 money saving
travel tips
Ideas for a cheap Munich visit

Munich is known as one of the most expensive cities in Germany so every euro you can save really counts. I've put together a list of ideas to help you stay "in the black" while you visit the city.

1. Get in cheaper
Do you have a student card? Are you over 65? Well, it's pretty unlikely that you're both of these things, but even if you're just one of them you can save. Most museums and concerts offer discounts to students and seniors.
It doesn't matter if your student card was issued in Auckland or Arkansas it should be accepted. Look out for the word "Ermäβigingen" – concessions, at the ticket desk to see what kind of discount you qualify for.
2. Get a discount ticket card
The Munich City Tour card acts like a regular public transport ticket and includes discounts to over 30 of Munich's museums and other attractions. This means you can save a few euros each time you visit sites like Nymphenburg Palace, the Olympic Stadium, etc. It costs between €9.90 (for a one-day pass for one person in the inner city) and €51.50 (for a three-day pass for three people across the entire network).
More details here
.
3. Take a thrifty city tour

No.19 Tram route from the Main Train Station to the Ostbahnhof
View Larger Map
Don't want to pay over €10 for a double-decker bus tour of the city centre? Then use your public transport ticket and take a "regular tram tour" instead. For one nice stretch jump on Tram 19 at Hauptbahnhof Süd (direction St. Veit-Straβe).
You'll side past sights including the Karlsplatz-Stachus square and the Justizpalast, then down through the middle of the Old City passing the National Theatre and the Munich Residenz. You'll cruise up the grand boulevard Maximilianstrasse before crossing the Isar River and ducking around the Maximilianeum parliament building. Then it's on to the Ostbahnhof subway station. The journey takes around half an hour.
4. Eat out at lunch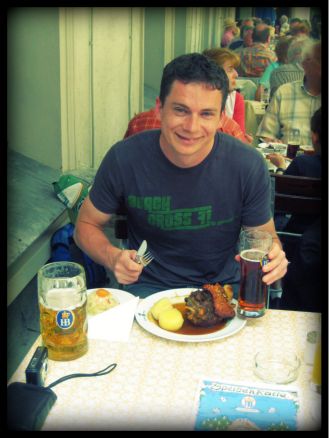 That's me about to eat a Schweinshaxe (pork knuckles),
a relatively cheap Munich lunch.
If you like going to restaurants, eat out at lunch instead of dinner. Many Bavarian eateries have set menus (here they call them just "Menu") between 11am and 3pm, often including a starter, main course, desert and a drink.
It comes out far cheaper than if you order the same dishes in the evening. Another idea: Buy your own food from a supermarket and it it at one of Munich's famous beer gardens -
it' a tradition
!
5. Sleep cheaper
Then again, if you're really pressed for cash, you could just do this. Pic: Farma80
If you're not fussy about where you rest your head consider some of the more economical Munich accommodations. Munich's cheapest hostel dorms are to be found at
Jaeger's Hostel
and
A&O Munich Hackerbrueke
for €15-€20. You can also go camping in Munich, and if you're really adventurous, stay with someone for free as part of the
Couchsurfing
program.
6. Sunday discounts
Many museums are free or next to it on Sundays. The
Munich City Museum
is free and attractions costing just €1 on Sundays include the Pinakothek art galleries (the
Alte
, the
Neue
and the
Pinakothek der Moderne
), the Bavarian National Museum, the
Museum of Humankind and Nature
and the
Museum Brandhorst
.
Mind you, you'll have to pay more if you want an audio guide or want to see any special exhibitions.
7. Head to the park
Having fun by the stream in the Englischer Garten - paradise in summer!. Pic: mcdemoura
Could there be a better place to spend a sunny summer's day in Munich?
The
Englischer Garten
park is one of the world's largest city parks and the area becomes a hive of all kinds of free activity during summer. Activities range from the active: jogging, swimming in the Eisbach stream, cycling and in-line skating - to the relaxing: watching musicians, having a picnic, chilling out by the stream - and the positively nutty: surfing on an artificial wave.
8. See some cars
BMW Welt
is one of the most amazing pieces of architecture you're ever likely to see. A huge hurricane of glass and steel rises up towards a totally flat surface, itself decked with sunray-sucking photovoltaic panels.
This is the futuristic flagship branch of Munich's own BMW and you can visit for free. There is a museum with interactive displays inside the "hurricane" and special exhibitions of some of the most beautiful cars in the world. Aside from BMW's main line of luxury autos there also its sub-brands - Rolls-Royce, Mini, and BMW and Husqvarna motorcycles.
9. Visit a former Nazi concentration camp
Looking out onto the courtyard at Dachau Concentration Camp Memorial
The
Konzentrationslager Dachau
was the first concentration camp the Nazis opened shortly after Hitler came to power in 1933. Over the next 12 years about 32,000 mostly Jewish victims perished there.
The site is now a memorial which you can of course visit for free to reflect on the horrors of the war and the Holocaust. There is a museum which shows you exactly what life (and death) was like in camp, a reconstructed barracks showing the cramped quarters of the prisoners and a (they claim) unused gas chamber.
10. Float around flea markets
Going to a flea market is a cheap and fun way to spend a day out in Munich. As well as the three annual Auer Dult events there are regular weekend flea markets.
Among the best are the Messegelände (fairground) Riem, the Flohmarkt am Ostbahnhof and the Riesen-Flohmarkt Theresienwiese (Huge Flea Market on the Oktoberfest grounds).
For more info about upcoming flea market dates and locations, visit www.flohmarkt-termine.net (site in German).
So there you are, 10 ideas to help you keep hold of your cash in Munich while still enjoying your stay. Do you have other ideas about how to experience Munich on the cheap? If so, I'd love to hear them, so please add your comments below.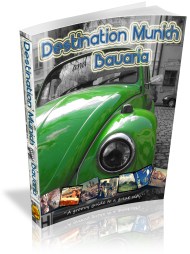 Every once in a while a book comes along that changes your life.
Until it does, please consider buying Destination Munich and Bavaria, the grooviest, most informative guide on the market :-)
It'll give you full-colour maps, practical info and hundreds of tips on how to get the most out of your visit.
It's 285 pages of up-to-the-minute travel intelligence and it can be yours as an eBook for less than the price of an Oktoberfest beer. (
read on
)
Sharing is sexy! Know how to RSS it? Subscribe here:
Spread the love and tell a pal about this particular page....