Camping in Munich
Need advice on camping in Munich?
Here is some local knowledge..
Camping's a top way to reduce travel costs and enjoy a well-landscaped environment at the same time.
Munich's camp sites are generally clean, modern and chilled-out spots. But the crowds can get a little overwhelming at the peak of summer and during Oktoberfest.
There's often a mini-market on site for basic needs (doughnuts, beer, toothpaste, etc). Most are open from about March to October and some can rent you a tent (or space in a big marquee) if you aren't packing one yourself.
All of the grounds are a little way out of the city centre but public transport is always nearby. Many camp sites also have space for caravans and campervans.
At most of the sites you don't need or aren't able to make reservations, see details below.
Map of Munich camp sites
Here's a map showing the locations of the Munich campsites reviewed below.

View Camping in Munich in a larger map
Places for camping in Munich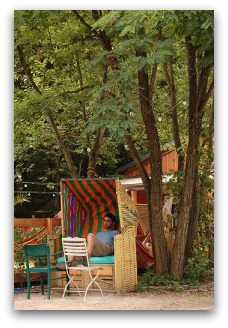 CHILLED: The relaxed
environs of The Tent,
a good option for camping in
Munich.
Pic: CC G_Malaussene
The Tent
This is one of the more laid-back camping grounds in Munich and the best part is that you don't need to bring your own canvas.

There is space to pitch your own tent but there's also a huge "Bed-Tent" filled with bunks and an even more economical "Floor-Tent" where you crash out on a floor mat. Great for solo travellers.

Use of a guest kitchen, lockers and showers are included in the price.

Location The Tent is in Munich's west above Nymphenburg Park and the botanic gardens. It's a not-for-profit operation with a focus on being green.
Open from June 6 to October 5
Cost from €7.50 for space in the Floor-Tent to €21 for a bunk in the Bed-Tent during Oktoberfest
Website www.the-tent.com
Address In den Kirschen 30, 80992 Munich
Phone 089 14 14 300
Email cu@the-tent.com

Wies'n Camp
This camp site is especially set up to deal with the Oktoberfest overflow.
They have tents and caravans for up to four people a pop. The tents are lined up in neat little rows and there's a communal marquee where a mini-Oktoberfest breaks out.
Location The Wies'n Camp is at a horseracing track in eastern Munich.
Open September 16 to October 4
Cost per tent €55, per caravan €110 (slightly more on weekends)
Website Wies'n Camp
Address Schichtl Strasse, 81929 Munich
Phone 089 550 790 00
Email munich-enterprise@t-online.de

The Munich-Thalkirchen Camping Site
This is one of the more popular (and therefore more boisterous) options for camping in Munich. There's a small shop on site and a shuttle service to the nearest U-Bahn (subway) station.
They don't allow reservations – during Oktoberfest it's first come, first served, so rock up early and you might be lucky.
Location The Thalkirchen Camping Site is south of city centre near the Munich Zoo (Tierpark Hellabrunn). It's on a reserve by the Isar River so it really is a great location to get outdoorsy in the summer.
Open mid-march to the end of October
Cost per adult €4.40, hot showers €1. You pay a bit extra for your tent and there's a €3.60 surcharge during Oktoberfest
Website On the Munich city website here. You can also download a PDF flyer from this page.
Address Zentralländ Strasse 49, 81379 Munich
Phone 089 723 17 07
Email campingplatz.muenchen@web.de

Campingplatz Nord–West (North-west Camping Ground)
A quiet camping spot with a family atmosphere. There's a small shop on site and space for campers and caravans.
Location You guessed it – it's in Munich's north-west. Half way to Dachau.
Open year round
Cost per adult €5.20, tents from €4.50, hot shower €1.50.
Website (in German) www.campingplatz-nord-west.de
Address Auf den Schrederwiesen 3, 80995 Munich
Phone 089 150 69 36

Campingplatz Obermenzing
A chilled-out camping ground in a huge park with lots of lovely hedges. There's a recreation room, mini-market.
There are buses to Munich suburban trains from the campsite. There are no tents for hire but if you bring one you're virtually guaranteed to get a spot here if you're coming for Oktoberfest. Reservations are not accepted.
A good option for camping in Munich for those not wanting to be too close to the big city.

Location The Campingplatz Obermenzing is in Munich's west, a ways behind Nymphenburg Palace Park.
Open from March 15 to the end of October
Cost per adult €5, tents from €4.50, hot shower €1.00
Website Campingplatz Obermenzing
Address Lochhausener Strasse 59, 81247 Munich
Phone 089 81 122 35
Email campingplatz-obermenzing@t-online.de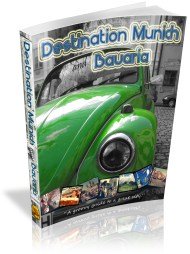 Every once in a while a book comes along that changes your life.
Until it does, please consider buying Destination Munich and Bavaria, the grooviest, most informative guide on the market :-)
It'll give you full-colour maps, practical info and hundreds of tips on how to get the most out of your visit.
It's 285 pages of up-to-the-minute travel intelligence and it can be yours as an eBook for less than the price of an Oktoberfest beer. (
read on
)
Sharing is caring
Spread the love and tell a pal about this particular page....