Allianz Arena
ALLIANZ ARENA: "It's a space ship from the planet Zorb!"
"No, it's a giant inflatable boat!"
"Rubbish, it's the world's most beautiful, modern and innovative temple
of football!" Whoever that third guy was, he was right. But whatever you choose to call Allianz Arena, the sight of its 2,874 plastic panels lighting up the night is a sight you'll never forget.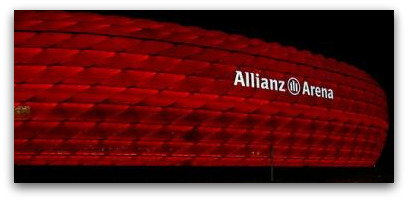 I SEE RED: The stadium up for a Bayern
Munich match. Photo by Mohan S
A new dawn
UNIQUE: The arena is one of a kind.
Allianz Arena was built 2003 to 2005 to replace the
Olympia Stadion
built for the Munich Olympics in 1972.
The new arena became the home of Munich's two biggest soccer teams: The hugely popular
Bayern Munich
(in German Bayern München) and second-league squad
1860 München
.
Both teams helped fund the €340 million project. Bayern Munich later bought out 1860's share after the second-rung club fell on hard times.
Colour my world
The stadium is wrapped in a skin of plastic-foil air panels that light up the night sky like Las Vegas. It turns red for Bayern Munich games, blue for 1860 matches and stays white when two neutral teams play.
Belly of the beast
GRANDSTANDING: The atmosphere inside the stadium is electric when Bayern Munich take the field. Photo by funky1opti
Standard "fan" tours take in the players' dressing rooms and entrance tunnel to the ground, the pressclub room, the upper tier and sponsors' lounge.
Allianz Arena can hold up to 70,000 spectators. Only soccer is played here.
Visit
www.fcb.de
to reserve your seats if you want to see Bayern Munich play. If you want to see 1860 take the field, check out
www.tsv1860.de
Shop till the final whistle
You get to the arena via an esplanade leading from the
Frötmanning U-Bahn
station
. The esplanade covers a 10,000-place car park – one of Europe's largest.
GAME DAY: Crowds stream towards the arena for an
FC Bayern match.
There's a shopping arcade on the third level with huge stores dedicated to both of the home clubs.
There's also an Audi shop where you can design your dream car on a groovy interactive screen. Kids will get a kick of the
Lego Spielwelt (World of Play)
where they can stick plastic bricks together to their hearts' content.
Cost:
from €25
Duration:
About 3.5 hours
This is a lazy cruise through Munich to the home of the city's famous soccer club, Bayern Munich.
It starts with a one-hour sightseeing tour where you'll see Munich icons including
Königsplatz
,
Odeonsplatz
and the
Friedensengel (Angel of Peace)
.
Then it's off to the high altar of the round-ball game, the Allianz Arena. There you'll take a tour of the stadium and stop off at the fan shop.
(Read more about the tour)
• To see more tours in Munich here at Tours in Munich.

The details for the arena

View Allianz Arena, Germany in a
larger map
Location:
Werner-Heisenberg-Allee 25, Frötmanning
Phone:
For information about tours call 018 05 55 51 01
Website:
www.allianz-arena.de/en
Open:
Tours in English start daily at 1pm, except when there's a match on. There's also special group tours designed for kids, and others for people in wheelchairs (Thursdays and Sundays at 2pm).
Cost:
Standard fan tours cost €10, concession €9 and €6.50 for children from six to 12 It's €24 for families.
Directions:
Take the U6 to Frötmanning. Then follow the signs.
Every once in a while a book comes along that changes your life.
Until it does, please consider buying Destination Munich and Bavaria, the grooviest, most informative guide on the market :-)
It'll give you full-colour maps, practical info and hundreds of tips on how to get the most out of your visit.
It's 285 pages of up-to-the-minute travel intelligence and it can be yours as an eBook for less than the price of an Oktoberfest beer. (
read on
)
Sharing is sexy! Know how to RSS it? Subscribe here:
Spread the love and tell a pal about this particular page....