Welcome to Destination Munich
What comes to mind when you think of
Munich and Bavaria?

Lederhosen, laptops and fairy-tale castles. State-of-the-art cars and age-old traditions.
Golden beer, white sausages and rolling green hills all the way to the Alps.
Sweet dreams are made of this and so is Bavaria, Germany's most enchanting corner and a must on any European tour.
Hi, I'm Stu, a journalist and long-time lover of all things Munich and Bavaria. I've created this site for people who are planning a trip to this beautiful part of Germany, and those who just have an interest in the region.
It's a place I've come to love and if you're lucky enough to visit, I'm sure you will too.
So pull up a chair and get comfy. It's time to explore Munich and Bavaria - Its world-class attractions, leafy
biergartens
, its countryside castles and kooky customs. As they say here: Willkommen in Bayern!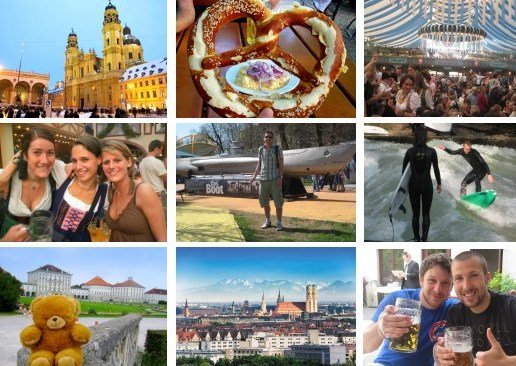 Munich is the jewel of Germany - a viabrant, fun and fascinating city.
---
So what's new in Munich?
Munich shines on! The Bavarian capital remains among the most fascinating of Europe's cities.
This summer, a small hamlet near Munich plays host to the Kaltenber Knights' Tournament (Kaltenberger Ritterturnier), Europe's best Middle Ages festival. Its highlight is a dazzling arena show with jousting, sword fights and heroics. Check out 40 amazing photos from this year's knights' tournament here.
Are you travelling to Munich with children and want to make sure you experience the best of Bavarian food and drink? Check out our new guide to Eating out with kids in Munich - 10 places parents won't want to miss.
We also have a new page about a truly innovative place to stop for a sweet, if slightly weird, treat. It's called Der verrückte Eismacher - The crazy ice-cream maker - and with flavours such as pizza, white sausage and Oktoberfest beer on the menu, no wonder it's become a Munich hit!
If you're fascinated by Germany's history, Munich is the perfect place to learn about one of its most inspiring chapter - The White Rose resistance group, which stood up to the Nazis during the Second World War. A refurbished museum has recently opened at a city univeristy - learn about the White Rose Museum here.

There's plenty more to see and do, and this site is here to provide you with all the information you need to plan and enjoy your visit to the region.
Munich in a nutshell
•Status: Capital of Bavaria, the biggest and richest state in Germany.
•Population: 1.4 million
•Known for: Oktoberfest, lederhosen, BMW, Olympics
in '72, birthplace of the beer garden
•Language spoken: German and a local dialect called Boarisch
•Useful phrases: -Grüss Gott (formal hello),
-Servus (informal hello, goodbye),
-Gut schaust du aus (you look great),
-Noh a Moss, bitte! (One more litre mug of beer, please!)
-Hast du 'was Klopapier? (Have you got any loo paper?)
•Famous past residents: Vladimir Lenin, Lola Montez, Freddie Mercury , Joseph Ratzinger (the Pope), Lou Bega
•Currency: The Euro € . One Euro equals about 1.06 US dollars, 0.85 British pounds, 1.42 Australian dollars and 2.32 Tonga Pa'anga
•Common souvenirs: Beer steins, lion dolls, Oktoberfest hats
•Quote: "Today is the good old times of tomorrow"–Munich comic Karl Valentin


To introduce this beautiful part of the world let's join the Destination Munich "tour" of the city centre…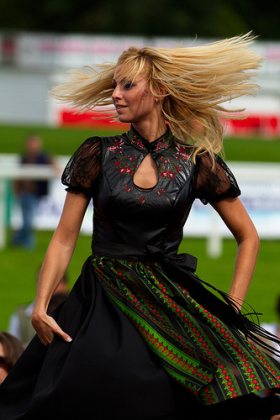 BMWs and fine brews, lederhosen and Dirndl
dresses, what comes to mind when you think
of Munich? Pic: Traveller_40

"First time in Munich? Then welcome, and as we say here, servus! Let's start the tour, shall we? We're standing in Marienplatz, the beating heart of the city.
Directly front of you is the Neues Rathaus. That's our neo-gothic City Hall. Impressive, don't you think? In its centre is the famous Glockenspiel. It jumps into action three times a day.

"And over there to your right is the Fish Fountain. It's the city's favourite meeting spot so if anyone gets lost on the tour just head back here and we'll find you. But don't let anyone throw you in like they used to do to the butchers.
"Now look up there to your left. See the two towers with the onion domes? That's the Frauenkirche, our cathedral. We'll go inside later and see the Devil's footprint.
"I think you'll like the story behind that. One of the towers is a little bit higher than the other, can you tell which?"Have a look around here but please don't take too long. There's heaps to see in this city and we're just getting started. So come along now, the Hofbräuhaus is right around the corner…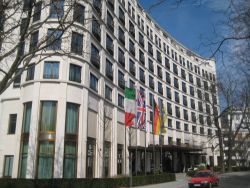 An insider's guide to choosing the Munich hotel that's right for you –
no matter what your budget is.
Munich has rarely been accused of being a budget destination but luckily the quality of the lodgings tends to match the price-tags.
Munich hotels are almost always clean and comfy, even at the cheaper end. (
read on
)
10 handy features of this travel guide...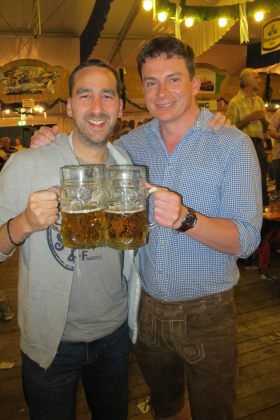 There's a lot more to Munich than the best beer
in the world. It can, however, be a good place to
start. That's me on the right in my lederhosen,
can't wait for the Munich Oktoberfest 2017.

Maybe you aren't in Munich yet, but the fact you've found this guide tells me you're at least thinking about visiting the southern German capital.
Destination Munich isn't just the Web's grooviest travel guide to the world's greatest city. It's also the most fun, informative and entertaining "helping hand" for planning your visit and finding things to do in Munich.
Here are 10 things Destination Munich can do to help you plan your visit:

1. HELP YOU SAVE $$$: Let's face it, travelling isn't easy on the wallet. Destination Munich contains heaps of ideas for how to help you keep costs down.
For details on great value tours and activities see: Tours in Munich

2. SHOW YOU WHAT TO DO IN MUNICH: This website includes over 60 reviews of Munich monuments and attractions. There are also dozens of stories with tips on what to do and see in the city on our Munich Attractions page. And if it's retail therapy you need, check out our guide to Shopping in Munich Germany

3. GET READY FOR THE OKTOBERFEST: The world's biggest folk festival draws millions of visitors who have the best time of their lives. Be one of them! Oktoberfest Munich

4. CHECK OUT SOME OTHER FESTIVALS: There are tons of other great festivals and events in Munich aside from the big mamma mentioned above. Check out a few of them here: Munich Festivals
5. SLEEP EASY: Find the right place to stay for your budget and tastes, be it a five-star luxury hotel, a budget family guesthouse, a student-friendly hostel or even a campsite! Accommodation Munich

6. GET AROUND: Train, tram, subway and bus, the site has a complete guide on getting around Munich and how to buy public transport tickets: Getting Around Munich

7. GET OUT OF THE CITY: Age old towns, mad kings and castles, mountains and romantic roads - Bavaria is the stuff of dreams. Here are some ideas to help you explore it: Day Trips from Munich

8. STOP YOU FROM GETTING LOST: Destination Munich includes dozens of inlaid maps of attractions, festivals, transport networks, etc. There are also links to where you can download free PDF Munich maps.
Each review page also includes directions you'll know the quickest way to get to where you're going: Munich and Bavaria Maps

9. GIVE YOU THE BACK STORY: Bavaria's culture is unique in the world and its history is turbulent and fascinating. Here's where we scratch past the surface and find out what makes it so unique: Munich Backstory

10. SELL YOU A TAKE-WITH GUIDE: Years in the making, the PDF eBook Destination Munich and Bavaria can now be yours to own. It's 285 pages of maps, photos and info. Print it out or use it on your tablet or smartphone as you travel: Destination Munich eBook

So, that's about all from me for now. Please enjoy reading about, and hopefully coming to, the city they call Europe's biggest village.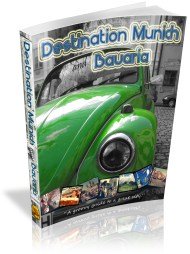 Every once in a while a book comes along that changes your life.
Until it does, please consider buying Destination Munich and Bavaria, the grooviest, most informative guide on the market :-)
It'll give you full-colour maps, practical info and hundreds of tips on how to get the most out of your visit.
It's 285 pages of up-to-the-minute travel intelligence and it can be yours as an eBook for less than the price of an Oktoberfest beer. (
read on
)
Sharing is caring
Spread the love and tell a pal about this particular page....
...Or you can join our social groups...
And finally...This is the most-booked tour through Destination Munich:

Cost:
€51
Duration:
About 11 hours
You start this tour with a visit to
Schloss Linderhof
. Then you'll scoot over to the nearby village of
Oberammergau
for a shopping/sightseeing expedition.
It's a gorgeous place, full of picture-postcard old houses with the backdrop of the Alps.

Then you'll head over to Hohenschwangau where you can explore the castles
Schloss Hohenschwangau
and the big daddy of them all,
Schloss Neuschwanstein.
(Read more about the tour)