Where is Bavaria?
For those of your who are wondering just where is Bavaria?
Well, bascially, Bavaria is a state in Germany, making up the south-east quater of this central European country. To help you get a little more acquainted with Bavaria, here are 8 fast facts on the geography of Germany's prettiest province.
1. Size of Bavaria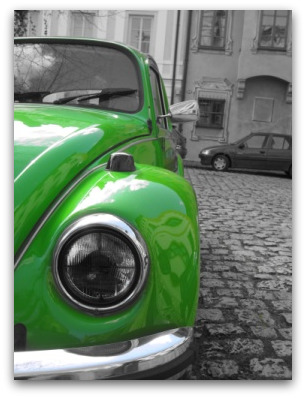 GREEN: A classic Volkswagen
Beetle in the city of Neuerg an der Donau,
Bavaria.
Bavaria is Germany's biggest state (
Bundesland
) with an area of 70,548 square kilometres (27,200 square miles). That's about a fifth of Germany's total land mass.
It's in Germany's south-eastern quarter and has a population of about 12.5 million people.
2. Co-ordinates of Bavaria
Munich sits at the co-ordinates 48 8′ 0″ N, 11 34′ 0″E, putting it at a similar longitude to
Paris
in France,
Quebec
in Canada,
Seattle
in the USA,
Ulan Bator
in Mongolia and
Vienna
in Austria.
3. Rivers of Bavaria
Where is Bavaria on the map? Click here to see an interactive
Bavaria map and check out where its neighbours are.
The largest rivers that flow through the state are the
Danube
and the
Main
. The Danube (German:
Donau
) cuts a jagged line across Bavaria from Ulm/Neu-Ulm in the west to Passau in the east. The Main flows further north.
Both rivers are occasionally dubbed the
"Weisswurst Equator"
– the imaginary northern frontier of Bavarian culture and all it entails (including the famous white sausages).
Where this border really is depends on who you ask – vehemently traditional southern Bavarians will say it starts further south!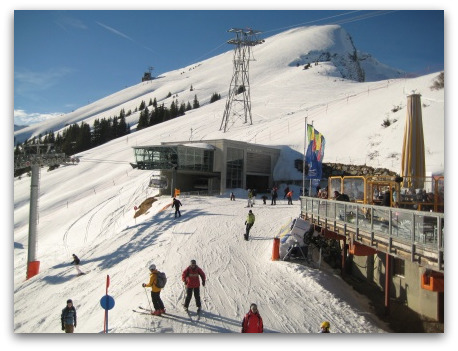 A MOUNTAIN SOMEWHERE: In the Bavarian Alps near Obersdorf.
4. Alps
Bring up Bavaria and many people will think of Alpine glory a la
The Sound of Music
. Actually only a small part of the state's surface – the
"deep south"
– is alpine. It's nonetheless a glorious area.
The Bavarian Alps include Germany's highest peak, the
Zugspitze
at 2962 meters (9718 feet). Popular mountain getaway areas include
Obersdorf
,
Garmisch-Partenkirchen
and
Berchtesgaden
.
5. Time in Bavaria
The whole of Germany is one hour ahead of Greenwich Mean Time and sits in the
Central European Time (CET)
time zone. This means that it's normally six hours ahead of
New York
, eight hours behind
Melbourne
, an hour ahead of
London
and the same time as
Cape Town
.
Between the last Sunday of March and the last Sunday of October it falls under
Central European Summer Time (CEST)
, two hours ahead of Greenwich Mean Time.
6. Neighbours
Bavaria borders on the German states of
Baden-Württemberg
to the west and
Hesse
,
Thuringia
and
Saxony
to the north. Directly to the west lies the
Czech Republic
and
Austria
, and to the south is the Austrian province of
Tyrol
.
Bavaria has a maritime border with
Switzerland
on its south-western corner, across Lake Constance (German:
Bodensee
).
7. Regions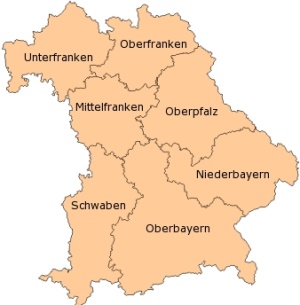 Bavaria is divided into seven administrative regions, these being:

- Lower Franconia
(Unterfranken),

- Upper Franconia
(Oberfranken),

- Middle Franconia
(Mittlefranken),

- Upper Palatinate
(Oberpfalz),

Swabia
(Schawben),
-
Lower Bavaria
(Niederbayern) and
-
Upper Bavaria
(Oberbayern).
Perhaps surprisingly, Upper Bavaria is actually south of Lower Bavaria. It gets the name from its higher altitude.
8. Cities
The largest cities in Bavaria after Munich are
Nuremberg
(
Nürnberg
),
Augsburg
,
Würzburg
,
Regensburg
.
The suffix "berg" comes from the German word for mountain, and "burg" means fortress or castle, as they were all historically well-fortified cities. See here for an introduction to the biggest
cities in Bavaria
outside Munich.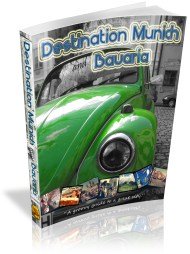 Every once in a while a book comes along that changes your life.
Until it does, please consider buying Destination Munich and Bavaria, the grooviest, most informative guide on the market :-)
It'll give you full-colour maps, practical info and hundreds of tips on how to get the most out of your visit.
It's 285 pages of up-to-the-minute travel intelligence and it can be yours as an eBook for less than the price of an Oktoberfest beer. (
read on
)
Sharing is caring
Spread the love and tell a pal about this particular page....