Tours of Munich
TOURS OF MUNICH:
This page lists the different ways you can get around seeing the sights in Munich.
You might like to explore the city by bike or take part I a guided walking tour of the
"Altstadt"
- city centre.
If you're feeling a bit less energetic you can take a hop-on, hop-off
bus tour
or
guided taxi ride
through the city.
Lovebirds might enjoy a jaunt through the
Englischer Garten
in the back of a
horse-drawn carriage
. See below for more details about the different options and links to company websites where you can learn more.
Book tours of Munich and Bavaria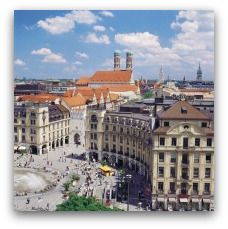 SEE: You can discover Munich's centre
on a bus tour. Pic: © Presseamt
München
You can also book a tour of Munich directly through this website.
Destination Munich has partnered with Viator, an international tour agency which offers everything from
"Third Reich" walking tours
of the city centre to day-trips to the fantasy castles of the so-called
"mad" King Ludwig II
.
To check out some of these offers scroll down to the bottom of the page or check
out the pages
Bookable tours in Munich
and
Bookable tours in Bavaria
.
DIY Munich walking tours
Organised tours can be a great chance to see and learn about things you wouldn't normally if you were walking around with your nose stuck in a guidebook.
're not for everyone. I personally like to just wander around a new city by myself or with a few companions and just soak everything up. If this is more your style, check out my page on do-it-yourself
Munich walking tours
.
Tours of Munich options
By bus
Hop-on, hop-off bus tours are a good way to go if you've on a tight schedule and still want to see the city's highlights.
They're also handy if you're with someone like your 80-year-old grandpa, your six-year-old nephew who doesn't want to walk around too much.
Munich bus tours leave from in front of the
Karstadt department store
opposite the Main Train Station (Hauptbahnhof).
The busses are double-deckers and the top comes off in good weather.
They generally leave every 30min between 10am and 4pm and there are audio-guides to let you know a bit about the sights you're passing by.
The company
Gray Line SIGHTseeing
has two routes.
▪ The
"Express Hop-On Hop-Off Tour"
passes the Pinakotheken art galleries, Odeonsplatz, Max-Joeseph-Platz, Marienplatz and Karlsplatz.
It costs €11.50, children €6 and should take about an hour if you don't get off anywhere.
▪ The
"Grand Circle Hop-On Hop-Off Tour"
covers all of the above and also swings by Nymphenburg Palace, the Olympic Park and the Schwabing district.
It costs €15.90, children €7.60 and takes about 2.5 hours. Reservations not needed.
More details: Website
sightseeing Munich
phone +49 (0)89 54 90 75 60
Email
info@sightseeing-munich.com
By rickshaw
Operator Rickscha-Mobil offers rickshaw tours and "conference bike" rentals.
More details: Website
www-rikscha-mobil.de (in German)
Phone
089 24 21 68 80
Email
info@rikscha-mobil.de
By carriage
For a romantic change, there are horse-drawn carriage rides operated by Kutscherei Holzmann through the Englischer Garten.
More details: Website
kutschen-muenchen.de
Phone
089 18 06 08
By bike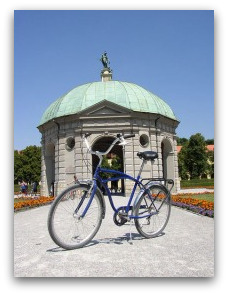 RIDE AROUND: get yourself a pair
of wheels and explore the city.
Pic: CC Daveybot
Munich is proud of being one of Germany's most bike friendly cities.
Check out this page,
Munich by bike
, for info on organised bike tours and how to rent your own pair of wheels to explore the city at your own pace.
By taxi
You can even rent a special taxi guide to take you around the city through the company
Taxi Guide München
.
More details: Website
www.taxi-guide-muenchen.de
Phone
0175 48 12 848
Email
info@taxi-guide-muenchen.de
On foot
A couple of companies including
Sandemans New Europe
and
Radius Tours
actually offer free walking tours. But you'd be pushing the bounds of common decency if you didn't leave a little tip. Check out these websites for more info.
Sandemans
Munich Walk Tours
Radius Tours
Tour operator
Munich Insider
offers a range of walking tours for groups with creative themes including the
"Ghost Tours"
,
"Graveyards"
and
"Hangmen, Whores and Hags"
.
See here
for more info.
Tours of Munich in sign language
The Munich Tourist Office organises walking tours for deaf visitors in German, Greek, American and international sign language.
There's a maximum of 15 people per group and fee is €103 for two hours.
Contact:
Munich Tourist Office , Sendlinger Strasse 1,
Phone
089 23 33 02 34
Fax
089 23 33 02 37
Email
gaestefuehrungen@muenchen.de
Online tours of Munich
Get a feel for Munich before you come with the virtual 360 degree views on this
Panorama Cities
website.
Bookable tours
And finally, here are a couple of tours of Munich available to book through my partners at Viator. To see more, go the pages
Bookable tours in Munich
or
Bookable tours in Bavaria
.
Cost:
from €12
Duration:
2.5 hours
This small-group tour opens the lid on one of Munich's darkest chapters – the rise of Hitler and the Nazi party and its place as the "Hauptstadt der Bewegung" – Capital of the Movement.
Eisenhower even called the city "the cradle of the Nazi beast".

You'll get to see the Third Reich's Munich, from the place where the Nazi party was founded, to site of the infamous failed
"Beer Hall Putsch"
to the former rally grounds at
Königsplatz
.
It's a very eye-opening and informative couple of hours.
(Read more about the tour)
Cost:
from €29
Duration:
About three hours
Discover the delights of Bavarian food and beer on this evening sortie into some awesome Munich watering holes.
You get free beer and food samples – Weisswurst, roast pork, Obazda cheese…mmmmm, and a guided tour through Munich's
Beer and Oktoberfest Museum
.

Includes a visit to a traditional beer garden and the famous Hofbräukeller.
A very popular tour and a great introduction to Bavarian sustenance.
(Read more about the tour)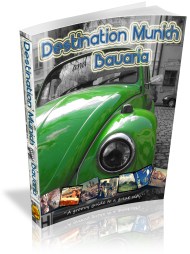 Every once in a while a book comes along that changes your life.
Until it does, please consider buying Destination Munich and Bavaria, the grooviest, most informative guide on the market :-)
It'll give you full-colour maps, practical info and hundreds of tips on how to get the most out of your visit.
It's 285 pages of up-to-the-minute travel intelligence and it can be yours as an eBook for less than the price of an Oktoberfest beer. (
read on
)
Sharing is sexy! Know how to RSS it? Subscribe here:
Spread the love and tell a pal about this particular page....