Tours in Munich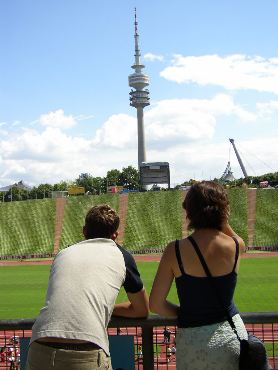 TOURS IN MUNICH: A couple look out over
the Olympic Park in Munich. Pic: Daveybot

TOURS IN MUNICH:
There are a lot of benifits to taking an organised tour of Munich.

You can avoid the hassle of public transport, meet fellow travellers and you get an entertaining tour guide who's there to explain everything and enrich the whole experience.

You often get to skip the queue and get straight into the Munich's most fascinating attractions.
By booking ahead you can go to Munich with the peace of mind that you've got a place on the tour - truly hassle-free travel!

Here are some of the best tours and services Destination Munich provides through our booking partners at Viator.
Give them a go, I'm sure you won't regret it if you do.

Tours in Munich
My top picks
The cream of the crop – or at least I think so! If friends of mine visited the city these are the four tours in Munich I'd recommend the most highly. Have a look, it's a diverse bunch.

Cost:
from €29
Duration:
About three hours
Discover the delights of Bavarian food and beer on this evening sortie into some awesome Munich watering holes.
You get free beer and food samples – Weisswurst, roast pork, Obazda cheese…mmmmm, and a guided tour through Munich's
Beer and Oktoberfest Museum
.
Includes a visit to a traditional beer garden and the famous Hofbräukeller.
A very popular tour and a great introduction to Bavarian sustenance.
(Read more about the tour)

Cost:
from €65
Duration:
About 4.5 hours
Are you a vampire? Afraid of direct sunlight? If the answer is yes, here's a tour that fits your bill.
First you'll enjoy a traditional Bavarian dinner at the
Hofbrauhaus
. Then there's a bus jaunt through the arty Schwabing district and on to the
Olympic Park
.
There you'll take an elevator up to the viewing platform of Munich's tallest building, the
Olympic Tower
.
You can see all the way to the Alps from there if it's clear – a perfect place to watch the sunset.
Later you can let your hair down with a free drink at a pumping nightclub.
(Read more about the tour)

Cost:
from €18
Duration:
About three hours
Why not explore Munich by bike? It's one of the world's greatest cycle-friendly cities.
On this excursion you get an entertaining guide to take you through Munich's highlights, from the majestic
Königsplatz
, the
Englischer Garten
and along the
Isar River
.
There's a "refreshment" stop at the city's most famous beer garden, the
Chinesischer Turm
.
This is a great way to really explore the city and have a laugh with other travellers.
(Read more about the tour)

Cost:
from €12
Duration:
2.5 hours
This small-group tour opens the lid on one of Munich's darkest chapters – the rise of Hitler and the Nazi party and its place as the "Hauptstadt der Bewegung" – Capital of the Movement.
Eisenhower even called the city "the cradle of the Nazi beast". You'll get to see the Third Reich's Munich, from the place where the Nazi party was founded, to site of the infamous failed
"Beer Hall Putsch"
to the former rally grounds at
Königsplatz
.
It's a very eye-opening and informative couple of hours.
(Read more about the tour)
Cost: from €72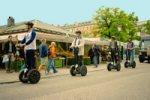 Duration: About four hours
Cruise effortlessly through Munich's parks and sidewalks as you view the sights by Segway! Aboard the self-balancing, personal transportation device that's designed to operate in any pedestrian environment, your Munich Segway Tour is limited to a maximum of 8 participants per guide, so you can count on an extremely personal experience.
This is a great way to really explore the city and have a laugh with other travellers.
(Read more about the tour)
Themed tours
These tours follow a particular theme, allowing you to experience one special side of Munich.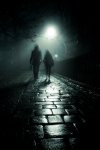 Cost: from €14
Duration: About two hours
Prepare to be spooked on a ghost tour of Munich! Your two-hour walking tour will introduce you to Munich's dark side, uncovering the city's medieval past when torture and macabre murders were once rife. It's the perfect night tour for fans of spooky history, or those who simply enjoy a good scare!
(Read more about the tour)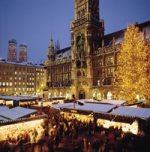 Cost:
from €12
Duration:
About two hours
With over 20 Christmas markets in Munich at Christmas time, make sure you see the best on this guided Munich Christmas Markets Tour. Your guide will lead you through the Old Town to visit Munich's most enchanting market stalls, steeped in history and festively decorated with fairy lights and Christmas decorations.
(Read more about the tour)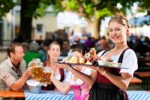 Cost: from €29
Duration: About 2.5 hours
Find the best food spots in town on this Munich food walking tour. Led by a local, food-passionate guide, this culinary excursion will treat you to an afternoon of Bavaria's famous local delicacies, including 'obatzda' cheese, 'weisswurst' sausage and 'apfelstrudel' dessert.
(Read more about the tour)
City highlights tours
These tours in Munich allow you to soak up the city while a indulging a particular interest. City cruising, soccer, film and television and food, glorious food! They're all your oyster here.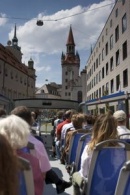 Cost: from €13
Duration: varies
Munich's hop-on hop-off bus tour is a top way to see the city and take it easy on the legs.
You can get a one or two day ticket for an open-top double decker that cruises by the city's highlights – Nymphenburg Palace, BMW World, the Pinakothek art galleries, Marienplatz, the Viktualienmarkt, the list just keeps on going.
Step on and off at your leisure!
(Read more about the tour)

Cost:
from €25
Duration:
About 3.5 hours
This is a lazy cruise through Munich to the home of the city's famous soccer club, Bayern Munich.
It starts with a one-hour sightseeing tour where you'll see Munich icons including
Königsplatz
,
Odeonsplatz
and the
Friedensengel (Angel of Peace)
.
Then it's off to the high altar of the round-ball game,
Allianz Arena
. There you'll take a tour of the stadium and stop off at the fan shop.
(Read more about the tour)

Cost: from €25
Duration: About three hours
This bus tour combines a sightseeing jaunt through Munich with a guided tour through Bavaria Filmstadt.
A great idea since the Filmstadt isn't so easy to get to by public transport!
(Read more about the tour)

Cost:
from €17.44
Duration:
About two hours
Chow-time! This isn't a tour as such, rather a square meal at Munich's Hard Rock with priority seating.
Take your pick from the menu including
grilled Creole chicken pasta served with garlic toast
,
half rack of barbecue ribs served with fries, coleslaw or baked beans
and
hot fudge sundae
. Hmmm…yum.
(Read more about the tour)
Tours in Munich
Dachau tours
These two tours takes you to and from the site of the Third Reich's original concentration camp at Dachau. Shocking but very worthwhile.

Cost:
from €21
Duration:
five hours
This tour includes public transportation to and from the Dachau Concentration Camp Memorial and a guided tour of the site. It's done in small groups. Highly recommended.
(Read more about the tour)
Cost:
from €25
Duration:
About 4.5 hours
This tour provides an air-conditioned bus ride to the Dachau Concentration Camp Memorial.
It doesn't include a guided tour on site, but there is a guide who will accompany you there and back to provide information about the memorial.
(Read more about the tour)
Services
Airport transfers
These airport transfer services take you to and from Munich's
Fran***z-Josef-Strauss Airport
in style.
Cost:
from €24.06
Duration:
About one hour

This is designed to take the hassle out of getting from Munich Airport into the city.
No need to bother with figuring out the right ticket for the S-Bahn and then getting on with all your luggage after a long journey.
The Airport Transfer Service will take care of it all four you and deliver you safe and sound to your hotel.
(Read more about the transfer)
Cost:
from €24.06
Duration:
About one hour

This service smooths over your departure from Munich
– an Airport Transfer Service from your hotel to Munich Airport.
It's available 24/7. Why battle with the commuter trains when you can travel in style?
(Read more about the transfer)
Services
Cost:
from €14.50
Duration:
Flexible
This service allows you explore the city the best way I know how –
with two wheels and pedal power
! Great idea for a DIY tour in Munich.

Why go down to the U-Bahn to get around when you could be spinning through Munich's vast network of bike paths?
Cycling has got to be my favourite way of getting around the city, it's an excellent way to indulgue your senses.
Take a jaunt through the
Englischer Garten
, along the
Isar
, over to
Nymphenburg Palace
, anywhere really, you decide!
(Read more about the service)
I
f you have questions relating to these tours of Bavaria, I'll try to help you out.
But Destination Munich is just a booking partner of Viator, so your best bet is to contact them directly. You can do that through their
contact page here
.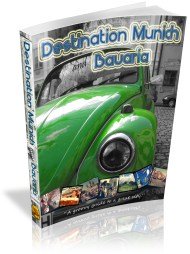 Every once in a while a book comes along that changes your life.
Until it does, please consider buying Destination Munich and Bavaria, the grooviest, most informative guide on the market :-)
It'll give you full-colour maps, practical info and hundreds of tips on how to get the most out of your visit.
It's 285 pages of up-to-the-minute travel intelligence and it can be yours as an eBook for less than the price of an Oktoberfest beer. (
read on
)
Sharing is sexy! Know how to RSS it? Subscribe here:
Spread the love and tell a pal about this particular page....