Munich Airport transfers
MUNICH AIRPORT TRANSFERS:
So you've arrived from a bone-rattling flight, collected your bags and made it through passport control.
You're ready to embrace the Bavarian capital, but you're not quite there yet. Here's a guide to getting in and out of the city from Munich Airport.
By public transport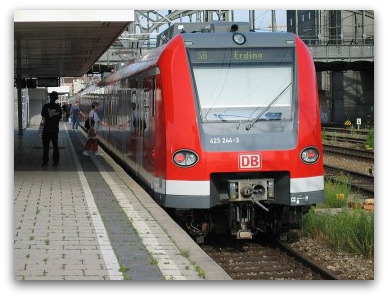 CONNECT: The S-Bahn is means for many
transfers to and from Munich Airport . Pic CC Wikimedia
Most people use Munich's suburban trains (
S-Bahn
) to get in and out of the city.
Two trains connect the airport with the
Main Train Station
(Hauptbahnhof) the
S8
and the
S1
.
The S-Bahn is under the
Munich Airport Centre
between the terminals, just follow the signs with the green "S".
Note that if you're taking the
S1
to the airport make sure you sit towards the back of the train as forward section couples off and heads towards Neufahn.
Tickets
The best ticket to buy is the
Airport City Day Ticket
, which costs €10.80 for one person and €19.60 for a "Partner Ticket" which covers up to five people.
It's valid until 6am the next day and covers all of Munich's S-Bahns, U-Bahns (subways), trams and public buses.
If the only trip you're making that day is to or from the airport you could also get Single Ticket (
Einzelfahrkarte
) for Zone 4, which costs €9.60. Tickets are available from the multi-lingual machines (
Ticketautomaten
), which accept credit cards and cash (in euros).
Remember you have to validate your ticket at the little stamping machine before you get on the train.
For more information about
buying tickets see here
.
More details on the city-airport connection are on the Munich
public transport website
.
Munich Airport transfers by bus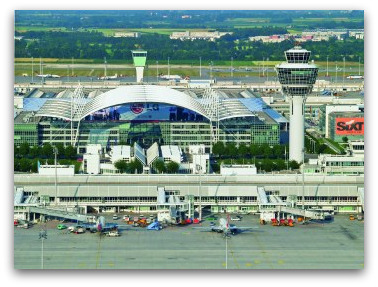 ARRIVAL POINT: Munich's Fran***z-Joseph-Strauss
airport is the first part of Bavaria many visitors see.
Pic:© Dr Werner Hennies FMG
Lufthansa runs buses from the airport to the Munich
Hauptbahnhof
(Main Train Station), which you can use even if you're not flying with them.
There's not much advantage over public transportation, though, as it takes just as long (40min, depending on traffic) and costs slightly more (€10 one way and €16 return).
It might be useful if you're heading somewhere in Munich's north, as the bus also stops at the
Nordfriedhof U-Bahn station
in the suburb of Schwabing.
The bus departs every 20min from 6.25am to 9.45pm.
You buy your ticket on the bus.
Munich Airport transfers by taxi
Need a Munich subway map?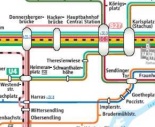 See here
for PDF Munich subway and public transportation maps.
Taxis line up directly outside the Munich Airport terminals and all run on meters, a trip into central Munich costs about €55.
Connecting to other parts of Bavaria
If you're heading to cities including
Passau
,
Nuremburg
and
Regensburg
you can take a bus (No. 635) from Munich Airport to the train station at the nearby town of Freising and go from there.
Lufthansa also runs shuttle services to
Ingolstadt
,
Regensburg
and several Austrian cities, although they're also more expensive than regular public transport,
see here for more details
.
Cost:
from €24.06
Duration:
About one hour

This is designed to take the hassle out of getting from Munich Airport into the city.
No need to bother with figuring out the right ticket for the S-Bahn and then getting on with all your luggage after a long journey.
The Airport Transfer Service will take care of it all four you and deliver you safe and sound to your hotel.
(Read more about the transfer)
Cost:
from €24.06
Duration:
About one hour

This service smooths over your departure from Munich
– an Airport Transfer Service from your hotel to Munich Airport.
It's available 24/7. Why battle with the commuter trains when you can travel in style?
(Read more about the transfer)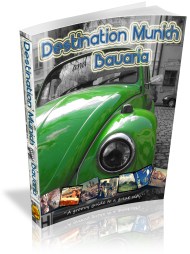 Every once in a while a book comes along that changes your life.
Until it does, please consider buying Destination Munich and Bavaria, the grooviest, most informative guide on the market :-)
It'll give you full-colour maps, practical info and hundreds of tips on how to get the most out of your visit.
It's 285 pages of up-to-the-minute travel intelligence and it can be yours as an eBook for less than the price of an Oktoberfest beer. (
read on
)
Sharing is sexy! Know how to RSS it? Subscribe here:
Spread the love and tell a pal about this particular page....