Cheap Munich Hostels
CHEAP MUNICH HOSTELS:
There's a solid number of independent youth hostels in Munich for visitors who'd rather save their Yankee dollars for beer.
They're relaxed places and most have a bar and some kind of chill-out zone for when a hangover's got the better of you. Staff are easy going and helpful, often more so than at mid-range hotels.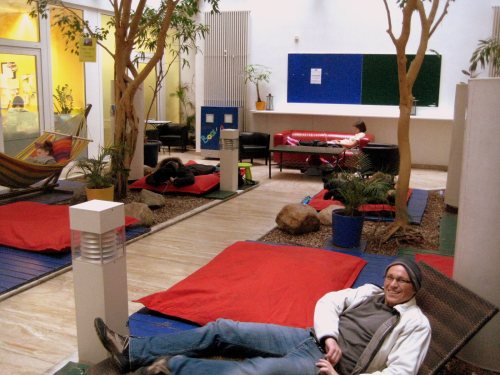 RELAX: Chilling out at Wombat's. One of the best cheap
Munich hostels.
All have dorms and a selection of double and single rooms. Expect to pay about €20 to €30 for berth in a dorm and up to €60 for a private room.
Prices double or triple during Oktoberfest, so bite the bullet and book early.

Cheap Munich Hostels
Destination Munich has done a few in-depth hostel reviews, click on the link to get the low-down:

▪
Jaegers Hostel Munich –
Big and boisterous newly done up hostel just near the Main Train Station. My rating: 7/10
Check Prices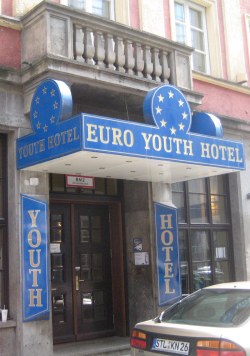 ▪ Euro Youth Hostel – Another party pad just south of the train station. My rating 9/10
Check Prices

Other top choices
▪ The4You –
Well run and central with a buffet brekky and bar serving cheap beer.
Check Prices
Address
Hirten Strasse 18
Phone
089 5521 660
Website
www.the4you.de
▪ Wombat's –
A solid city choice for the young at heart, with a great bar and a cosy "winter garden".
Check Prices
Address
Senefelder Strasse 1
Phone
089 5998 9180
Website
www.wombats-hostels.com
▪ CVJM Jugendgaestehaus (YMCA Munich) –
It is indeed fun to stay here.
Munich's Y offers a wide range of activities for kids and adults.
Address
Landwehr Strasse 13
Phone
089 552 1410
Website
www.cvjm-muenchen.org
▪ Easy Palace City Hostel –
A multi-cultural little joint with dorms, doubles and singles. Very close to the Theresienwiese (Oktoberfest field).
Address
Mozart Strasse 4
Phone
089 55 87 970
Website
www.easypalace.de
▪ Meininger –
A boxy low-key number with dorm beds and overpriced doubles.
Check Prices
Address
Landsberger Strasse 20
Phone
030 666 36 100
Website
www.meininger-hotels.com
▪Jugendhotel "In Via" Marienherberge
A women-only hostel near the Hauptbahnhof (Main Train Station).
Expect to pay about €25 for a spot in a four-bed dorm, €30 for a single room and €55 for a double.
It's only open to women under 28 and there's a lockout from midnight to 6am.

Address
Goethe Strasse 9, Munich,
Phone
089 55 58 05
Email
invia-marienherberge@arcor.de online bookings aren't possible.
Hostelling International in Munich
Munich also has several "official" youth hostels (German:
Jungendgästehaus
or
Jungendherberge
) part of the
Hostelling International
network.
There is no age limit but it helps if you're a member of a hostelling organisation in your own country.
If you're not you can still stay, but you have to pay for an
"International Guest Card"
which costs €3.10 a night for up to six nights before you're in the club. These hostels tend to be super clean and breakfast is included in the price (around €30 for a dorm bed).
The downside is that they're pretty sterile and often less fun than the independent hostels.
In Munich they are:
▪ Hostel München-City –
About 5kms north-west of the city centre.
Address
Wendl-Dietrich Strasse 20
Phone
089 202 444 90
Website
www.hihostels.com
▪ Hostel München Park –
A fair hike south of the city centre in Thalkirchen.
Address
Miesinger Strasse 4
Phone
089 785 767 70
Website
www.hihostels.com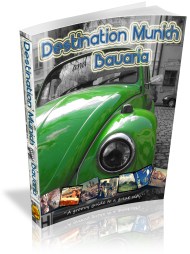 Every once in a while a book comes along that changes your life.
Until it does, please consider buying Destination Munich and Bavaria, the grooviest, most informative guide on the market :-)
It'll give you full-colour maps, practical info and hundreds of tips on how to get the most out of your visit.
It's 285 pages of up-to-the-minute travel intelligence and it can be yours as an eBook for less than the price of an Oktoberfest beer. (
read on
)
Sharing is sexy! Know how to RSS it? Subscribe here:
Spread the love and tell a pal about this particular page....