Buying tickets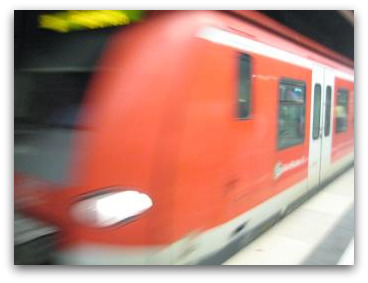 FAST TRAIN: Munich's S-Bahn is best for zipping
across the city.
BUYING TICKETS: Tickets for getting around Munich on public transport can be bought from machines at all train and tram stops.
Some hotels sell them too.
The machines are relatively straightforward and speak English (look for the black flag button).

Innenraum passes cover the inner city.
If you want to get out further to places like Dachau or the Starnbergersee lake, get an XXL pass.
If you're in Munich for a few days I advise getting the Tageskarte
if you're on your own, or the Partnerticket if you're with a group of up to five.
Types of regular tickets
Tageskarte (day ticket)
These let you make as many trips as you want until 6am the next day.


Tageskarte Innenraum
costs €6.00, XXL costs €8.10.
A three-day variety is available for the Innenraum and costs €15.00.
The Gesamtnetz (Entire Network) ticket costs €11.70 covers the airport.
It's the best ticket to get if you're travelling solo and you're in Munich for a few days.

Partnerticket (group ticket)
Don't let the name confuse you, it's valid for up to five people and works the same as the Tageskarte. It costs €11.20 for the Innenraum and €14.20 for XXL. So just get the XXL!
A three-day version is available for the Innenraum only and costs €25.90.
It's the best way to go if you're in Munich with some friends for a few days.
But unfortunately, it doesn't cover the airport or any outer districts so you'll need an extra ticket to cover that.
City Tour Card
Formerly called the Welcome Card, the City Tour Card is a public transport ticket which also gives you discounts on over 30 Munich attractions and city tours (Nymphenburg Palace, Bavaria Filmstadt, the Bier- and Oktoberfest Museum etc,).
If you're planning on hitting up a few museums, etc, during your stay it's worthwhile getting this one instead of a normal public transport ticket.

City Tour Card costs:
Single Ticket
*One day inner city (1 Tag innenraum) €10.90
*Three day inner city (3 Tage Innenraum) €20.90
*Three-day entire network (3 Tage Gesamtnetz) €32.90
Partner Ticket
*One day inner city (1 Tag innenraum) €17.90
*Three day inner city (3 Tage Innenraum) €30.90
*Three-day entire network (3 Tage Gesamtnetz) €53.90

You can buy the City Tour Card from ticket machines, the tourist offices at the Main Train Station and Marienplatz and online here (Site only in German). Remember you still have to validate the City Tour Card at the stamping machine.
Visit www.mvv-muenchen.de for more details.
Other tickets
Einzelfahrkarte (Single Ticket)
This covers one journey in one zone, but it's valid for three hours so you can make stops along the way. Costs €2.60.
If you're only travelling to or from the airport on any given day you need the
Einzelfahrkarte Gesamtnetz
(entire network) , or if you're with a group, the
Partnerticket Gesamtnetz
.
Kurzstrecke (Short Distance)
Not going far? This ticket is for you. Covers one trip up to two stops with the S-Bahn and then to more with the U-Bahn or vice-versa. Costs €1.30.
"Blacking" it
Remember if you have a
Single Ticket
or
Short Distance Ticket
you have to validate it at the little stamping machines before you get on the tram, U-Bahn or S-Bahn.
If you aren't in the habit of buying tickets, you are, in the local parlance, travelling "black" (
Schwarzfahren
) and might be forced by the inspectors to pay a €40 fine.
Though the chances aren't massive you'll be caught, in my experience the inspectors are merciless even if you claim tourists' ignorance.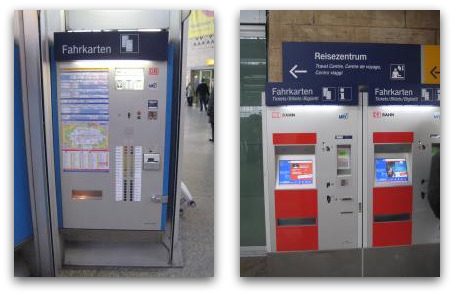 TICKETS, PLEASE: There are two types of ticket machines at Munich train stations. The ones on the left have a series of buttons at the bottom where you can choose your ticket. And the ones on the right have a touch screen, which you can easily convert into English. So you see, buying tickets for public transport in Munich is easy!
Got kids?
Kids travelling with adults are often covered by sharing their parents' Partnerticket. If you're one adult travelling with a kid get the Tageskarte and a separate Kinder Tageskarte for kids aged six to 14. Kids under six years old travel free.
Moving around Bavaria
EXPLORE: Munich's surrounds are your oyster
with the Bayern Ticket.
Buying tickets to cover the state of Bavaria is straightforward.

The Bayern Ticket (Bavaria Ticket) is great for day-trips and you can buy it from ticket machines at train stations.

Up to five people can use this ticket to take any regular (not the express IC or ICE) trains anywhere in Bavaria and to Salzburg in Austria.
The Bayern Ticket costs €23 for one person and €4 extra for each additional passenger. It's easy to buy them from the touch-screen machines at the train station before you travel. Over-the-counter service costs €2 more.

The ticket is valid from 9am on weekdays (but 3am on weekends) and until 3am the next day. To find out about train times and connections, visit the Deutsche Bahn (German Rail) website.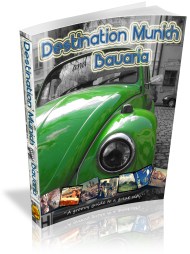 Every once in a while a book comes along that changes your life.
Until it does, please consider buying Destination Munich and Bavaria, the grooviest, most informative guide on the market :-)
It'll give you full-colour maps, practical info and hundreds of tips on how to get the most out of your visit.
It's 285 pages of up-to-the-minute travel intelligence and it can be yours as an eBook for less than the price of an Oktoberfest beer. (
read on
)
Sharing is sexy! Know how to RSS it? Subscribe here:
Spread the love and tell a pal about this particular page....