Testimonials
TESTIMONIALS:
Thousands of web surfers are visiting this site every week to research trips to this special part of Germany.
Destination Munich now recieves over 140,000 page views each month.
That's not bad for a site that's barely two years old!
Thing is though, I'd like some encouragement to keep the site going and build it up to what I'd consider a "complete" travel guide. I'd also like something to fill up this beautiful new Testimonials page. So please write in.

Send your praise, criticism, comments or questions. If this site has helped you, say so. If you think it sucks, I'd like to hear about that, too!
The easiest way to have your say is to use the Intense Debate commenting system below. If you'd like to send me a private message, email me at stuartadmin@destination-munich.com .
Thanks a lot and stay beautiful!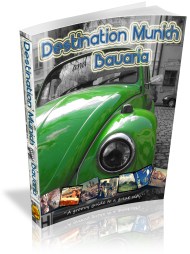 Every once in a while a book comes along that changes your life.
Until it does, please consider buying Destination Munich and Bavaria, the grooviest, most informative guide on the market :-)
It'll give you full-colour maps, practical info and hundreds of tips on how to get the most out of your visit.
It's 285 pages of up-to-the-minute travel intelligence and it can be yours as an eBook for less than the price of an Oktoberfest beer. (
read on
)
Sharing is sexy! Know how to RSS it? Subscribe here:
Spread the love and tell a pal about this particular page....