Munich Starkbierfest photos - a preview

"A gallery of Starkbierfest photos from Munich - it's the best strong beer the world!"
Munich's Strong Beer Festival might not be as famous at the city's annual Oktoberfest, but that doesn't mean it's any less fun.
The Starkbierfest is a fantastic way to wave goodbye to the European winter and party, part of a Bavarian tradition that goes back centuries.
The monks started it you know.
The holy men made a vow not to eat during the 40 days of lent before Easter. But how could they possibly make it through without any food? A few carbo-rich strong beers should do the trick! Here are some photos taken at Starkbierfest celebrations in Munich, both at Paulaner am Nockherberg and at the Löwenbräukeller.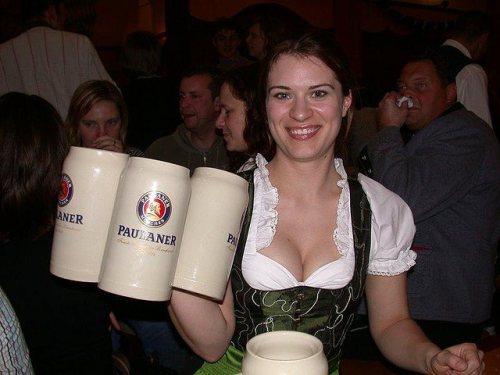 A young lady in a traditional Dirndl dress holds up a trio of Keferloher, the ceramic mugs
they use at the Nockherberg Starkbierfest. Photo: 1way2rock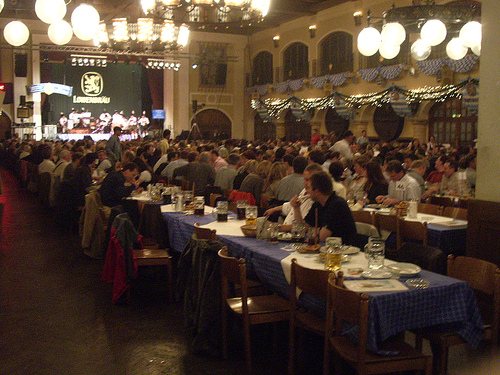 At the Starkbierfest in the Munich Löwenbräukeller, very nice atmosphere there as well!
Photo: tranchis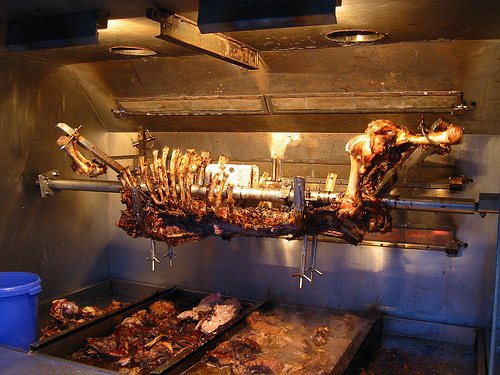 An already devoured ox carcass hangs on its spit at the Nockherberg festival hall
during the Munich Starkbierfest. It's almost enough to make you stop eating meat!
Pic: mdid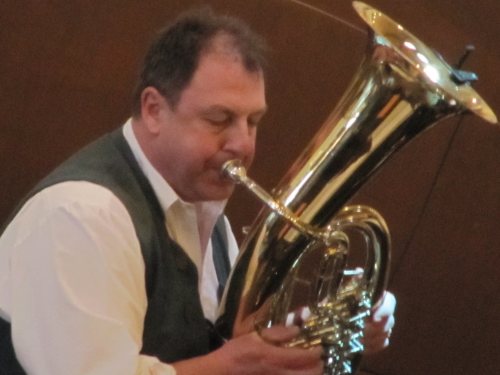 Let's blow this joint! In the bandstand at the strong beer fest.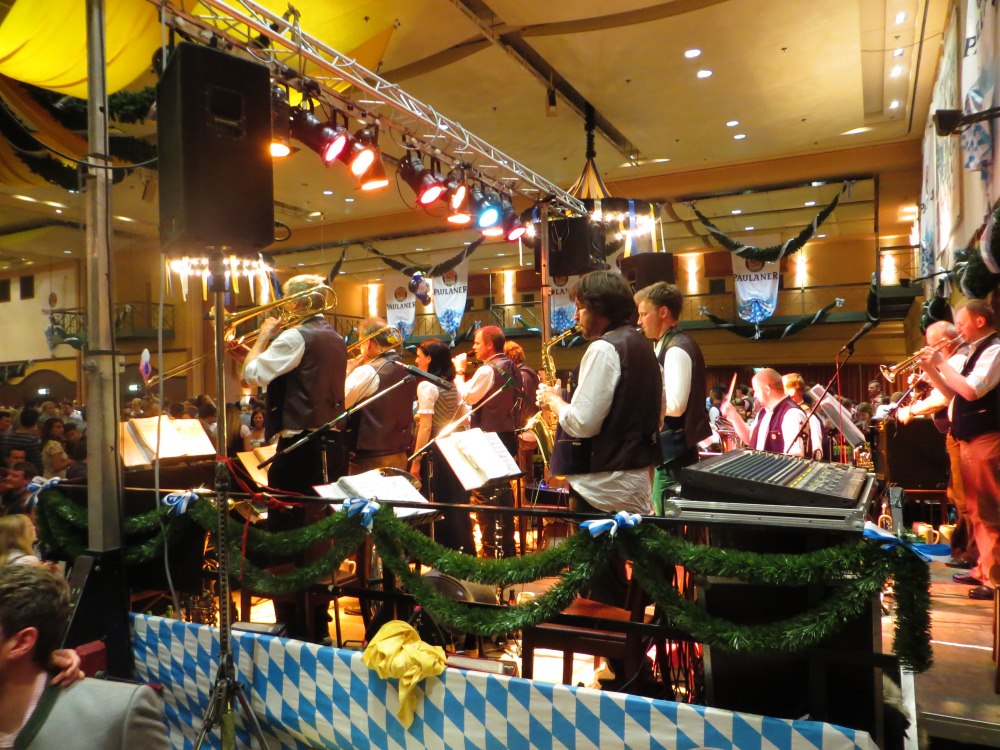 Yes we can! That's me attempting a little inter-photo descriptivity
at the Munich Strong Beer Festival.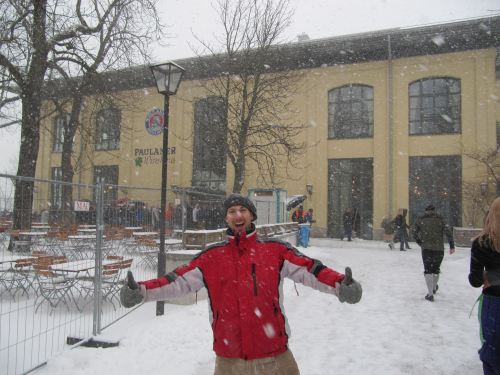 Arriving at the Nockherberg in the snow! The white stuff doesn't fall every year at
Starkbierfest time but when it does it's something quite special. There's nothing like
the thought of getting inside for a few cosy beers in weather like this!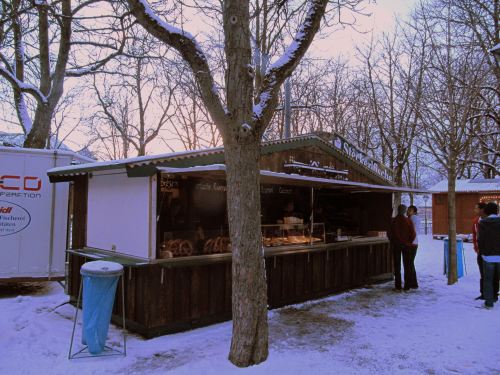 It's cold outside! But at least you can avail yourself of a giant pretzel if you have
to go outside for a cigarette or something at the Munich Starkbierfest.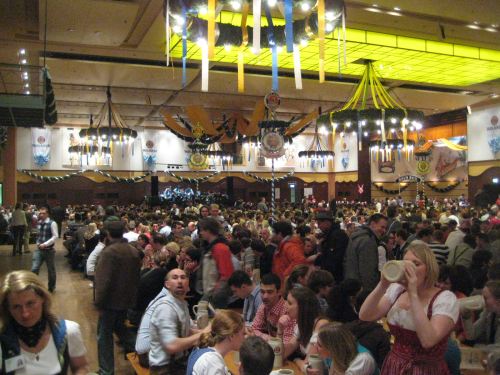 The action is well underway inside the Festsaal at Paulaner am Nockherberg.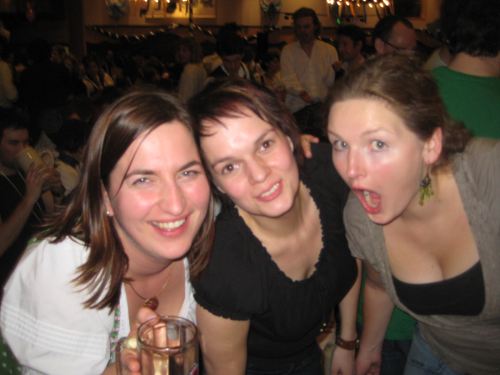 Three girls enjoying their time at the Munich Starkbier Festival.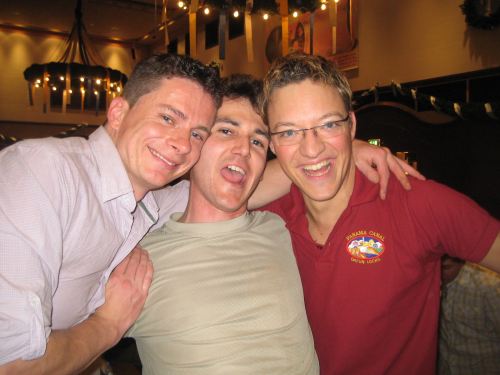 And three lads doing the same thing!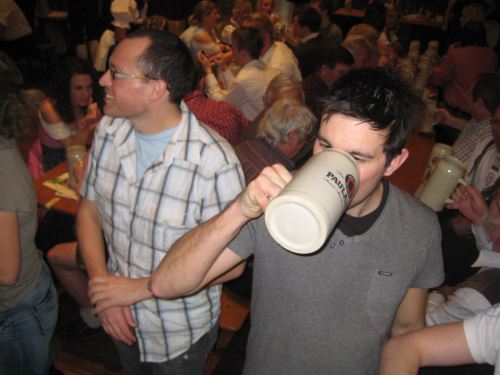 Mmmm...Fresh Munich Strong Beer - is there a better tasting brew on the planet?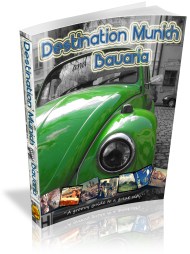 Every once in a while a book comes along that changes your life.
Until it does, please consider buying Destination Munich and Bavaria, the grooviest, most informative guide on the market :-)
It'll give you full-colour maps, practical info and hundreds of tips on how to get the most out of your visit.
It's 285 pages of up-to-the-minute travel intelligence and it can be yours as an eBook for less than the price of an Oktoberfest beer. (
read on
)
Sharing is sexy! Know how to RSS it? Subscribe here:
Spread the love and tell a pal about this particular page....