Shopping in Munich
A quick and easy guide to the best areas for
shopping in Munich

Passionate shoppers will be right at home in Munich. Here are the main parts of the city you'll want to hit up to burn some cash.
1 ▪ Pedestrian Zone
Munich's main shopping axis is impossible to miss. The pedestrian zone runs from Karlsplatz through to Marienplatz and is usually packed, so be prepared to walk slow or do some side stepping.
Huge department stores Galleria Kaufhof and Karstadt battle for space with multinational fashion chains like H&M, Zara and C and A. A gentleman's highlight is Hirmer, the world's biggest men's fashion house.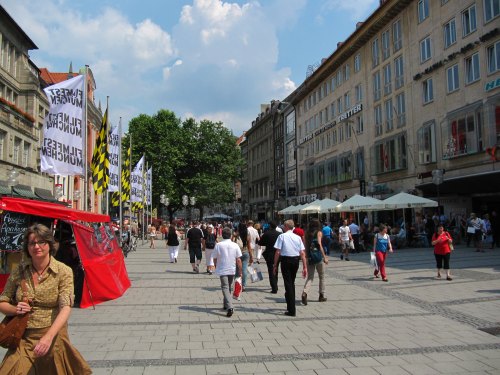 On Neuhauser Strasse. Munich's main pedestrian zone has a heap of high street shops.

2 ▪ Maximillian Strasse
If money's no object this is the street to cruise. One of Munich's grandest boulevards, Maximillian Strasse stretches from the National Theatre up to the Bavarian parliament, the Maximilianeum lording on a hill on the eastern bank of the Isar River. High-end luxury stores like Armani and Bulgari can be found here. Don't miss a wander through the Maximillianhöfe, a new shopping centre filled with luxury boutiques and the state opera's rehearsal stage.
3 ▪ Theantiner Strasse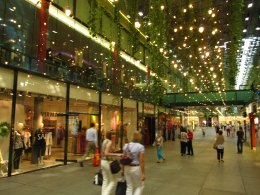 Inside the elegant Fünf Höfe shopping arcade.

Another well-to-do shopping destination arching from Marienplatz to Odeonsplatz. The highlight here is the Fünf Höfe (Five Courtyards) shopping arcade with its chic cafes, clothes shops and postmodern public spaces.
4 ▪ Sendlinger Strasse and Hackenviertel
Laid-back and full of surprises, this is one of my favourite strips to stroll if I've got some time to kill in central Munich. There are many independent shops, cafes and even a few art galleries tucked away back in arcades that you have to scout around for. The shops at the southern end near the Sendlinger Tor and particularly interesting – there's a tea shop, a few gift shops and even a shop dedicated to witches' needs!


There are plenty of intriguing shops around Sendinger Strasse / Kreuz Strasse, including Surja's Hexenladen (Witches' Store) and the wonderful gift shop Pappnase & Co.
5 ▪ Around Leopold Strasse
The legions of Munich's yuppies hang out in the coffee bars and boutiques of Leopold Strasse, Schwabing's main drag. Make a caffeine stop here and indulge in a spot of people watching, and then explore a few side streets. My favourite is Hohenzollern Strasse, packed with antique shops, boutiques and independent art galleries.
6 ▪ Viktualienmarkt
The city's grand outdoor market with hundreds of food, flower and gift vendors. For a full review check out my page on the
Vikualienmarkt here
.
7 ▪ Delicatessens
Munich has two grand old delicatessens which have been serving Bavarian royals and ardent gourmets for donkey's years. The more accessible is Dallmayr, just north of Marienplatz. It's manned by an elegant army of blue dressed/white aproned ladies and stocks everything from coffee and chocolate to sushi, sweets and Black Sea caviar costing €100s for a matchbox full. Don't miss the stone fountain with its pool populated with living crabs! There's also a café and fine dining restaurant upstairs.


Inside Munich's Dallmayr. From left: Caviar goes for up to €200 per 100g, chocolates for every persuasion, and cakes, cakes, glorious cakes!
Costs Six assorted chocolates €4.50, "Guten Morgen" breakfast at the café €13.50, six-course dinner at the restaurant €125 Open Delicatessen and café 9.30am-7pm Mon-Sat, Restaurant 7pm-11pm Tue-Sat Address Dienser Strasse 14 Phone 089 213 50 Website www.delikatessenhaus-dallmayr.de

The other is Feinkost Käfer which is a little out of the way on the east side of the Isar River. Käfer has a similar array of fine food as well as a bistro and a wine cellar stocked with over 100,000 bottles of plonk. Open Mon-Sat 9am-8pm Address Prinzregenten Strasse 73 Phone 089 238 887 828
Website www.feinkost-kaefer.de
Munich Shopping Map
The map below shows the shopping locations listed in this story. Have fun shopping in Munich :-)

View Shopping in Munich in a larger map
1 ▪ Pedestrian Zone

4 ▪ Sendlinger Strasse and Hackenviertel

5 ▪ Around Leopold Strasse

7 ▪ Delicatessen Dallmayr

7 ▪ Delicatessen Feinkost Käfer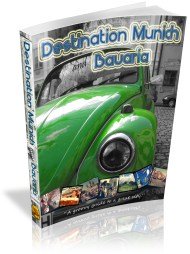 Every once in a while a book comes along that changes your life.
Until it does, please consider buying Destination Munich and Bavaria, the grooviest, most informative guide on the market :-)
It'll give you full-colour maps, practical info and hundreds of tips on how to get the most out of your visit.
It's 285 pages of up-to-the-minute travel intelligence and it can be yours as an eBook for less than the price of an Oktoberfest beer. (
read on
)
Sharing is caring
Spread the love and tell a pal about this particular page....