School and public holidays in Bavaria

SCHOOL AND PUBLIC HOLIDAYS IN BAVARIA:
Bavaria is well-endowed with public holidays.
Germans love to take advantage of long weekends by taking mini-trips around the countryside so keep in mind things get a little busy around these times. Businesses, museums public transport operators treat them as Sundays, see
Munich opening hours
for more details on what you can expect to find open.
Popular holiday spots are likewise crowded during school holidays.
These take place late December / early January (
Winterferien
), March / April (
Osterferien
), May / June (
Pfingstenferien
), August (
Sommerferien
) and early November (the
Herbstferien
).
Click here
for a calendar of school and public holidays in 2016 (this website is in German).
School holidays are highlighted in green and public holidays in blue.
Bavaria's public holidays are:
▪
Neujahr
(New Year's Day) January 1
▪
Heilige Drei Könige
(Epiphany) January 6
▪
Karfreitag
(Good Friday) March / April
▪
Ostersonntag und Ostermontag
(Easter Sunday and Monday) March / April
▪
Tag der Arbeit
(Labour Day) May 1
▪
Christi Himmelfahrt
(Ascension Day) 40 days after Easter
▪
Pfingstensonntag und Pfingstenmontag
(Whitsun / Pentecost) mid-May to mid-June
▪
Fronleichnam
(Corpus Christi) 10 days after Pentecost
▪
Mariä Himmelfahrt
(Assumption Day) August 15
▪
Tag der Deutschen Einheit
(Day of German Unity) October 3
▪
Allerheiligen
(All Saints Day) November 1
▪
1. Weihnachtstag
(Christmas Day) December 25
▪
2. Weihnachtstag
(Boxing Day) December 26
The lucky city of Augsburg (Bavaria's third largest) gets one more day off, August 8. It marks the
Friedensfest
(Peace of Augsburg) which ended the religious struggle between the Lutherans and the Catholics in 1555.
Happy holidays!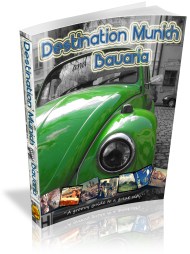 Every once in a while a book comes along that changes your life.
Until it does, please consider buying Destination Munich and Bavaria, the grooviest, most informative guide on the market :-)
It'll give you full-colour maps, practical info and hundreds of tips on how to get the most out of your visit.
It's 285 pages of up-to-the-minute travel intelligence and it can be yours as an eBook for less than the price of an Oktoberfest beer. (
read on
)
Sharing is sexy! Know how to RSS it? Subscribe here:
Spread the love and tell a pal about this particular page....