Oktoberfest tent guide

The best beer tents Munich has to offer -
it's the Oktoberfest tent guide page two
This is the second page of Destination Munich's Oktoberfest tent guide.
If you haven't read the first page, you can do that here! And now, on with the beer tent introductions…
Winzerer Fähndl
This is another huge tent down near the Bavaria statue.

The rafters drip with bright yellow streamers loaning a light and summery feel.

If you can't get in through the main door try the smaller entrances around on the southern side.
They're not so busy and the doormen occasionally let people in there after the tent has been officially closed.

The Details for the Winzerer Fähndl
Proprietors
Peter and Arabella Pongratz
Phone
(089) 62 17 19 10
Fax
(089) 62 17 19 19
Seating capacity
(inside) 8450
(outside) 2450
Beer
Paulaner
Website
www.winzerer-faehndl.com
Reservations?
Should be possible by fax or post, details on the Winzerer Fähndl website here.
the Bräurosl
They don't come much better than the Bräurosl, mid-sized tent with a tradition as long as an Alphorn.
You might hear a few of the long beasts blown here as well, as the entertainment is laid on thick and fast.
As well as the usually brass and evening pop bands you'll find yodellers regularly taking the stage.
It can be a challenge to get seated in this one so make sure you're there bright eyed and bushy tailed. This tent's been run by the same family, the Heides, since 1936.
The Details for the Bräurosl
Proprietors
Georg and Renate Heide
Phone
+49 (89) 89 55 63 53
Fax
+49 (89) 89 55 63 56
Seating capacity
(inside) 6200
(outside) 2200
Beer
Hacker-Pschorr
Website
(German) www.braeurosl.de
Reservations?
Reservations may be possible by faxing in the form you'll find here to the number above. It's in German.
the Augustiner-Festhalle
One of the most-loved tents among old-school Müncheners.
Over 200 tables here are
Stammtische
, tables reserved for regular patrons who return again and again.
It's the only tent to still pour its beer from fine old, wooden kegs.
It's also family friendly with discounts on kids' meals at lunchtime on Tuesdays.
Many say the suds from Augustiner are Munich's best.
The Details for the Augustiner-Festhalle
Proprietors
Manfred Vollmer
Phone
+49 (89) 23 18 32 66
Fax
+49 (89) 260 53 79
Seating capacity
(inside) 6000
(outside) 2500
Beer
Augustiner Bräu
Website
www.augustiner-restaurant.com
Reservations?
May be possible by sending an inquiry by fax to the number above. See the website here for details (in German).
Käfer's Wies'n-Schänke
A relatively tiny tent with "only" capacity for 1000 punters inside.
Käfer's prides itself on its status as a favourite tent among Germany's "Promis" –the local term for celebrities.
Since you're probably only coming to Munich for the Oktoberfest and aren't to familiar with the hosts of
Deutschland sucht den Superstar
it might not be worth the effort lining up to get into this one.
Beautiful Paulaner beer and the fact this tent closes at 12.30am – 1.5 hours later than the other tents – might change your mind, however.
The Details for the Käfer's Wies'n-Schänke
Proprietor
Michael Käfer
Phone
+49 (89) 416 83 56
Fax
+49 (89) 416 88 80
Seating capacity
(inside) 1000
(outside) 1900
Beer
Paulaner
Website
www.feinkost-kaefer.de
Reservations?

Possible by fax or post. Details on the Käfer's website here.
the Weinzelt
Who said you have to drink beer at Oktoberfest? Well, a lot of people actually but anyway, if the golden brew doesn't float your boat this is the place to go.
The cosy "wine tent" at the back of the grounds pops the cork on over 15 types of lovely jubbly along with sparkling wine and champagne.
Paulaner beer is also served.
The Details for the Weinzelt
Proprietors
Roland, Doris and Stephan Kuffler
Phone
+49 (89) 50 07 74 11
Fax
+49 (89) 50 22 23 62
Seating capacity
(inside) 2500
(outside) 500
Drinks
wine, sparkling wine und champagne menu, Paulaner Weißbier
Website
www.weinzelt.com
Reservations?
Possible by fax or email, details on the Weinzelt website here.
the Löwenbräu-Festhalle
You can't miss this one thanks to the tower topped with a revolving lion outside.
Another trademark is the beer-bearing feline over the main entrance who roars and takes a swig every few minutes.
It's the meeting point for fans of Munich's second-tier soccer side,
1860 München
(the Lions), who do their best to turn the atmosphere into that of a roaring football stadium.
Though it's internationally famous, Löwenbräu isn't one of Munich's favourite brews so you stand a better chance of getting a seat in here than in some of the other tents.
The Details for the Löwenbräu-Festhalle
Proprietors
Ludwig Hagn and Stephanie Spendler
Phone
+49 (89) 50 07 75 30
Fax
+49 (89) 50 07 75 24
Seating capacity
(inside) 5700
(outside) 2800
Beer
Löwenbräu
Website
(German) www.loewenbraeu-festzelt.info
Reservations?
Website says no reservations for new patrons to be accepted this year.
Smaller tents
If the big tents seem like to much to handle you might like to poke a nose into one of the 18
"Kleine Zelte"
– small tents. Spread across the Theresienwiese the 14 small tents hold between 100 and 400 punters.
The focus is on food and the specialities served inside are usually reflected in the tent's name – sweet treats rule in the
Café Kaiserschmarrn
, foul is famous at the
Hendl-und Entenbraterei Heimer
and
Zur Bratwurst
is always a right sausage-fest.
You can also get a beer here of course, but just be careful about dancing on the benches (if it's allowed at all).
The Oktoberfest tent that isn't
Luckily for some, there is an alternative Oktoberfest to cater for the overflow from the Wiesn.
The "Wiesnzelt am Stiglmaierplatz" takes place at Munich's Löwenbräukeller beer hall a way away from the main Oktoberfest.
It's open nightly throughout the Oktoberfest (except for Sundays) from 6.30pm.
An Oktoberfest "after-party" starts at 9pm and goes into the wee hours.
To see some photos of this festival and to find out how to book take a look at my page here Alternative Oktoberfest Venue.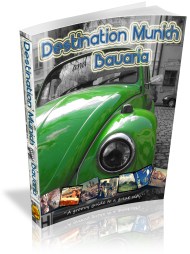 Every once in a while a book comes along that changes your life.
Until it does, please consider buying Destination Munich and Bavaria, the grooviest, most informative guide on the market :-)
It'll give you full-colour maps, practical info and hundreds of tips on how to get the most out of your visit.
It's 285 pages of up-to-the-minute travel intelligence and it can be yours as an eBook for less than the price of an Oktoberfest beer. (
read on
)
Sharing is sexy! Know how to RSS it? Subscribe here:
Spread the love and tell a pal about this particular page....