Oktoberfest pictures

Some Oktoberfest pictures to whet your appetite for the festival
Here it is! The Destination Munich collection of classic shots from the Oktoberfest.
These galleries have over 90 great pictures of Munich's famous festival.
Most of them come from photographers who use the Creative Commons licence on Flikr, they're all credited under the photos and you can visit their own Flikr webpages by clicking on the name.


Other Oktoberfest pictures come courtesy of the friendly folks at Munich Press Office (Presseamt München) and there are even a few from me. Enjoy!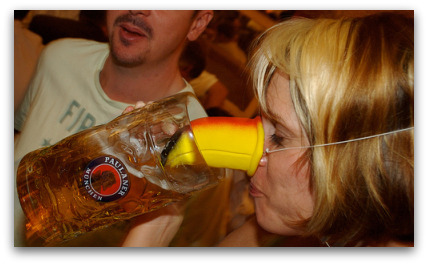 LOVELY DAY FOR A PAULANER: A woman with a toucan beak
attempts to drink her amber brew at the Bavaria Oktoberfest. .myke

BAVARIAN MAN: A true local proudly displays his traditional
Bavarian clothing. Jan Beckendorf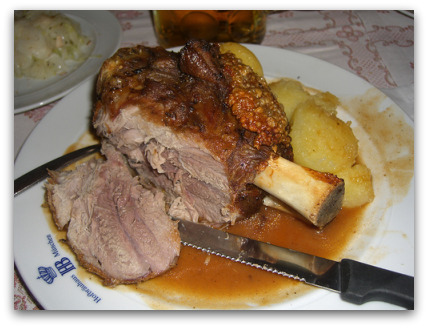 DIG IN: Possibly the finest Oktoberfest meal, Schweinshaxe
(pork knuckles). nordicdesign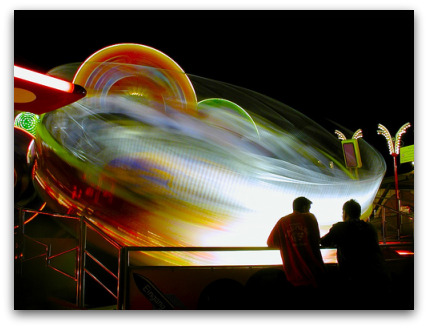 STUNNING: A time-delay shot of one of the rides at the annual
Oktoberfest festival. Nico Kaiser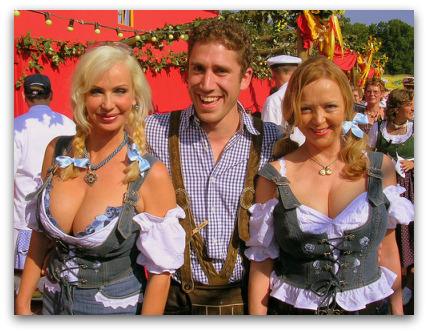 ALL SMILES: A guy with two women in Dirndl dresses at
the Oktoberfest. eürodäna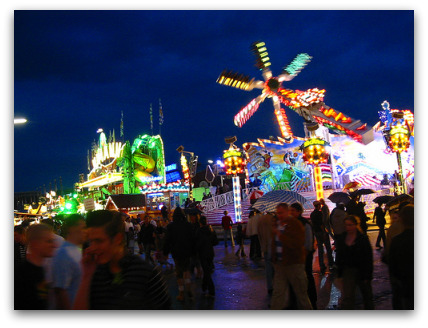 LIT UP: The rides provide a dazzling backdrop to the Munich
Oktoberfest by night. Meng zai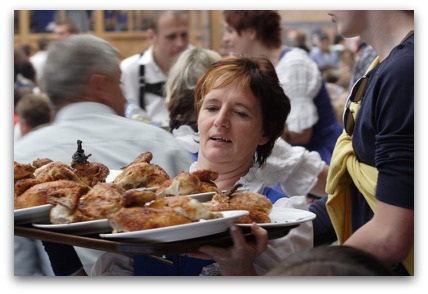 HOT CHICK: An Oktoberfest waitress bearing a tray of fried
chicken (Hendl)- yum! andrijbulba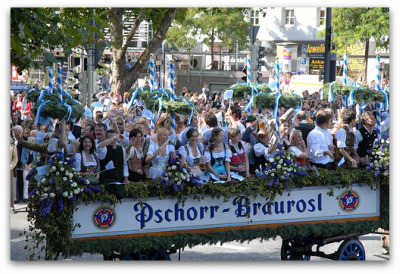 ROAD TO THE FEST: One of the carraiges transporting Oktoberfest staff to the festival. GAP089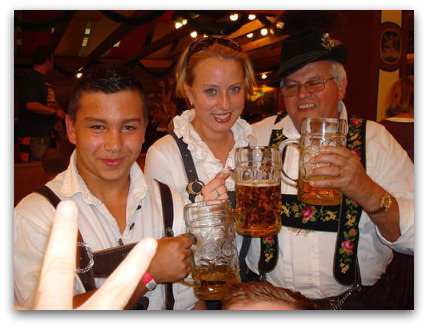 RAISE YOUR GLASSES: A trio in Bavarian Oktoberfest clothing
toast the camera. HGruber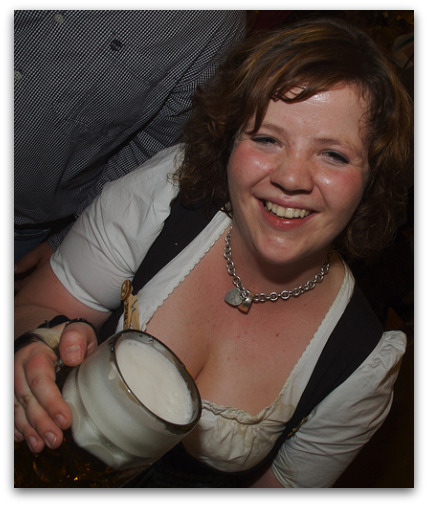 ANOTHER DRINK?: An Oktoberfest barmaid with a one-litre
mug of beer. .myke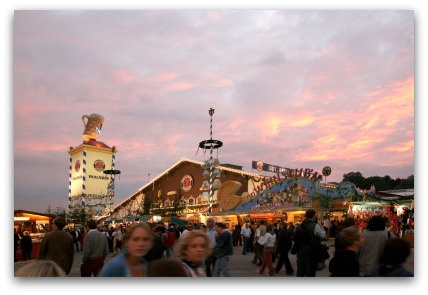 PURPLE SKY: Dusk over the Oktoberfest in Munich.
Nagy / Presseamt München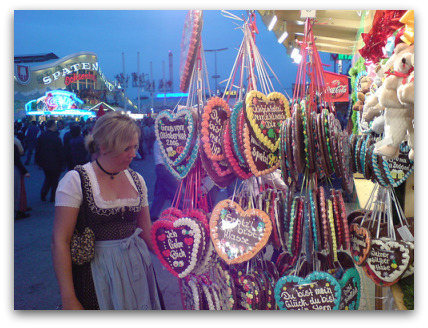 HUNGRY FOR LOVE: A young woman inspects the gingerbread
hearts (Herzl) at the Munich Oktoberfest. farbfilm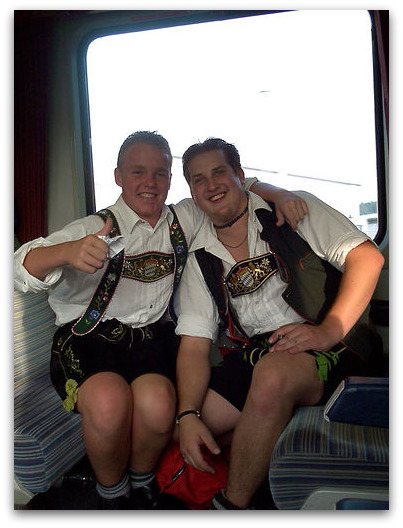 ON THE WAY: A couple of lads in Lederhosen on a train
on the way to the Oktoberfest. Ken@Okinawa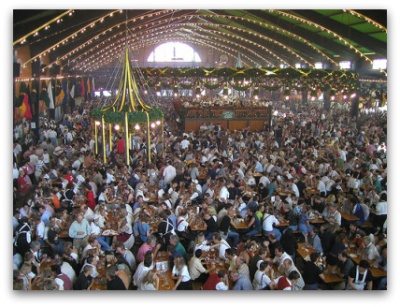 FULL TO THE RAFTERS: The party gets going inside one of the
tents at the Oktoberfest. Jan Beckendorf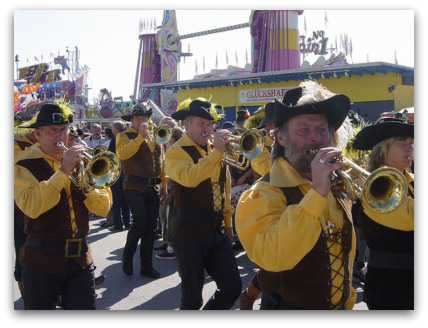 LEFT, RIGHT, BLOW!: A marching band of pirates booming around the Oktoberfest grounds. farbfilm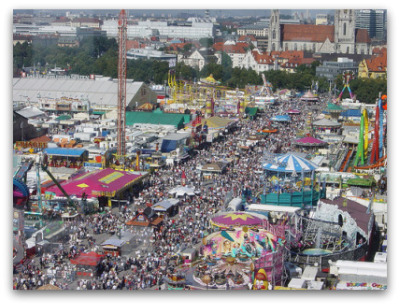 FROM WAY UP HIGH: An ariel shot of the Oktoberfest Munich- look at all those people! farbfilm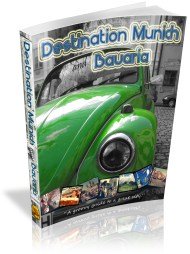 Every once in a while a book comes along that changes your life.
Until it does, please consider buying Destination Munich and Bavaria, the grooviest, most informative guide on the market :-)
It'll give you full-colour maps, practical info and hundreds of tips on how to get the most out of your visit.
It's 285 pages of up-to-the-minute travel intelligence and it can be yours as an eBook for less than the price of an Oktoberfest beer. (
read on
)
Sharing is caring
Spread the love and tell a pal about this particular page....