Oktoberfest pictures 4

OKTOBERFEST PICTURES 4:
A continuation of the photos taken at the Munich Oktoberfest!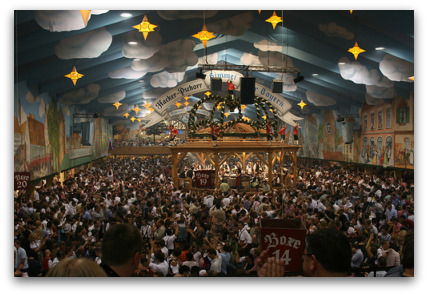 HEAVENLY: Inside the mighty Haker Festzelt, also known as the "Himmel der Bayern" - Heaven of Bavaria. Nico Kaiser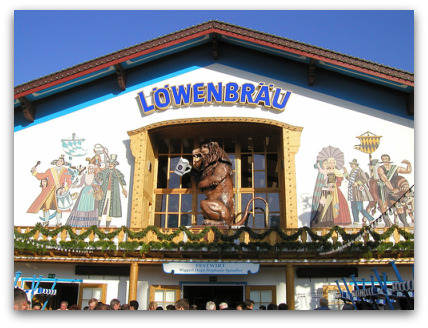 A LIONS' DEN: The Lowenbrau tent at the Oktoberfest Munich. Jan Beckendorf

PARTY TIME: A young couple having fun on the Wiesn. .myke

SAY CHEESE: A guy and a girl in a Dirndl dress at the annual Oktoberfest party. gabemac

LOOKING FINE: Two girls with nice smiles at the Bavaria Oktoberfest. .myke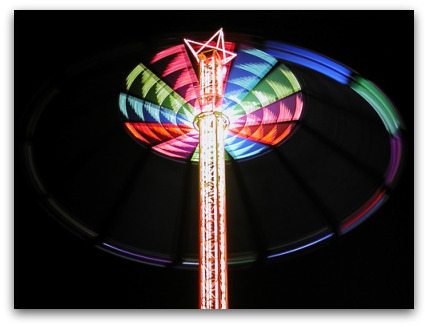 WHAT A RIDE: One of the amusements, after dark at the Munich Oktoberfest. Nico Kaiser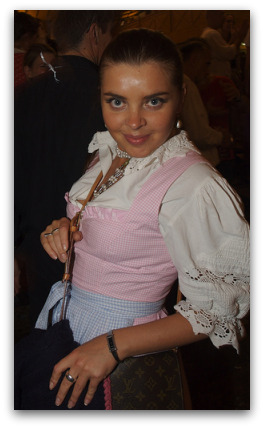 CHECK IT OUT: A girl displays her Dirndl dress at the Oktoberfest in Munich, Germany. .myke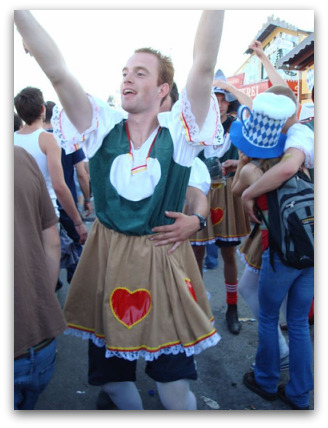 BOYS WILL BE GIRLS: A guy gets into the swing wearing a dress at the Oktoberfest in Munich, Germany. HGruber

LA VIA EN ROSE: A woman selling roses at the Oktoberfest. .myke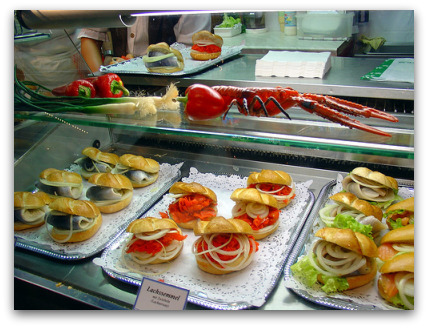 I SEA FOOD, I EAT IT: Buns (Semmel) filled with the fruits of the sea at an Oktoberfest stand. pokpok313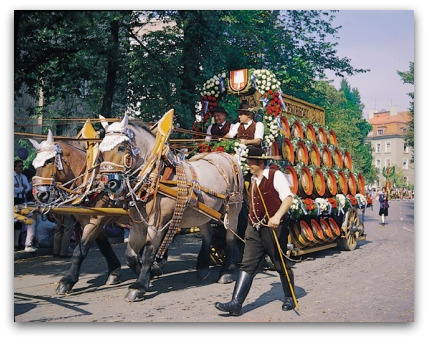 ON THE WAY: The Spatenbrau beer dray winds its way towards the Oktoberfest. Robert Hertz / Presseamt München

RIDE BY NIGHT: As the sun goes down, the Oktobefest rides go up. And up, and up. Ngay / Presseamt München

IT'S HAIRY: A hirsute Italian man dispays his chest at the Oktoberfest in Munich, Germany.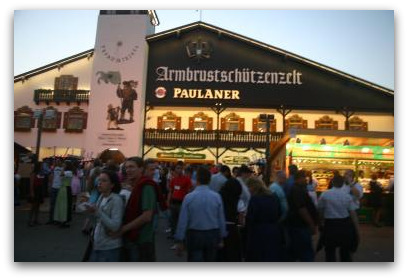 TAKE AIM: Outside the Armbrustschützenzelt - literally "crossbow shooting tent" at the Oktoberfest. Rest assured it's perfectly safe inside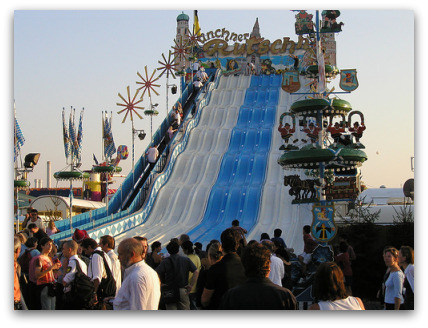 SLIPPERY SLIDE: The "Münchener Rutsch" - Munich Slide ride at the Oktoberfest. Jan Beckendorf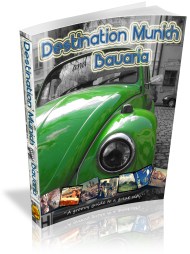 Every once in a while a book comes along that changes your life.
Until it does, please consider buying Destination Munich and Bavaria, the grooviest, most informative guide on the market :-)
It'll give you full-colour maps, practical info and hundreds of tips on how to get the most out of your visit.
It's 285 pages of up-to-the-minute travel intelligence and it can be yours as an eBook for less than the price of an Oktoberfest beer. (
read on
)
Sharing is sexy! Know how to RSS it? Subscribe here:
Spread the love and tell a pal about this particular page....