Neuschwanstein Castle Germany
Discover the magic of King Ludwig II's
Neuschwanstein Castle Germany
Think of romantic Germany and one indelible image comes to mind – Neuschwanstein Castle.
It's the stuff of fairy tales, an old oddball's dream, a majestic synergy of structure and landscape and one of Europe's biggest tourist magnets.
When Walt Disney sought inspiration for his
Sleeping Beauty Castle
he looked no further than here.
It just missed out on a placing in a
2007 New Seven Wonders of the World
competition. But that doesn't matter, Neuschwanstein's caretakers are happy to call it the eighth.
But what's all the fuss about? Let's pass through the gates and into the castle and discover the reality behind the hype.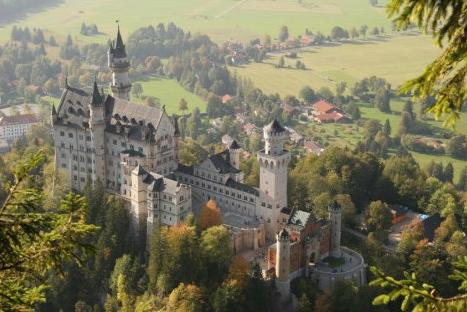 DREAMY: Neuschwanstein Castle in Germany is one of Europe's most recognised buildings.
"It is my intention to rebuild the old castle ruin at Hohenschwangau near the Pollat Gorge in the authentic style of the old German knights' castles... the location is the most beautiful one could find, holy and unapproachable, a worthy temple for the divine friend who has brought salvation and true blessing to the world." - Ludwig II
Haven for dreamers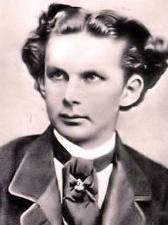 King of Bavaria,
Ludwig II, the creator
of Neuschwanstein
Castle Germany.
To understand Neuschwanstein you need a glimpse into the castle's creator, the eccentric, often-called
"crazy" King Ludwig II
(1845 – 1886).
Ludwig was a reclusive dreamer who escaped into a fantasy world of romantic German mythology and the works of composer
Richard Wagner
(1813-1883), whose works he sponsored and basically worshipped.
Although Ludwig's Bavarian subjects adored him (they nicknamed him
"unser Kini"
– our darling King) he was a bit of a flapdoodle with the finances.
He embarked on a costly construction program which included
Linderhof Palace
, royal apartments in Munich's
Residenz
and
Herrenchiemsee Palace
, which was started after Neuschwanstein.
No-one had a built a castle like Neuschwanstein in Europe for centuries but that didn't deter Ludwig. It was to be a glorious stage for the operas of his "divine friend" Wagner.
Ludwig wanted to share the castle with the composer and there's some speculation that the King's love, though never requited, went beyond the merely plutonic. Neuschwanstein was started in 1869 and construction continued until Ludwig's murky death in 1886.
Unhappy start, unjust end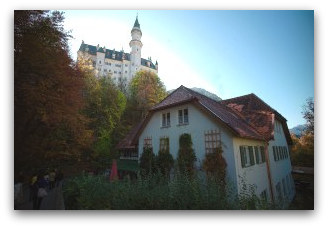 COLOURFUL: Neuschwanstein Castle in Autumn.
Neuschwanstein Castle Germany
pic: CC muddyclay
Ludwig spent only 170 days at the castle before he was arrested and declared insane by a doctor who hadn't even examined him.
The king washed up a few days later on the shores of
Lake Starnberg
near Munich. Although it was declared an accidental drowning, it's now pretty clear that Ludwig was assassinated by conspirators in the government who feared he was sending the kingdom's coffers to the cleaners.
Most visitors to Neuschwanstein first head for the postcard views from the
Marienbrücke
(St Mary's Bridge) above a nearby gorge. Beyond the castle is the
Forggensee
(Lake Forgen), an artificial lake which wasn't there in Ludwig's time.
Down to the left sits Hohenschwangau Castle, where Ludwig grew up. He had a miserable childhood with a disciplinarian dad, so Neuschwanstein's location was picked party so he could literally rise above all those bad memories.
Bluffs and guises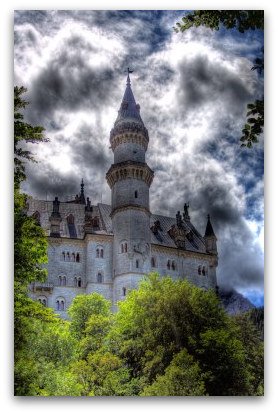 OTHERWORLDLY: A stunning
HDR capture of the castle.
Neuschwanstein Castle Germany
pic: JacobEnos
The castle's soaring limestone walls are just a façade, the castle's core is composed of bricks.
You can only inspect the interior as part of a guided tour and there's often so many visitors it's easy to feel like a cow being hurrily herded through.
But there's still enough time to soak up the majesty.
Most of the 14 rooms finished before the king's death are replete with murals from German mythology Wagner had moulded into operatic sagas.
Among them are knights
Lohengrin
and
Parzifal
, the poet
Tannhäuser
and the tragic lovers
Tristan and Isolde
.
Swans are another leitmotif, the Salon alone is decorated with hundreds of them.
Ludwig was sometimes known as the "Swan King", the water bird being another feature in Wagner's sagas of the grail knights.
Neuschwanstein was given its name, literally "New Swan Stone", only after the king's death. When it was being built Ludwig called it "Neue Burg Hohenschwangau".
Ludwig loved the high-tech as well as the mythical and fitted out the castle with the then latest gadgets – hot and cold running water, flushing toilets and even a telephone.
Standout rooms include:
▪ The Thronsaal (Throne Room) built in Byzantine style with one notable absence – the throne itself. The stool was still on order when Ludwig II died.
My favourite mural here is one of St George slaying the dragon.
▪ Ludwig's Bedroom is done in rich, dark wood and the bed itself looks like a neo-gothic chapel.
The oratory alcove to the side provided a private place to pray.
▪ The Grotto which looks like an artificial cave and once sported coloured lights and a mini-waterfall.
▪ The showpiece Sängersaal (Minstrels' Hall) was where Wagner was to compose and conduct more operas.
Though Ludwig II never got to see a
performance here there are now concerts
every September (see details below).
Closing thoughts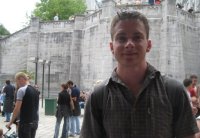 I was impressed!
As you leave Neuschwanstein you might find yourself thinking about the tragic tale of its maker and how he met his own. You might be pondering the sagas of the sagas of German knights, poets and lovers in which the King took refuge.
You might even be thinking about what you'd throw up if you had the cash to live out your wildest architectural fantasies like Ludwig. Whatever's going through your mind, there's no doubt you'll be able to remember Neuschwanstein for the rest of your life.
Take an organized tour
Would you like an organized tour of Bavaria, including Schloss Neuschwanstein?

Cost:
Special offer on now! Min. price is usually €49, tickets available now from €37
Duration:
About 11 hours
You start this tour with a visit to
Schloss Linderhof
. Then you'll scoot over to the nearby village of
Oberammergau
for a shopping/sightseeing expedition.
It's a gorgeous place, full of picture-postcard old houses with the backdrop of the Alps.

Then you'll head over to Hohenschwangau where you can explore the castles
Schloss Hohenschwangau
and the big daddy of them all,
Schloss Neuschwanstein.
(Read more about the tour)
I can also recommend this tour from my booking partners at Viator.
It's a multi-day tour which takes Mad King Ludwig's famous Neuschwanstein Castle before touring the Romantic Road, one of Bavaria's great discovery paths.

Cost:
from €414
Duration:
Three days, two nights

This three-day excursion combines the best of the Romantic Road with a visit to Ludwig II's castles in the Königswinkel (King's Corner).
You'll start with a visit to Ludwig's pint-sized
Linderhof Palace
, south of Munich, before stopping briefly in
Oberammergau
.

Then you'll move across to Hohenschwangau, home of the famous castles of
Neuschwanstein Castle Germany
and
Hohenschwangau
.
On the second day you'll tour the
Romantic Road
passing through the city of
Augsburg
and the fabulous walled villages of
Nördlingen
and
Dinkelsbühl
.

You'll stay overnight in
Rothenberg ob der Tauber
and head onto
Frankfurt
in the evening, passing the city of
Würzburg
and the Spessart mountains.
(Read more about the tour)
• To see more tours of Bavaria including many which cover Neuschwantein Castle, see here at Tours of Bavaria.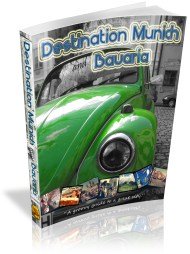 Every once in a while a book comes along that changes your life.
Until it does, please consider buying Destination Munich and Bavaria, the grooviest, most informative guide on the market :-)
It'll give you full-colour maps, practical info and hundreds of tips on how to get the most out of your visit.
It's 285 pages of up-to-the-minute travel intelligence and it can be yours as an eBook for less than the price of an Oktoberfest beer. (
read on
)
Sharing is caring
Spread the love and tell a pal about this particular page....