Munich weather

MUNICH WEATHER:
Coming from Australia I was blissfully unaware of places which actually had four distinct seasons. Here's a taste of the weather you can expect throughout the year.
Summer splendour - June 21 to September 22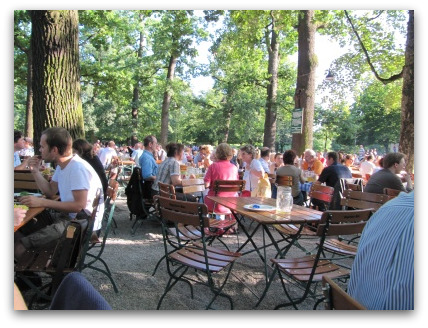 PERFEKT!:An idyllic Munich beer garden in August.
Munich springs to life in the summer (
Sommer
) and the street cafes cram with visitors and office workers. Count on spending more time outdoors if you're visiting then.
As the days draw longer (it doesn't get dark until about 10pm in early July) people stay outside later. The Isar River banks and the
Englischer Garten
are favourite after-hours hang-out zones. Summer's solid festival program includes Tollwood, the film and opera festivals and the Olympiapark Summer Festival.
Munich's warmest months are June and July with average daily high of 22C or 73F. But it often reaches 30 or 35C (95F) and the humidity can make it feel like a sauna.
Keep in mind these are also the wettest months, with an average rainfall of 12cm (5 inches) a day, often delivered in thunderstorm form. So don't forget the umbrella!
Autumn flair - September 23 to December 20
The days draw shorter in Autumn (Herbst). A cool breezes starts to blow and people start going home straight from work rather than hanging about outdoors.
Foliage explodes into dazzling hues of yellow, orange and red before finally shedding it all onto the footpaths to be dutifully swept away by anonymous little men and six o'clock in the morning.
November seems to be the least-loved month as it's usually cold and grey with nothing interesting going on. December brings the chance of snow and the guarantee of being able to huddle at an outdoor Christmas market with a hut cup of hot, spicy wine (Glühwein).
Winter freeze - December 21 to March 20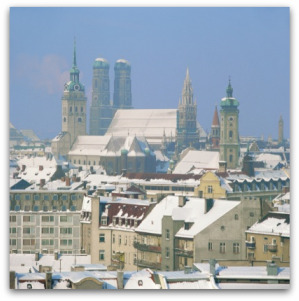 LET IT SNOW: Munich's iconic
towers in the winter.
Pic: Christl Reiter / FVAmuc
An Italian friend once told me that you have to take up skiing if you live in Bavaria, otherwise there's just nothing to look forward to in the winter
(
Winter
).
Bavarians mostly agree and head a couple of hours south to the Alps.
January is usually the coldest month, with an average daily high of just 2Cor 36F, sometimes dropping as low as -20C (-4F).
You can usually rely on at least a few weeks of snow from January to March.
Count on spending most of your time indoors if you visit Munich in winter, at museums, pubs and restaurants.
That said there are other outdoor options besides heading for the hills.
Check out the canal in front of
Nymphenburg Palace
, it freezes over and becomes a very cool ice skating stretch.
Fashing
(Carnival), 40 days of chilly partying in February/March, is a sure sign that spring is just around the corner.
Springtime joy - March 21 to June 20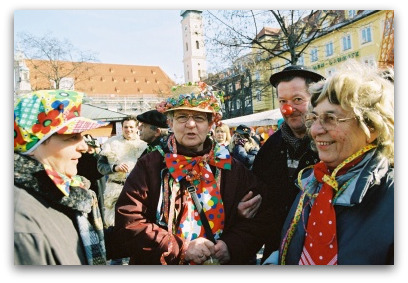 CRAZY MUNICH WEATHER: Revellers
rug up for Munich's Fashing (Carnival) at the end
of winter.Pic: © Nagy / Presseamt München.
Oktoberfest aside, the best time to be in Munich is spring (
Frühling
). The once-essential scarfs and gloves of winter are put aside, back into the drawers for another year.Barren trees and bushes reassert themselves with flowers and foliage.
The streets aren't yet full of high-season tourists but the beer gardens slowly start to fill up with locals, usually relieved that the "freezer" has been switched off for another six months. A popular springtime delicacy is white asparagus (
Spargel
).
The Föhn
This is what they call dry wind that blows north over the Alps, particularly in winter and early spring. It can boost the temperature through the roof (up to 25C in March!) and melts the snow into rivers and streams.
The
Föhn
also brings exceptionally clear views of the Alps, so it's a top time to head up to one of Munich's lookout spots like the Olympic Tower or the Alte Peter church tower.
The wind is often blamed for causing headaches and boosting overall levels of crankiness. Though it's not clear why a study by Munich's
LMU (university)
claims the
Föhn
increases accidents and even suicides by up to 10 per cent.
Oktoberfest weather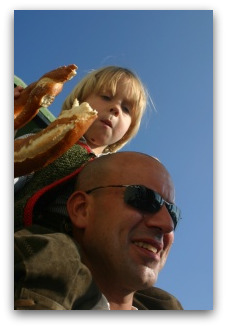 SUNNY: The weather can be so
nice at the Oktoberfest
it's much nicer to be outdoors
than in one of the tents.
Falling as it does at the end of summer, you can't really depend on anything weatherwise for the fest.
I've been at Oktoberfests when there was nothing better to sit at the outdoor tables, enjoying a beer in shorts and a T-shirt.
Other times when I've been stuck outside it's rained so hard people were building those tables into little forts for shelter and I froze despite gloves and three layers of clothing. Just to be on the safe side pack an umbrella, a range of clothes and check the forecast on the day.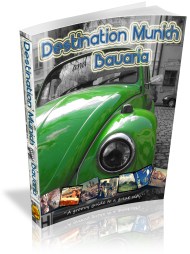 Every once in a while a book comes along that changes your life.
Until it does, please consider buying Destination Munich and Bavaria, the grooviest, most informative guide on the market :-)
It'll give you full-colour maps, practical info and hundreds of tips on how to get the most out of your visit.
It's 285 pages of up-to-the-minute travel intelligence and it can be yours as an eBook for less than the price of an Oktoberfest beer. (
read on
)
Sharing is sexy! Know how to RSS it? Subscribe here:
Spread the love and tell a pal about this particular page....