Munich travel guides
MUNICH TRAVEL GUIDES: Here's a selection of choice Munich travel guides I've reviewed. You can get good deals on them through Amazon.com, so I've included links to where you can find them there.
If you're already in Munich and are looking for bookstores, check out my page on books in English in Munich here.
* I've recently reviewed a guidebook called Only In Munich. Click here to read it.
Munich and the Bavarian Alps
Publisher: DK Publishing
Authors: Izabella Galicka and Katarzyna Michalska
Published: 2003
My rating: 8/10 for the visuals

DK's classy line of travel tomes say they're "the guides that show you what the others only tell you", a claim which I can gladly affirm.

The current edition weights in at 324 pages, all of them full colour
and packed with photos, maps and 3D illustrations of important sights.
The organisation is excellent and the colour tabs mean you only have to flick trough for a few seconds before you find the page you're after.
The guide covers Munich in detail and other highlights of southern Bavaria, including Neuschwanstein Castle, the Alps, Upper Bavaria and the cities of Passau, Landshut and Augsburg.
I recommend this one especially for armchair travellers and for planning your trip and getting an idea of what you want to see and do before you leave. All those glossy pages make this guide feel a tad heavier than its competitors, but it's well worth the extra weight.
Fodor's Munich & Bavaria, 1st Edition: Plus Salzburg
Publisher: Fodor's
Published: 2008
My rating: 7/10 for the good info and maps

My Fodor's guide continually surprises me for bringing up titbits of information that none of the other guides seem to have.
Only a general Germany guide was previously available but this one focuses solely on Munich, Bavaria and the city of Salzburg just across the Austrian border.
Good attention is given to the Munich shopping and nightlife sections and the chapter on the Romantic Road through Bavaria's countryside is excellent.

The "Top Reasons to Go" boxes at the start of each chapter boil down the top things to do and see.
While it's not as pretty as some of the other guides, Fodor's has got it where it counts in the content department.

Munich, Bavaria & the Black Forest (Regional Guide)
Publisher:
Lonely Planet
Author:
Andrea Schulte-Peevers
Published:
2008
My Rating:
7.5/10
points off for the scaled-back Munich coverage
Ahhh…good old Lonely Planet, my trusty companion through many adventures around the globe.
LP's American Germany expert Andrea Schulte-Peevers is at the helm once again for the publisher's latest guide to
Munich and Bavaria
.
I have a major parochial gripe with this edition – they've squashed
the Munich and Bavaria to make room for
the Black Forest
, meaning less travel advice on my favourite region.
Points on, though for the increased edginess. Lonely Planet seem to have realized they're competing in an even less lonely travel guide market.
They've upped the number of
boxed texts
filled with background information and unusual tales. There's also an extended colour section featuring interviews with a few local faces.
This guide's strength is in its witty and concise writing and
easy-to-read maps
. A bit less space should be given up to the accommodation reviews, however, which would free up more room for attractions and background. Nonetheless, a solid updated edition.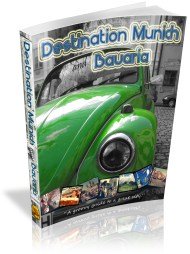 Every once in a while a book comes along that changes your life.
Until it does, please consider buying Destination Munich and Bavaria, the grooviest, most informative guide on the market :-)
It'll give you full-colour maps, practical info and hundreds of tips on how to get the most out of your visit.
It's 285 pages of up-to-the-minute travel intelligence and it can be yours as an eBook for less than the price of an Oktoberfest beer. (
read on
)
Sharing is caring
Spread the love and tell a pal about this particular page....