Munich Marathon

Next on: October 8, 2017

MUNICH MARATHON:
Think you're brave enough to attempt Munich's annual 42km (26mi.) run?
Participants puff through the Old Town and loop through the Englischer Garten before high-tailing it to the Olympic Stadium for the grand finale.
If you're not running it can still be fun to go down to the stadium from about 1pm and watch the knackered runners come in.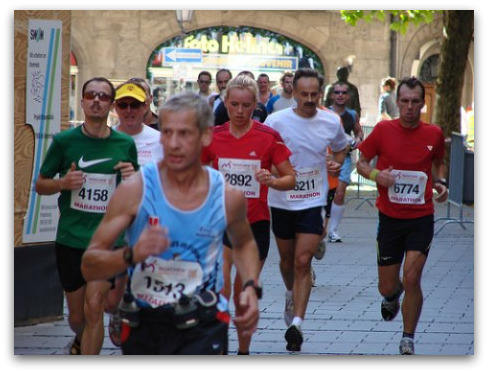 ENDURANCE: Runners on their way through the Old Town in the Munich Marathon. Pic: CC by Allie_Caulfield
Many runners. One world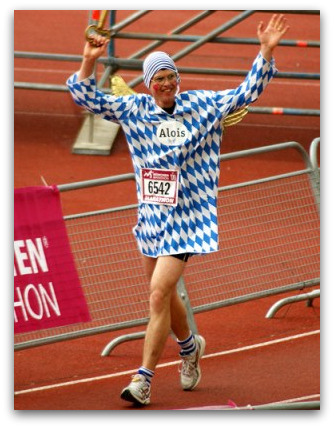 VICTORY: A participant in a checkered Bavarian top runs into the Olympic Stadium at the end of the marathon. Pic: Allie_Caulfield
As well as the main event there's also a half marathon and a relay where five runners trundle a total of 42kms.
Another highlight is the "Trachtenlauf" (costume run).
Organisers want participants to dress up in their national costume and run 4kms (2.5mi) before enjoying a traditional Bavarian
Weißwurst
breakfast. Kilt, Dirndl or kimono, anything goes in this one!
The Trachtenlauf isn't a competition and there's no entry fee, it's all about having a few laughs and spreading the international love.
Being a dedicated Aussie I think might go down dressed up as Crocodile Dundee. Either that or in a pair of red Speedoes and a surf lifesaver's hat.
Nah, probably as Crocodile Dundee.
They are the champions
The
record time for the men's marathon
is
2:09:46
, set by Kenyan Michael Kite in 2000. The
women's record is 2:33:09
, set by Hungarian Karolina Szabó in 1991.
The marathon draws anywhere from 5000 to 9,000 participants and the 10km run attracts about 2000.
The Details

Location
Through the streets of Munich.
The full marathon starts at 10am at Ackermann Strasse in the Olympic Park, between the Spiridon-Louis-Ring and Schwere-Reiter-Strasse.
The finish is in the Olympic Stadium.

The Trachtenlauf (Folklore Run) starts at the Willi-Gebhardt-Ufer in Olympic Park.
Next on
All runs take place on October 8, 2017, except for the Trachtenlauf, which is at 10am on the day before.
Cost
To run the full marathon costs between €55 and €70, depending on how early you book.
The half-marathon costs €35 to €50, the relay €90 to 160.
Website:
www.muenchenmarathon.de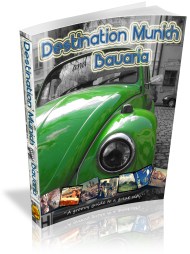 Every once in a while a book comes along that changes your life.
Until it does, please consider buying Destination Munich and Bavaria, the grooviest, most informative guide on the market :-)
It'll give you full-colour maps, practical info and hundreds of tips on how to get the most out of your visit.
It's 285 pages of up-to-the-minute travel intelligence and it can be yours as an eBook for less than the price of an Oktoberfest beer. (
read on
)
Sharing is sexy! Know how to RSS it? Subscribe here:
Spread the love and tell a pal about this particular page....