Munich Mailbag - Your questions answered
This page is where I attempt to answer readers' questions about all things Munich and Bavaria related. In the past I haven't bothered to log all of them on this page but instead just replied with a personal message.
Your questions, though, are a great help to other travellers so I'll endeavor to add them all here linked to their own individual page from now on.

Please send your questions to stuartadmin@destination-munich.com and don't forget to include your first name and country you're from. If you have anything to add to the answer, you can do so in the comments box at the bottom of each page.

So, on with the show!
Questions asked so far
• When should I reserve for the Starkbierfest (Strong Beer Festival) in 2013?. (05 January 2013)
• Snow in December?...and questions on tours of Neuschwanstein, the BMW Museum, Allianz Arena and snowy Christmas markets. (26 October 2012)
• Will the Christmas markets still be open around New Year's Eve/Where can our five-year-old daughter spend NYE safely? (24 October 2012)

• What's the mountain on the way out to Munich Airport called? (1 September 2012)

• How can I experience the Middle Ages in Bavaria? And how can I meet fellow travellers for day-trips? (22 July 2009)

• Where in Munich can I learn about Sophie Scholl, member of the anti-Nazi resistance group The White Rose? (24 March 2010)
Oktoberfest questions
• What's a cheap campsite to stay at during the Oktoberfest? (11 September 2012)
• Should I stay outside Munich for Oktoberfest? Which tents will I have the best chance to get into? (28 October, 2012)

Visa questions
•
Can we apply for a work permit when we are on student visa in Germany?
(2 July 2009)
•
I'm from India, and I would like to know how my mother can apply for a visa to come and stay with me in Munich?
(22 July 2009)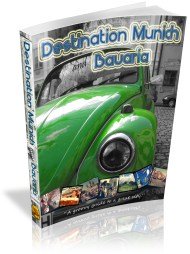 Every once in a while a book comes along that changes your life.
Until it does, please consider buying Destination Munich and Bavaria, the grooviest, most informative guide on the market :-)
It'll give you full-colour maps, practical info and hundreds of tips on how to get the most out of your visit.
It's 285 pages of up-to-the-minute travel intelligence and it can be yours as an eBook for less than the price of an Oktoberfest beer. (
read on
)
Sharing is caring
Spread the love and tell a pal about this particular page....
Get back...