Munich Lost and Found
MUNICH LOST AND FOUND:
Sad as it may be, sometimes things go pear shaped and you lose something along the way.
If this happens in Munich you could first try asking at one of the
tourist info centres
at
Marienplatz
or the
Main Train Station
(Hauptbahnhof), you may get very lucky and find that someone has handed it in there.
If not you'll have to contact the Munich Lost and Found Office (
Fundbüro
).
Munich Lost & Found details:
The office's official name is
Kreisverwaltungsreferat Hauptabteilung I/23 – Fundbüro.

Directions
It's at Oetztaler Strasse 19 south-west of the city centre.
To get there take the U-Bahn No. 6 to
Harras
(direction
Klinikum Großhadern
) or S-Bahn No. 7 or 27 and walk from there (see map below).
Phone
089 23 39 60 45
Email
fundbuero.kvr@muenchen.de
Open
Monday to Thursday from 8am to midday, Tuesday also from 2pm to 6.30pm, Friday open 7am to midday.
Closed on Christmas Eve and New Year's Eve.
Here's a locator map
showing how to get to the Munich Lost and Found (
Fundbüro)
from the nearest subway (U and S-Bahn stations).
Maybe I left it on the train?
If you think you've left something behind on the S-Bahn or a train around Bavaria you can contact the
Deutsche Bahn (German Rail) Lost and Found
office, which is in the main hall of the Hauptbahnhof.
This service has a hotline you call for 59c a minute (
Phone
09 00 19 90 599).
The office is open Monday to Friday from 7am to 8pm and from 8am to 6pm on weekends and public holidays.
Oktoberfest Lost and Found
There is a separate office at the Oktoberfest grounds for items lost there, see
Oktoberfest Lost and Found
for more info.
Credit cards and phones
If you're a victim of theft or lose a wallet or handbag containing credit cards you'll want to cancel them straight away.
Luckily Germany has a toll-free round-the-clock number which you can call to cancel all international bank and credit cards.
It's
116 116
from within Germany and either
+49 116 116
or
+49 30 4050 4050
from abroad (charges apply for international calls).
You can also use this number to report lost or stolen
mobile phones
and the service will notify your service provider of the loss if you want the phone locked.
Here are the numbers for the major credit card companies if you want to call direct.

▪ VISA
(01803) 61 76 170
▪ American Express
(069) 97 97 10 00
▪ Diner's Club
(01805) 33 66 95
▪ MasterCard and EuroCard
(069) 79 220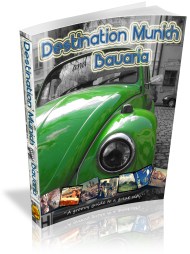 Every once in a while a book comes along that changes your life.
Until it does, please consider buying Destination Munich and Bavaria, the grooviest, most informative guide on the market :-)
It'll give you full-colour maps, practical info and hundreds of tips on how to get the most out of your visit.
It's 285 pages of up-to-the-minute travel intelligence and it can be yours as an eBook for less than the price of an Oktoberfest beer. (
read on
)
Sharing is sexy! Know how to RSS it? Subscribe here:
Spread the love and tell a pal about this particular page....