Munich cafes and quick bites

Munich has a great range of both
traditional and modern cafes
Café Tambosi
Old-world elegance can be relived at Café Tambosi, Munich's oldest coffee house.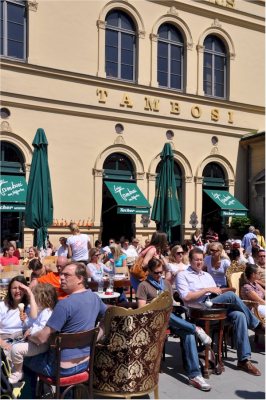 The latte crowd gathered outside Munich's
iconic Cafe Tambosi.
Pic: Lonika via Flickr
They say Mozart himself used to hang about here for coffee and cake and the décor doesn't seem to have changed much since he was about in the late 1700s.

You can either take a seat inside crammed with baroque-era memorabilia and old wooden furniture or out on Odeonsplatz, up on the balcony or on the other side of the cafe facing into the Hofgarten.

Students from a nearby music school often perform to guests on the Hofgarten side. Service can be painfully slow so try and order together and ask for the bill at the same time.
Sample costs Caffè Lola Montez €4.10, two scoops of ice cream with strawberries €8.50 Open Daily 7.3am-1am Address Odeonsplatz 18, Munich Phone 089 298 322 Website www.tambosi.de.

Got a sweet tooth but want to try something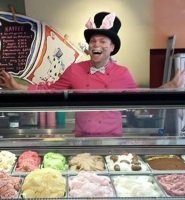 different? Look no further than Munich's one-and-only Alice in Wonderland-themed ice-cream cafe
Der verrückte Eismacher
(The crazy ice-cream maker). With flavours including Oktoberfest beer, white sausage and pizza, what more could you ask for?
(
Read more about the cafe
)

Pasta e Basta
This is a cheap Italian dinner with a basic, bustling and family friendly atmosphere. Their motto is: "Full plates, half price"! Most meals are under five Euros and a bowl of spaghetti is only €3.45. This ain't fine dining, but it's a bargain and tasty to boot.
Sample costs lasagne Bolognese €4.45, salami pizza €3.95, cup of coffee €1.90 Address Frauenhofer Strasse 19 and Amalien Strasse 87 Phone 089 13 939 446 Website www.pastaebastaweb.de Open Monday to Sunday 11am to midnight.

Café Glockenspiel
This little place undoubtedly has one of the city's top views, right over Marienplatz facing the Glockenspiel. I've gotten in here once or twice at about 4pm-4.30pm and hung out with a coffee before watching the Marienplatz fill up with tourists.
Then I've gone to the window to watch the afternoon performance of the Glockenspiel at 5pm.
Costs The kitchen does modern salad and steak lunches and dinners for €8 to €15. Address Marienplatz 28 (entrance via Rosen Strasse around the corner) Phone 089 264 256 Website www.cafe-glockenspiel.de Open Monday to Saturday 11am to 1am, Sunday 10am to 7pm.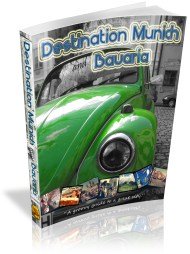 Every once in a while a book comes along that changes your life.
Until it does, please consider buying Destination Munich and Bavaria, the grooviest, most informative guide on the market :-)
It'll give you full-colour maps, practical info and hundreds of tips on how to get the most out of your visit.
It's 285 pages of up-to-the-minute travel intelligence and it can be yours as an eBook for less than the price of an Oktoberfest beer. (
read on
)
Sharing is caring
Spread the love and tell a pal about this particular page....