Munich beer background
Few cities are more strongly associated with beer than
Munich is - this is the home of beer gardens and the
Oktoberfest after all!
Former Munich resident Karl Marx wasn't kidding around when he declared beer to be the "staple food of Munich".

The Germans even classify beer as food for tax purposes making for wonderfully reasonable prices – beer is actually cheaper than cola or bottled water just about everywhere you go.
Beer is usually served in half-litre glasses, but the one-litre Maß is also very common.
At most beer festivals including Oktoberfest it's all they serve. Quarter-litre glasses do exist, but tend to be reserved for grandmas.
Draught beer is termed "vom Fass". Munich beer is best enjoyed in a beer garden with a few good friends, pretzels, quality banter and a few laughs.
Average beer consumption per person per country:
France: ....................35.5L
Canada: ....................68.3L
USA: ..........................81.6L
UK: ............................99L
Australia: ................104.7L
Germany (total): .....116L
Ireland: .....................131.1L
Czech Republic: .......158.9L
Bavaria: ......................170L
And the clear winners are: the Bavarians! Well, everyone's gotta be the best at something, right?
Source: Wiki
Beer to the core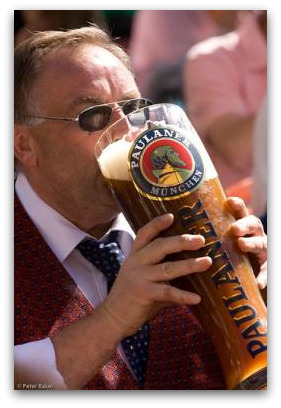 LIQUID BREAD: Beer is Bavaria is sometimes
known as Flussiges Brot, or "liquid bread".
Pic: CC by Peter Baker
Brewing used to be an ad-hoc affair, with nasties like tree bark, moss and animal fats often thrown in the mix for want of quality ingredients.
So the Bavarian Beer Purity Law (Bayerische Reinheitsgebot) was introduced by Duke Wilhelm IV and his brother Ludwig X on April 23, 1516. This law decreed that only barley, hops and water were the only ingredients allowed in beer. Yeast and wheat were later allowed into the mix.
The Reinheitsgebot is the world's oldest and (probably) most famous food law, setting Bavarian and Munich beer apart with a seal of quality.
Halleluiah, it's raining beer!
I'm not pulling your leg when I say that it rains beer in Munich. No kidding. It's called the "Sog".
It occurs when the mercury drops below zero and the waste air from the breweries condenses in the lower atmosphere. White, snow-like particles form up and nose-dive onto Munich's streets and rooftops.
So if the wallet is empty after an all-night carouse but you find yourself thirsting for more, just look up and walk around with your mouth open. You might get lucky.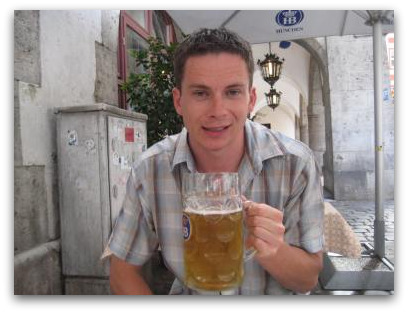 LIQUID GOLD: Me with a Maß of the good stuff at Munich's Hofbräuhaus.
The breweries
Believe it or not, the state of Bavaria holds just shy of half the breweries in the entire German nation. Its oldest brewery is also the world's oldest – the
Weihenstephan
monastery-brewery has been tapping the amber fluid the local bishop granted it a licence in 1040.
Munich had over 70 breweries by the end of the 1700s. A gradual consolidation process reduced the ranks to the "big six" still alive today -
Augustiner
,
Paulaner
,
Hacker-Pschorr
,
Spaten-Franziskaner
,
Löwenbräu
and
Hofbräu
.
Augustiner is the clear favorite Munich beer and, along with Hofbräu, the only one not to have been taken over by international brewing conglomerates.
Smaller breweries abound in the countryside and almost always have a good restaurant and beer garden attached.
Much daytripping fun can be had making a pilgrimage out to popular spots like the monk-inhabited
Kloster Andechs
monastery/brewery and the royal
Schlossbrauerei Kaltenberg
.
Hands off our brew!
FAN FAVORITE: Augustiner beer is Munich's
favorite. On the left is a Weissbier (white beer)
on the right a Dunkles (dark beer).
Pic: CC augustiner varieties .A.A.
Since the city's founding fathers discovered "pir" was taxable have Munich's poo-bahs occasionally tried to stand between Munich locals and their beer, usually with disastrous results.
Tensions flared most notably in 1844, when the otherwise-popular King Ludwig I tried to raise the price of beer to two pfenning, sparking the so-called
"Beer Revolution"
.
Thousands took to the streets and over 50 breweries were burned down before Ludwig was forced to back down.
Another failed try at beer regulation took place in 1995, when a court ruling declared al beer gardens had to close at 9pm.
25,000 riled-up Munich locals stormed en masse onto Marienplatz to protest, and the decision was promptly reversed, lesson well learned.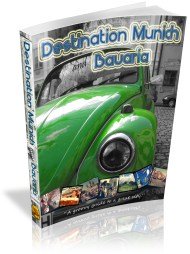 Every once in a while a book comes along that changes your life.
Until it does, please consider buying Destination Munich and Bavaria, the grooviest, most informative guide on the market :-)
It'll give you full-colour maps, practical info and hundreds of tips on how to get the most out of your visit.
It's 285 pages of up-to-the-minute travel intelligence and it can be yours as an eBook for less than the price of an Oktoberfest beer. (
read on
)
Sharing is caring
Spread the love and tell a pal about this particular page....