These Munich bars and clubs and party venues are the place to hit up when the sun goes down
Atomic Café

Ever seen the film Studio 54? This is about as close you'll get to the ultra-hip 70s disco in Munich, albeit on a much cosier scale.
There are few cooler live music venues than the Atomic Café, located just around the block from its polar opposite, the Hofbräuhaus.
The interior is a splash of pink and red lit by disco balls. There are dimly-lit corners with leather sofas and a dance floor that really doesn't get started until after midnight. It's alternative, hipster cool, so don't come hoping for top 40 hits. When bands aren't taking the stage there are DJs. Wednesday nights are dedicated to Britpop and the like.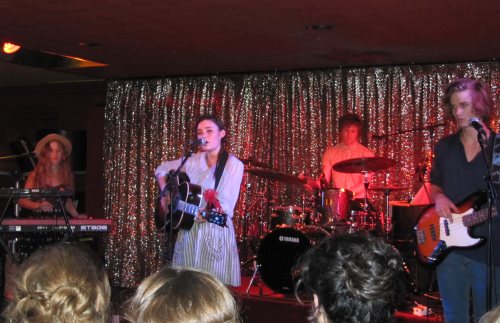 Australian singer/songwriter Lisa Mitchell is just one of the excellent
musicians to play at the Atomic Cafe in Munich.
Costs
Cocktail happy hour and free entry from 10pm to 11pm, after that there's a cover charge of €6+, Tickets to concerts are typically €15-€25, Beer €3+, cocktails €8.70-€9
Open
from 10pm Tue-Sat Address Neuturm Strasse 5
Phone
089 2283 054
Website
www.atomic.de
Paradiso Tanzbar
Formerly known as Old Mrs Henderson, Paradiso has been chick for decades, pulling stars like Mick Jagger, David Bowie and Freddie Mercury (who even made the music video for Living On My Own here). Music ranges from 80s to burlesque to modern dance.
It's cool, cosy and kitschy and attracts a yuppie crowd, so dress well to get in.
Costs
Cover charge €5, beer €3.50, mixed drinks €8+.
Address
Rumford Strasse 2, Isarvorstadt
Phone
089 263 469
Website
www.paradiso-tanzbar.de
.
8 Seasons
Another up-market bar with just a dab of schicki–micki. The four sizey rooms and plush leather couches fill up quick on weekends when guest DJs are in. If money's no issue and you're into beautiful people, there are few venues better than this.
Costs
Cover charge €10 - €20, beer €4.50 cocktails €10+.
Address
Sonnen Strasse, Altstadt-Lehel
Phone
089 2429 44 44
Website
www.8-seasons.com
.
Schumann's Bar am Hofgarten
Run by Germany's own "celebrity bartender", Charlie Schumann, this is Munich's hottest address to hobnob with the bold and the beautiful. Schumann is himself something of a Munich institution, having modelled for Hugo Boss, invented a line of cocktails (among them the heavenly Swimmingpool) and showing up in the social pages every other week.
Most tables are reserved for regulars so expect standing room only and be careful not to trip over anyone famous. Your best bet is to arrive early and grab a barstool to watch the bartenders in action. Wear nothing but your best.
Costs
Beer €3,50, Cocktails 7.50+ Open Mon-Fri 8am-3am, Sat/Sun 6pm-3am
Address
Odeonsplatz 6-7
Phone
089 22 90 60
Website
www.schumanns.de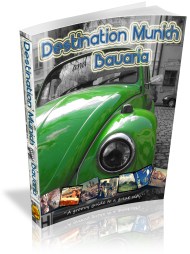 Every once in a while a book comes along that changes your life.
Until it does, please consider buying Destination Munich and Bavaria, the grooviest, most informative guide on the market :-)
It'll give you full-colour maps, practical info and hundreds of tips on how to get the most out of your visit.
It's 285 pages of up-to-the-minute travel intelligence and it can be yours as an eBook for less than the price of an Oktoberfest beer. (
read on
)
Sharing is sexy! Know how to RSS it? Subscribe here:
Spread the love and tell a pal about this particular page....