Munich Airport
MUNICH AIRPORT:
Munich's Fran***z-Joseph-Strauss Airport (code: MUC) is the most obvious connection if you're coming to Munich from overseas.
It's the second busiest airport in Germany after Frankfurt. If you're used to going through airport hell in other parts of the world, don't worry, this one is different.
It's every bit as efficient as you'd expect from a German transport hub and gets consistently voted among the best airports in Europe.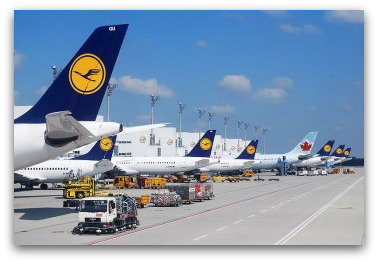 READY FOR TAKE OFF: Passenger jets lined up
at Munich Fran***z-Joseph-Strauss Airport.
Pic: CC Wikimedia
The airport is about 30km (18mi) north-east of central Munich and connects by S-Bahn (the Munich subway/suburban train system).

There are also buses running to Munich's central station and other ways of getting in and out.

For more info about getting to and from the airport, see Munich Airport transfers.

The airport has two terminals, Terminal 1 is home to Germany's Lufthansa and its Star Alliance partners including Continental, United, US Airways, Air China, Singapore Airlines, Air New Zealand and Air Canada.
All other airlines use Terminal 2.
What to do at the airport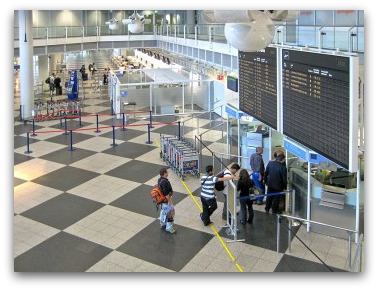 CHECK IN: Passengers getting ready to take off
from Munich's airport. Pic: CC Wikimedia
Here are a few ideas for what to do if you've got time to kill at Munich Airport.

Munich Airport Centre (MAC)
This is a concourse area that connects the terminals.
There are bars, a supermarket, shops and access to the S-Bahn, all under a huge, transparent roof.
It's also where you'll find the luxury Kempinski Hotel Munich.
But for many visitors the main reason to come is….
Airbräu
-
The world's only airport brewery?
While most airports aren't known for being cheap and delicious
Munich's
Airbräu
is exactly that.
This huge beer garden / restaurant is getting such a good reputation some
Müncheners
even go out to the airport just to make a visit.
It's a perfect place to make time fly during airport "dead" time.
Main meals are under €10 and a half-litre beer costs just €2.30 so it's among the cheapest pints in Munich.
Airbräu brews its own beer including
Helles
(lager),
Weißbier
(wheat beer), and a powerful
strong beer
called
Aviator
. The 600-seat beer garden is open from April to October.
It's in the MAC concourse.
More info: Website
www.airbraeu.de
.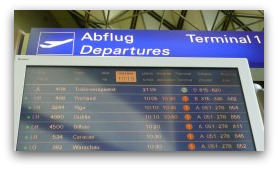 TAKE OFF: A board showing departures
from Munich Airport. Pic: CC yisris
Visitors' Park
One stop away from the airport is the Visitors' Park (Besucherpark), where air-heads can watch planes roll in and out of Terminal 1 from the top of a hill.

As well as this look-out spot there are a couple of historic planes on display including a Lockheed Super Constellation and a Junkers "Auntie Ju" 52.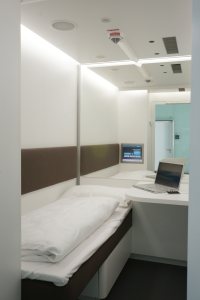 Inside a Napcab at Munich
Airport.
The shut-eye pods
Sick of falling asleep on airport benches?
Munich Airport has opened rentable, private "pods" called Napcap. Inside there's a small couchette as well as a flat-screen TV, desk, and internet connection.
The pods cost between €10 and €15 an hour and the minimum charge is €30. You can pay with your credit card at the pod.
Napcaps can be found in Terminal 2, level 2 next to gate H32 and in Terminal 2, level 4, gate G06.
More info: Website www.napcabs.com

Kempinski Hotel Munich Spa
You can visit the spa centre of this 5-star airport hotel as a day guest. There is an indoor pool, whirl pool, sauna and steam bath (with separate men's and women's sections), gym, massage and beauty parlours.
More info: Website http://www.kempinski.com/en/munichairport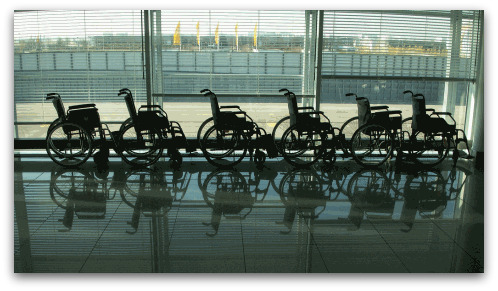 SERVICE: Wheelchairs lined up inside one of the terminals at
Munich's airport. Pic: CC Daquella manera
Getting to Munich Airport by car
Fran***z-Joseph-Strauss links to the
A92
Autobahn
, which connects to the
A9
Autobahn
for access into central Munich. If you're going to another part of the city you may need to use the A99 ring road, see the map below.
Note that to go right into central Munich – beyond the
Mittlerer Ring
road, your vehicle has to have a valid red, green or yellow sticker indicating the car's carbon output.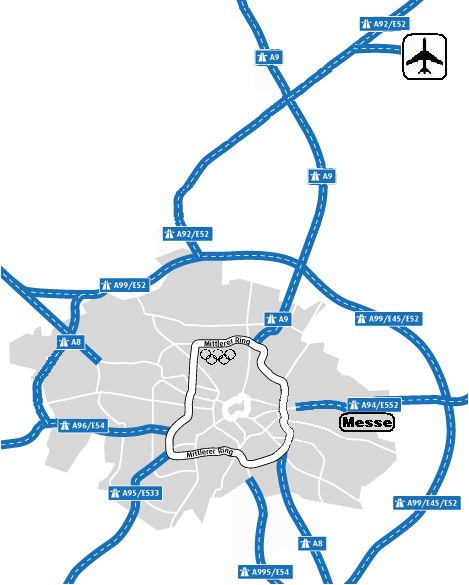 EASY ACCESS: This map shows the major Autobahn routes around Munich, including the A92, which links to the airport. Pic: CC Wikimedia
Parking
There is a long-term parking zone opposite Terminal 1 and more parking zones near Terminal 2 and the Visitors' Park.
See here for more details about
parking at Munich airport
.
Contact details
Need a Munich subway map?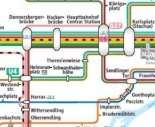 See here
for PDF Munich subway and public transportation maps.
Website (in English)
www.munich-airport.de
Phone numbers
Medical center/emergency service
089 97 56 33 44
Flight information
089 97 52 13 13

Terminal 1 lost and found
089 97 52 13 70
Terminal 1 service center
089 97 52 13 75

Terminal 2 lost and found
089 97 52 28 70
Terminal 2 service center
089 97 52 28 75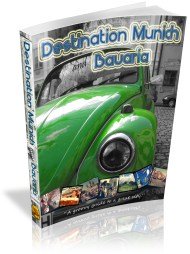 Every once in a while a book comes along that changes your life.
Until it does, please consider buying Destination Munich and Bavaria, the grooviest, most informative guide on the market :-)
It'll give you full-colour maps, practical info and hundreds of tips on how to get the most out of your visit.
It's 285 pages of up-to-the-minute travel intelligence and it can be yours as an eBook for less than the price of an Oktoberfest beer. (
read on
)
Sharing is caring
Spread the love and tell a pal about this particular page....