Minster Oktoberfest

An introduction to the Minster Oktoberfest
Minster in Ohio, USA, is home to the world's largest yogurt plant.
But that ain't the beverage that swells the village's population almost 30-fold one weekend in October.

The population of the agricultural village booms from under 3000 to about 80,000 for the festival, making Minster's the second-biggest Oktoberfest celebration in the state of Ohio (after Cincinnati).

The Minster Journeyman's Club (the Jaycees) and the Kiwanis volunteer group started the festival in 1975. Minster has proud German roots. It was named after a city in Germany and settled by German immigrants who came via Cincinnati. The Minster Oktoberfest runs for from Friday to Saturday on the first weekend of October.

Events and entertainment
CHEERS: A couple enjoy the Oktoberfest in Minster.
Pic: dumpingpixels
A Minster Oktoberfest highlight is the 10k (6.2mi) run which draws contestants from around the world.

The route follows country roads around Minster and is darn flat and darn straight.
Other, less exhausting events include a car show, a Little Miss Oktoberfest pageant, and popular beer tray relay race.

One of the final events is the Oktoberfest Parade which winds its way around the village streets on Sunday afternoon.
There is a strong community feeling with Minster-based groups and schools working together to create floats for the parade.
German polka bands are there to keep toes taping and an arts and craft show showcases the region's handiwork.

---
More information

Where? The Oktoberfest Minster takes place in the village park of Minster, Ohio, USA.
When? Over three days at the end of September/start of october.
How much? Entry to the festival is free.
The Oktoberfest Minster website is at www.minsteroktoberfest.com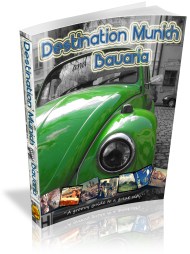 Every once in a while a book comes along that changes your life.
Until it does, please consider buying Destination Munich and Bavaria, the grooviest, most informative guide on the market :-)
It'll give you full-colour maps, practical info and hundreds of tips on how to get the most out of your visit.
It's 285 pages of up-to-the-minute travel intelligence and it can be yours as an eBook for less than the price of an Oktoberfest beer. (
read on
)
Sharing is sexy! Know how to RSS it? Subscribe here:
Spread the love and tell a pal about this particular page....