Luxury Munich hotels

LUXURY MUNICH HOTELS: Munich's handful of "five-star superior" hotels are lavish landmarks.
Expect the works – large private rooms, spa centres, sweeping views, theatres, a choice of restaurants and bars and, of course, price tags to match.
These hotels are almost all in the city centre and you can pay anything from €200 to €2000 a night! If money's no object here's where you can live it up.
I've done a few in-depth luxury Munich hotel reviews, click on the link to get the low-down: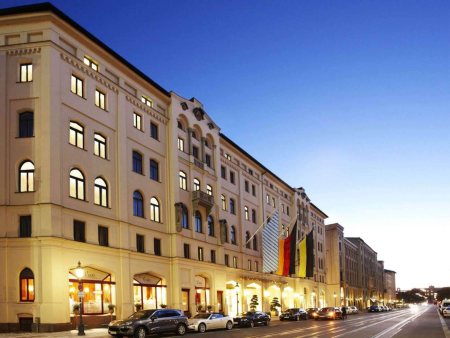 TOP SHELF: Possibly Munich's most exclusive address - the Hotel Vier Jahreszeiten Kempinski.
Five-star superior
▪
Sofitel Munich Bayerpost
-
Cavernous yet cosy number next to the train station.
Check Prices

▪
The Charles Hotel
– Newby with sweeping park views.
Check Prices
▪
Bayerischer Hof
–
Sprawling and beautiful, rooftop spa is amazing.
Check Prices
Four star
▪
Flemings Hotel Munich (München) City
– Clean, but featureless hotel among the train station cluster.
Check Prices

▪
Courtyard by Marriot Munich City Center
– A nicely-done newcomer.
Check Prices

▪
Maritim Hotel Munich
– Luxurious interiors hidden from the street.
Check Prices
A few other top choices among luxury Munich hotels:
Five-star or five-star superior
▪ Hotel Vier Jahreszeiten Kempinski – Best location on Munich's "Golden Mile" – Maximillian Strasse.
The Details Address Maximilian Strasse 17 Phone 089 21 252 700
Website www.kempinski.com
Check Prices

▪ Hotel Königshof – Going strong since the 1860s.
The Details: Address Karlsplatz 25 Phone 089 551 360
Website www.koenigshof-hotel.de
Check Prices

Four star
▪ Drei Lowen Hotel Munich
- A good-value, business-oriented hotel south of the Main Train Station.
Address
Schiller Strasse 8
Phone
089 551 11 10

Website
www.hotel3loewen.de
Check Prices
▪ Platzl Hotel –
A Munich institution with an enviable location overlooking the same-named square where the
Höfbrauhaus
resides. Excellent Bavarian menu at the hotel restaurant.
Address
Sparkassen Strasse 10
Phone
089 237 030
Website
www.platzl.de
Check Prices
▪ King's Hotels (Center and First Class) – Has two hotels, one three, the other four stars just north of the train station. Décor is a tad gaudy, but well done.
Address for King's Hotel First Class Dachauer Strasse 13 Phone 089 551 870Website for both hotels www.kingshotels.com
Check Prices

▪ Hotel Excelsior Munich A ridiculously well-decorated hotel with a wine-focussed restaurant, the Vinothek, and a bar. It's opposite the Main Train Station.
Address Schützen Strassse 11 Phone 089 55 1370
Website www.excelsior-hotel.de
Check Prices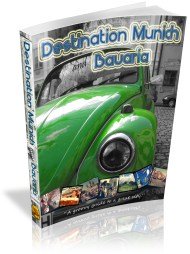 Every once in a while a book comes along that changes your life.
Until it does, please consider buying Destination Munich and Bavaria, the grooviest, most informative guide on the market :-)
It'll give you full-colour maps, practical info and hundreds of tips on how to get the most out of your visit.
It's 285 pages of up-to-the-minute travel intelligence and it can be yours as an eBook for less than the price of an Oktoberfest beer. (
read on
)
Sharing is caring
Spread the love and tell a pal about this particular page....