Hotels near Munich Airport

A few notes on finding quality hotels near Munich airport
If you're on a short layover or need to make an early getaway you might consider getting a room close to Munich Airport. Most of the hotels around the airport fall into the mid-range, except the luxurious five-star
Kempinski Hotel Munich Airport
which is located at the airport itself.
There are other close-by clusters of hotels in
Erding
and
Freising
, both towns with a few diversions if you have time to kill.
Erding is renowned for its huge
thermal spa complex
(
see website here
) and Freising boasts the world's oldest brewery,
Weihenstephan
(
website here
).
Here you'll find a comprehensive list of hotels near Munich Airport.
There are over 500 hotels listed and you can compare based on price, star rating and proximity to the airport.
Good luck finding the best hotel for your needs.
You might also like to take a look a the inlaid Google map below for options of where to stay near Munich Airport. Click on the "view larger map" tap and you'll get an interactive where you can read reviews and find links to the hotel websites.
Enjoy your stay.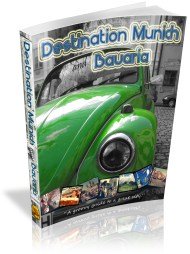 Every once in a while a book comes along that changes your life.
Until it does, please consider buying Destination Munich and Bavaria, the grooviest, most informative guide on the market :-)
It'll give you full-colour maps, practical info and hundreds of tips on how to get the most out of your visit.
It's 285 pages of up-to-the-minute travel intelligence and it can be yours as an eBook for less than the price of an Oktoberfest beer. (
read on
)
Sharing is caring
Spread the love and tell a pal about this particular page....