Hickory Oktoberfest

An introduction to the Hickory Oktoberfest
Over 100,00 visitors flock to downtown Hickory in North Carolina for the city's annual Oktoberfest.

Events and entertainment
There are two beer gardens staffed by the volunteer Hickory Jaycees. The
Beck's Beer garden
has the main stage which plays host to German polka bands as well as other styles of music.
Tunes are also belted out at the
Pavilion Stage
on Union Square, the
Teen Stage
, the
KidsFest Stage
and the
Singer Songwriter Stage
.
Over 100 vendors offer food from around the world or sell goods like jewelry, sunglasses and sandals.
An
arts and crafts competition
has categories such as painting, sculpture and pottery. There are also carnival rides and performers to keep the little ones entertained around the KidsFest Stage.
An annual highlight is the
Hickory Oktoberfest footrace
which has been held since 2004. Participants can run or walk either 5k (3mi) or 10k (6mi).
The race is open to everyone and there are age groups covering seniors and children. The course starts and finishes on Center Street and loops around downtown Hickory. Proceeds go to help clinics and charities in the Hickory region.
Another highlight is the
Oktoberfest king and queen contest
, a festival fixture for over 25 years.
Entrants simply send a photo of themselves dressed in their best Oktoberfest get-up to the organizers.
Winners are chosen based on the photos and typically receive VIP tickets to that year's festival, and a super-nice prize like a camcorder.
---
More information

When's it on?
The Oktoberfest in Hickory takes place on the second weekend of October. It's typically open from midday to 11.30pm on the Friday, 10am to 11.30pm on the Saturday and midday to 5pm on the Sunday.
Website
www.hickoryoktoberfest.com
See here
for a map of the festival
Hickory's Oktoberfest Facebook page is at
www.facebook.com/HickorysOktoberfest
Get involved
Organisers are always looking for extra volunteers and sponsors to support the festival, check out the website for more details.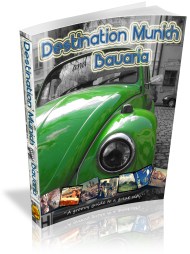 Every once in a while a book comes along that changes your life.
Until it does, please consider buying Destination Munich and Bavaria, the grooviest, most informative guide on the market :-)
It'll give you full-colour maps, practical info and hundreds of tips on how to get the most out of your visit.
It's 285 pages of up-to-the-minute travel intelligence and it can be yours as an eBook for less than the price of an Oktoberfest beer. (
read on
)
Sharing is sexy! Know how to RSS it? Subscribe here:
Spread the love and tell a pal about this particular page....