Gay Munich (and lesbian Munich)
A short and sweet guide to lesbian and gay Munich
Though Munich's gay reputation can't be compared to other German cities like Cologne and Berlin, there seems to be plenty to keep same-sex-preferring visitors busy.
The
Glockenbachviertel
district just south of city centre is the traditional gay and lesbian hive. There's a gay information point (the Schwules Kommunikations- und Kulturzentrum or Sub for short) in this area just near the Sendlinger Tor at Müller Strasse 14.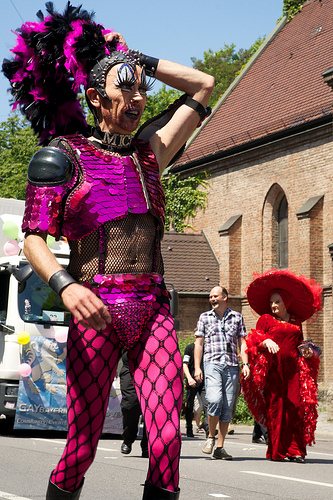 PRIDE:
The Christopher Street Day festival is a highlight for gay and lesbian Munich.
Pic:
jerome_Munich
.
The big blowout on Munich's gay calendar is the Christopher Street Day celebrations in July.
Altough it was traditionally just one weekend, Munich's CSD has spread out over none days and involves open-air concerts, a parade and a handbag throwing contest.
For more details see the page Munich Christopher Street Day, and for some more shots of the parade go here: Munich Gay Pride Parade pics.

Munich also hosts a gay street party in mid-August, the Hans-Sachs-Strasse Schwules Strassenfest, which draws over 10,000 people every year. For more details of that event, see here: Gay Street Festival.

Links
The Münchner Löwen Club (Munich Lions Club) is a big group of gay leather and fetish enthusiasts with a busy social calendar including meetings during Munich's Starkbierfest (Strong Beer Season) and Oktoberfest (see here for gay Oktoberfest meeting details).
The club's homepage is here (Münchner Löwen Club).

Here you can find a Munich gay travel guide from the gay guide people Patroc (www.patroc.com). And here's a link to a map from Patroc of a bunch of gay friendly cafes, clubs and shops around the Glockenbachviertel.
A group pose for the camera during Munich's Christopher Street Day.
A big lesbian-oriented concert usually kicks off the festivities. Pic: jerome_Munich
Some popular lesbian and gay Munich stomping grounds:
Inges Karotte
Described as a "female jungle", this is Munich's oldest and most famous lesbian hangout. Diverse clientele, happy hour 4pm to 6pm.
Costs Cocktails €5+, happy hour 4pm to 6pm.
Address Baaderstrasse 13
Phone 089 2010 669

Café Nil
One of Munich's few unpretentious gay joints pulls in a cross section of the community from twenty-somethings to baby boomers. It's been decorated in reddish tones and Egypt-inspired artwork (Nil is German for Nile). Try the cornflakes schnitzel with french fries.
Costs meals €6-€7, beer €3+, cappuccino €3, caipirinha €7
Open 3pm-3am
Address Hans Sachs Strasse 2, Isarvorstadt
Phone 089 265 545
Website www.cafenil.com
Bau
Bau claims to be Bavaria's biggest gay bar. It's split over two levels and attracts a strong international set. Special events include foam parties, leather flea markets, mailbox parties, stand-up comedy and movie nights. Don't go before 10pm. Address Müller Strasse 41
Phone 089 2000 9090
Website www.bau-munich.de

Hotel Deutsche Eiche
The "German Oak" has long been a haven for Munich's gays and creative types. As well as a three-star hotel there's an international restaurant and bathhouse open to non-residents with a whirlpool, sauna, steam bath and darkroom. It's close to Munich's gay haven, the Glockenbachviertel.
Costs Hotel prices: standard single €79, double €139, apartment/junior suite €199, Bathhouse entry: €17 (€11 for under 27s), meals €10 - €25
Address Reichenbach Strasse 13
Phone 089 2311 66 0
Website www.deutsche-eiche.com
Kr@ftAkt
An internet café cum coffee café cum bar cum nightclub in the heart of the Glockenbachviertel. Coffee, cake and light Bavarian fare pick up the slack until the cocktails start rolling into the evening. The music can be repetitive and the crowd, stuck up, but at least you can check your email for free.
Open from 10am to 2am Sun-Thu and till 4am Fri/Sat
Address Thalkirchner Strasse 4
Phone 089 215 88 881
Website www.kraftakt.com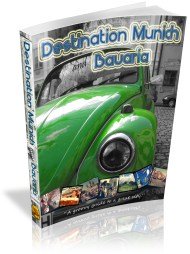 Every once in a while a book comes along that changes your life.
Until it does, please consider buying Destination Munich and Bavaria, the grooviest, most informative guide on the market :-)
It'll give you full-colour maps, practical info and hundreds of tips on how to get the most out of your visit.
It's 285 pages of up-to-the-minute travel intelligence and it can be yours as an eBook for less than the price of an Oktoberfest beer. (
read on
)
Sharing is caring
Spread the love and tell a pal about this particular page....